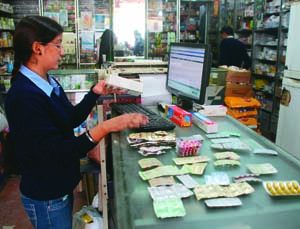 THE pharma industry in India is nearly a hundred years old. Today, the Indian market comprises over 25,000 manufacturing units and according to government statistics one-fifth of them makes bulk drugs.

Candidates who possess 10+2 with Physics, Chemistry, Maths/Biology (PCM/PCB) are admitted to the 4-year Bachelor's programme (Bachelor of Pharmacy or B Pharm). The pharmacy degrees offered in India include 4-year B Pharm, Diploma in Pharmacy (D Pharm, 2 years' duration) and Master's in Pharmacy (M Pharm).


With responsibilites of pharmacists increasing considerably, it is advisable to purse 6-year integrated Pharm D course. Explore it here!


Entrance exams for the admissions to pharmacy courses are usually at state-level.
One needs to be registered as a pharmacist in India in order to practice hospital and community pharmacy. One does not require registration to work in other areas such as the pharmaceutical industry. Possessing a B Pharm degree from a recognised university usually suffices unless you want to develop new drugs.
 
Know how to select the best pharma college for yourself...
(Careers360 had come out with first ever ranking of Pharmacy colleges in July, 2011. Choose yours...)
More course options after Class 12:
 
Allied Medical, Fine Arts, Engineering, Teaching, CA/CS/CWA, BA/BSc/BCom, Special Education, Journalism, Home Science, Medicine, Armed Forces, Hotel Management , Legal study, exotic courses , Biotech, Foreign Language, Design, VISCOM, Indian Coast Guard
 
Post your queries and comments below this column, and we would be happy to respond!