Become A Pro In Email Marketing With These 15 Online Courses
Creating a powerful email marketing plan allows you to reach and communicate in a customized way with your intended audience and boost revenue at an inexpensive cost. Email marketing courses, just as other channels and media have changed; offer the company the opportunity to meet consumers easier than ever. Email is also the most successful way to universally meet people who have shown interest in your product or site if you are running a real company. It just can't be beaten because of that.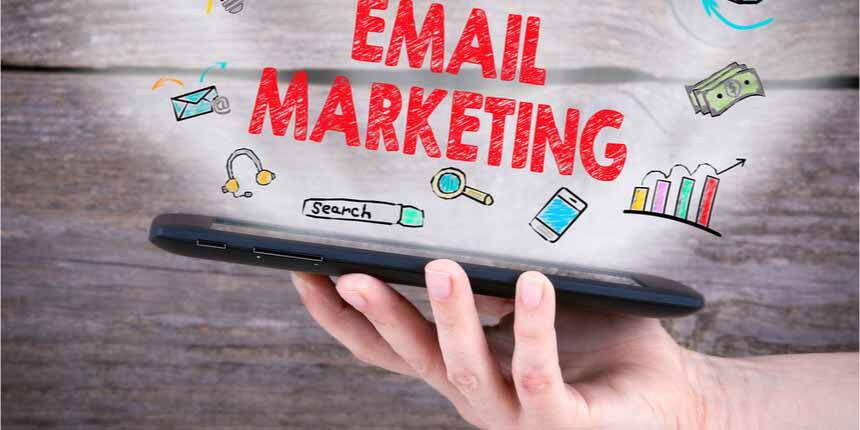 More than 34 percent of people use email internationally. This amounts to around 2.5 billion people. In the next 2 years, it is expected to rise to 2.8 billion email subscribers. A vivid and efficient way to communicate with people is by email marketing. Dream of your own experiences by getting it home. You can learn all this through email marketing courses online.
How is email marketing going to grow in the coming future?
Last year's best results for 2019 saw significant gains. That also proves that there is still space for growth, regardless of how well the email marketing basic campaign actually does. When you build your brand as a must-read resource for your users, the best and most valuable emails will continue to see strong higher open-through rates.
Email is still favored by advertisers. In a Content Marketing Institute survey, 91 percent of B2B (business to business) marketers classified email as "significant" or "highly important" to their delivery efforts in content marketing.
We're pretty close to our emails as well. Our emails are reviewed every day by all of us (well, 99 percent of us). Four of us search as much as 20 times a day for our addresses. After all, checking email is super easy with the rise of smartphone use. Before doing something else on-line, more than half of us even search our addresses. We're pretty close to our emails as well. Every day, both of us check our emails and it causes the base of email marketing basics.
How can online courses help you learn about email marketing?
Email marketing is an essential skill to learn, if you're an entrepreneur, company owner, or marketer, for modern-day advertising. Only learning the email marketing basic words, tactics, and best practices for email marketing will help increase the return on investment (ROI) from emails. You can easily learn his useful skill through email marketing courses online. Here are some courses where you can learn about Email marketing.
If you plan to set up a successful email marketing course by 2020, you'll need to start thinking about how you're going to expand your email list, what kinds of content you're going to give your subscribers, and that you can affect further conversions through time.
15 Email Marketing Courses To Help You Become A Pro
Communication in the 21st Century Workplace
The goal of this email marketing certification is to increase the understanding of workplace communication among students and to add new interpersonal skills, with the ultimate effect of being a more professional communicator in general. Goal areas include communication mechanism and functions, patterns of behavior, interpretations of fact, verbal and nonverbal signs and attitudes, honesty, assertiveness, tact, control of frustration, critique, and positive feedback, dispute solving, team building, leadership, and questioning.
Cost: Free
Duration: 4 weeks
Platform: Coursera
Online/offline: online
2. 10 Email Marketing Strategies That Make Me 6-Figures
Email marketing as a tool is one of the most effective tools for any business, individual or startup venture. If you're an entrepreneur, an influencer, a trainer or some sort of company who wants to smash it totally with email marketing on Mailchimp or some other network, then this course in email marketing is for you.
This email marketing basics course is beginner-friendly and can be easily understood through step-by-step, practical videos that cover each and every aspect of email-based marketing.
Cost: ₹420
Duration: 2 hours
Platform: Udemy
Online/offline: online
3. Business English: Marketing and Sales
In this email marketing course, when joining accomplished global practitioners across the globe, you can learn to use English more effectively. Build your talents together with actual characters who work in ads who also work hard to develop their communication skills.
Cost: Free
Duration: 6 weeks
Platform: Coursera
Online/offline: online
4. Digital Media and Marketing Principles
You can hear about the influence of emerging technology on marketing relations techniques and activities in this email marketing online course. You will strategically pick the best platforms to send the correct marketing message to the right audience at the right moment by recognizing the fundamental mechanisms of marketing engagement and the central features of digital media technology.
Cost: Free
Duration: 4 weeks
Platform: Coursera
Online/offline: online
5. Viral Marketing and How to Craft Contagious Content
This course covers the email marketing basics and discusses how things are catching on and teaches you to apply these concepts to sell your ideas, labels, or goods more effectively. You'll learn how to adhere to ideas, how to maximize your popularity, how to create more brand awareness, and how to share knowledge and influence through the power of social networks.
Cost: Free
Duration: 4 weeks
Platform: Coursera
Online/offline: online
6. Start & Run a Local Viral Email Marketing Home Business
A few valuable lessons that you will learn in this email marketing course concern topics such as how to run a basic, but very profitable, home company. Make a good amount of money, month after month-every month through effective email marketing campaigns that make the customers want to pay you.
Cost: ₹420
Duration: 5.5 hours
Platform: Udemy
Online/offline: online
7. Effective Email Etiquette: Write Professional Business Email
This email marketing training course is exceptional because it will include guidance on composing highly professional emails and offers a lot of exercises to develop your overall writing skills in Business English. It will make the business relationship more powerful for you and make you a maverick when it comes to writing crisp, attention-grabbing emails for your business.
You will be able to enhance your introductory emails, updates, queries and offers among others.
Cost: ₹420
Duration: 1 hour
Platform: Udemy
Online/offline: online
8. Email & Affiliate Marketing Mastermind
This course will provide you with the best places and strategies for Affiliate Marketing to choose the right products / niches that will cost you rich. This is one of the best email marketing training courses which when enrolled into, will show you specifically how to build a tailored email list around such items.
Cost: ₹420
Duration: 4 hours
Platform: Udemy
Online/offline: online
9. The Complete MailChimp Email Marketing Course
If you want to be good with email marketing, this Udemy email marketing certification course would help you discover the values and tactics that work for good email marketing campaigns and have been used to effectively develop email marketing campaigns for more than 500 organizations. If you wish to master MailChimp and start to benefit from creating an email list, join this course right away.
Cost: ₹420
Duration: 3 hours
Platform: Udemy
Online/offline: online
10. Branding and Customer Experience
We will use a method adapted from Consumer Journey Visualization in this email marketing course to concentrate and coordinate the thinking of students on the organizational consequences of their branding initiatives. Via the structure, across various teams, and the consumer contact points they control, we can extract an organizational vocabulary for aligning operations and evaluating impacts.
Cost: Free
Duration: 5 weeks
Platform: Coursera
Online/offline: online
11. Writing Professional Email and Memos (Project-Centered Course)
This email marketing certification focuses on learning the fundamentals of email etiquette and correspondence at the beginner or beginning level. Although this email marketing course will help students become quicker and more successful writers utilizing standard writing experience, it does not include marketing emails or resources for career applications.
Cost: Free
Duration: 4 weeks
Platform: Coursera
Online/offline: online
12. Communicate for Business: Write, Email, Close the Loop
In conventional genres as well as online, this advanced email marketing course will help you articulate your thoughts. To achieve lasting progress in the organization, you can also learn how to communicate: effectively approach the people who have to respond to the initiative.
Cost: ₹420
Duration: 1 hour
Platform: Udemy
Online/offline: online
13. Sales Training: Techniques for a Human-Centric Sales Process
This email marketing certification will give you an inbound sales plan that relies on being supportive, not sales. You will be able to prospect for potential opportunities by the end of email marketing classes in this course, apply for high-quality opportunities, book meetings with policymakers, address the objections of customers or even close a high-ticket sale.
Cost: Free
Duration: 6 weeks
Platform: Coursera
Online/offline: online
14. Marketing in a Digital World
This online email marketing course discusses how new technologies, such as the internet, tablets, and 3D printing, are revolutionizing the marketing landscape by transforming the positions and activities of businesses as well as buyers. One of the most important sites on Coursera is marketing in a Digital Environment.
Cost: Free
Duration: 4 weeks
Platform: Coursera
Online/offline: online
15. Introduction to Social Media Marketing
The cornerstone of social media marketing is laid by this email marketing course online. You'll discover what social media marketing means, including the past of the numerous channels of social media that exist. You will learn how to pick a social media platform that matches your interests, set targets and benchmarks for progress, and decide who your intended audience is.
Cost: Free
Duration: 5 weeks
Platform: Coursera
Online/offline: online
16. Email Marketing Mastery in 2020
You will discover the best email marketing practices for gathering leads, delivering emails and growing clients in this course. If you have not yet enrolled yourself into a practically applicable email marketing training course, or you are just getting started, then you can get a complete rundown of the email marketing strategies within this training.
Cost: ₹420
Duration: 2 hours
Platform: Udemy
Online/offline: online
Conclusion
Now that you understand the value of email marketing course and how it can be used for your company to expand, it's time to start building an action plan. Email marketing makes it easier to tailor the communications and information that you offer to subscribers. You will strive to create more customized and meaningful content that your readers are more likely to like and respond to, leveraging data that you have gathered from your subscribers and leads.
Read More:
10 Certifications That Each Online Marketer Must Have
Frequently Asked Question (FAQs) - Become A Pro In Email Marketing With These 15 Online Courses
Question: How does a company prosper from digital marketing?
Answer:
Digital marketing's biggest value is that it is easy to reach a targeted demographic in a cost-effective and observable manner.
Question: What do you understand by advertising?
Answer:
It's essential to market your product or service in an effective manner because it lets you sell your goods or services. Any company's bottom line is to make profits and marketing is an important channel to accomplish that end goal.
Question: What is email marketing's most critical aspect?
Answer:
One of the defining features of a marketing email is CTA. Such emails are carefully crafted to inspire clients and representatives to take concrete action.
Question: What are digital marketing's key goals?
Answer:
Improve the conversion rate: Converting more readers/viewers/followers into clients is another common digital marketing target. Increase your revenue: This is, after all, the ultimate aim for several different organizations. Increase circulation.
Question: What is the email marketing effectiveness rate?
Answer:
The proportion of the total number of subscribers who have accessed an email campaign is the email open rate.
Question: Does email marketing have?
Answer:
There are over 3 billion email marketing campaigns being run online as of 2019 and the statistics reveal that email marketing outperforms common platforms such as social media, SEO, and PPC advertisements, delivering higher numbers of conversions.
Question: When is the perfect day for email marketing mails to be sent?
Answer:
Traditionally, Tuesday, Wednesday, and Thursday have become favorite days for sending email campaigns, as email marketers want to escape the anxiety of Monday and the itchy-feet of Friday.
Question: What's the ROI like when it comes to email marketing?
Answer:
Email is the Holy Grail of marketing when it comes to consumer engagement.
Question: How many days would it take to think about digital marketing?
Answer:
In 14 days, how to practice digital marketing. There's no moving away from ads on internet platforms these days, be it search engines, social media.
Question: Is the digital marketing course for Google free?
Answer:
With a free Google diploma, the Digital Marketing online course is free for all.
Digital Marketing Updates and Articles