Entrance and Board Exams Postponed & Cancelled Updates Amid COVID-19 - JEE Main Exam 2021 Postponed
Entrance and Board Exams postponed and Cancelled Updates - Due to the surge in COVID-19-positive cases, the government has postponed JEE Main entrance exam until further notice. Ministry of Education postponed CBSE Class 12 exams and cancelled Class 10 CBSE board exams. Some boards have also cancelled Class 10 board exams and some just postponed the exams. Others will conduct Class 10 and 12 exams as scheduled. For the cancelled class 10 exams, marks will be awarded by the respective board as per the board's criteria to be developed. Below, students can check all entrance exam postponed and board exam cancelled news and updates:
Check all board exam latest news and updates.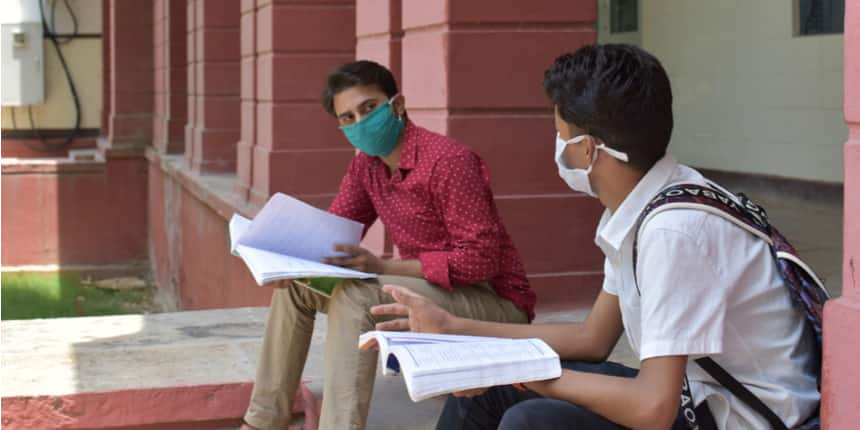 Entrance Exam Postponed Updates
Several entrance exams are conducted in Indian at the national level, state level and university level. Some of them are held solely for a specific field of study like JEE Main and NEET. But some are held for various kind of courses like DUET, which is held for management, Law and several other courses. Below we are providing all filed entrance exam postponement updates:
Engineering Entrance Exam Updates
After CBSE, NTA has postponed JEE Main April 2021 exam until further notice. The new dates for JEE Main April attempt exam will be announced 15 days prior to the exam. Earlier, the exam was scheduled for April 27, 28, 29, 30, 2021.
In a repeat of previous year's scenario, Students are also worried about JEE Advanced 2021 exam which will be conducted for admission to Indian Institute of Technology's (IITs). Last year, JEE Main and JEE Advanced exams were held in September due to COVID-19 pandemic. JEE Advanced 2021 exam will be conducted on July 3.
BITSAT Exam 2021
Due to the current pandemic situation, the Birla Institute of Technology (BITS) may postpone the BITSAT 2021 entrance exam. We can expect that BITS will release an official notification soon if the decision is taken to postpone the BITSAT 2021. If the entrance test is postponed, then it will lead to the late start of the academic session. Parents are also worried that all the entrance exams will be delayed, leading to the late beginning of the current year's academic session also.
The last date for the submission of the BITSAT 2021 registration is May 29. For now, BITSAT will be conducted in online mode from June 24 to 30.
UGC NET 2021 Exam likely to be postponed
The National Testing Agency (NTA) is scheduled to conduct the UGC NET 2021 exam from May 2 to May 17. However, the admit card for UGC NET has not been released and an official has confirmed that it will be issued 10 days before the exam.
There is uncertainty if the UGC NET 2021 exam will be held on the scheduled dates or not since the second wave of COVID-19 has severely hit different parts of the country.
Some of the cities are reeling under weekend lockdown while there are others where night curfew has been imposed. Candidates are in a dilemma with regard to the UGC NET 2021 exam as the NTA is yet to take a call with regard to the postponement of the entrance test.
B-School entrance exam postponed
B-MAT 2021 postponed
The Government of Maharashtra has announced the postponement of entrance tests which were scheduled to take place in April 2021. Postponement of B-MAT 2021 decision was taken by Bharati Vidyapeeth (Deemed to be University) due to the rise in the number of COVID 19 cases across the state. B-MAT 2021 was scheduled to be held on April 25. New exam date for B-MAT 2021 will be announced after reviewing the situation.
Defence Entrance Test Postponement Updates
Is NDA exam postponed?
The Union Public Service Commission is supposed to conduct the NDA 1 2021 exam on April 18. However, students have expressed their apprehension in wake of the rising cases of Covid 19 and have demanded the postponement of the exam.
A large number of students who will appear for the NDA exam took to the microblogging site Twitter and have urged the authorities to postpone the NDA exam, keeping in mind the safety of the candidates. However, the UPSC is yet to make an announcement in this regard.
Law Entrance Exam Updates 2021
Will CLAT 2021 be postponed?
As of now, there is no official update onCLAT 2021 postponement. However, the postponement cannot be ruled out given the board exams are either postponed or in the process of getting postponed. Candidates are advised to keep following the official updates regardingCLAT which will also be reflected on this page.
Last year. the Common Law Admission Test was held on September 28, 2020, in online mode. With the rising number of cases, if the postponement takes place, the CLAT can be held in online mode. In online CLAT, we may again see a similar test pattern as followed last year. The essay section inCLAT LLM may be dropped again as an online CLAT may not be conducive to hold essay type test.
Delay in MH CET Law 2021
A few days back, the State CET Cell updated the current status with regard to the conduct of MHT CET exams. It announced thatMH CET law 2021 will be delayed for the academic year 2021-22 due to a delayed session of the previous year. Note that,MH CET law 2020 counselling is currently in its last phase with the institutional round is expected to be completed soon. And, for the current year, the testing agency is expected to be finalised in the last week of April. This means theapplication form of MH CET law 2021 is likely to be released in the first week of May.
With a steep rise in COVID cases in Maharashtra, the exam is likely to be delayed further. An official notification from the Directorate of Higher Education, Maharashtra is expected to be released soon.
Law entrance exam 2021 - Dates
University Entrance Exam Postponed News
AIMC Entrance Test 2021 postponed
Apeejay Institute of Mass Communication has postponed the AIMC 2021 entrance test which was scheduled to take place on April 7, due to the Covid-19 pandemic situation.
The AIMC entrance test 2021 will now be held on May 8. In the meantime, the institute has re-opened the application process and the candidates who have yet not registered themselves can complete their registration process for AIMC 2021 entrance test till May 7. The two hours long entrance exam will be conducted at Apeejay Campus, New Delhi.
Aligarh Muslim University withdraws AMU Entrance Test 2021 schedule
In the wake of the Covid-19 situation, the Aligarh Muslim University has withdrawn the AMU entrance exam schedule 2021. The AMU entrance exams 2021 were scheduled to start from June 20 onwards.
A new schedule for the AMU entrance test will be uploaded soon by the university. The varsity conducts the AMU entrance exam 2021 for admission to undergraduate and postgraduate programmes offered by the university. The AMU admission test is conducted in pen and paper format in seven exam centres.
SAU 2021 entrance exam postponed
South Asian University, New Delhi has deferred the SAU entrance exam 2021 for admission to PG and doctoral level programmes. The entrance exam was scheduled to be conducted on April 10 and April 11.
In the view of postponement of the SAU entrance exam, South Asian University has re-opened the application process. The SAU 2021 admission test will be held in around 28 SAU exam centres within India and 14 in the other 7 SAARC countries.
South Asain University entrance exam is generally held once a year for admission in postgraduation and doctoral level programmes to the candidates belonging to the SAARC (South Asian Association for Regional Cooperation) member countries.
The eighth SAARC member countries are India, Nepal, Afghanistan, Bangladesh, Bhutan, Maldives, Pakistan and Sri Lanka.\
Management Entrance Exam Updates 2021
When will the MAH CET MBA 2021 exam be conducted?
The State Common Entrance Test Cell, issued a notice on March 12, 2021, regarding the conduct of various CETs postponement for the academic year 2021-22. Normally MAH CET MBA exam is conducted in the month of March every year. But last year due to the outbreak of covid-19, the entire MAH-CET MBA schedule was delayed by four months.
Again this year, as the second wave of coronavirus has hit us and with Maharashtra being adversely affected with lakhs of cases, the conduct of MAH CET MBA 2021 poses a serious doubt.
However, recently, on April 12, the State CET Cell has started looking for an agency that can conduct the common entrance tests on behalf of the authority. This indicates that the preparation for the conduct of MAH CET 2021 has begun.
So far, no official announcement or notification has been released in this context. But a delay in the conduct of the exam is expected this year as well and most likely MAH CET exam will be held in June or July 2021.
Last year MAH CET MBA exam was conducted on March 14 and March 15, 2020. MAH MBA CET is an important state-level entrance exam for MBA admission 2021 in 330+ MBA colleges in Maharashtra including JBIMS, SIMSREE, PUMBA, Welingkar among others.
JNVST Class 6 Test Postponed
Navodaya Vidyalaya Samiti has postponed the Class 6 NVS entrance test which was scheduled for May 16, 2021. The new date will be communicated by the samiti 15 days prior to the JNVST exam 2021.
Board Exam Postponed News
JK Board 11th Exam 2021 Postponed
Class 11 JKBOSE exams have been postponed by the government. Earlier, these exams were scheduled between April 27 and May 20, 2021. Now, these exams are postponed and new dates are to be announced by the board as per the government's next decision to be made after reviewing the COVID-19 situation.
ISC Class 12 Exam 2021 Postponed
CISCE has postponed the Class 12 ISC board exam 2021 and a final decision regarding the board exam 2021 will be made by the first week of June 2021. Two exams of ISC have been conducted on April 8 and 9, 2021 and the rest exams were scheduled between May 4 and June 18, 2021. Now, these exams have been postponed.
JKBOSE 12th Exam 2021 Postponed
The board has postponed the Class 12 board exam 2021 and the decision regarding exams will be made after one month. Read full story here.
TS Inter Exam 2021 Postponed
The government of the Telangana state has postponed the intermediate board examinations. The decision regarding examinations will be made in the first week of June 2021 and students will be intimated at least 15 days before the exams. Stay tuned with TS inter time table to get all updates related to the TS board.
Odisha 10th, 12th Exam Postponed
Odisha government has ordered the postponement of Class 10 and 12 board exams.
GSEB SSC and HSC Board Exams Postponed
Gujarat government has decided to postponed the Class 10 and 12 GSEB board exam 2021 in wake of the COVID-19 crisis. New dates of GSEB boards to be announced after reviewing the situation on May 15, 2021.
PSEB 12th Board Exams 2021 Postponed
Punjab Government has postponed the PSEB board exam 2021 for Class 12th which were scheduled to be held between April 20 and May 4, 2021. Read Punjab board exam 2021 news here.
UP Board Exam 2021 Postponed
Uttar Pradesh Government has decided to postpone the Class 10th and 12th UPMSP board exams which were about to being from May 8. Now, these exams have been postponed until May 20. Read UP board exam 2021 postponed news here.
Haryana Board 12th Exams Postponed
Haryana government has also decided to postpone the Class 12 exams. The decision to conduct these exams will be made later by the board as per the situation in future and a new HBSE 12th date sheet will be released accordingly.
Are AP SSC and Intermediate Exams Postponed?
Students were continuously asking about their SSC and Inter AP board exams 2021. The state education minister, Audimulapu Suresh announced on Twitter that tenth and inter exams 2021 will be held as per schedule. As per SSC time table 2021 AP, the exams will be held from June 7 to 16, 2021.
RBSE 10th, 12th Exams Postponed
Rajasthan CM, Ashok Gehlot has announced that the state government has postponed the Rajasthan Board exams 2021 for Class 10th and 12th. The decision was made to keep student and teachers safe from COVID-19. He added that Class 8, 9 and 11 students have been promoted to the next class.
HPBOSE 10th, 12th Exams Postponed
Himachal Pradesh government has postponed the Class 10 and 12 HP Board exams 2021 along with UG examinations. The state education secretary Rajeev Sharma said that the situation will be reviewed on May 1 and further decision will be taken accordingly.
Will ICSE 2021 Board Exam be Conducted?
CISEC has announced that they will make a decision on Class 10 and 12 board exams soon and will intimate all the stakeholders at the earliest. For now, ICSE exams are scheduled between May 4 and June 7, 2021 and ISC exams are going on since April 8, 2021.
Students are increasingly demanding the postponement of their CISCE board exam 2021 on Twitter.
Know About CBSE Class 12 Board Exams 2021
CBSE 12th exams have been postponed by the government due to a spike in the number of COVID-19 cases. The decision was made on April 14, 2021 after a meeting with Prime Minister which was attended by the education minister and CBSE officials.
Maharashtra Board Exam Postponed
Maharashtra Education Minister announced on April 12 that HSC and SSC board exams have been postponed which were scheduled to being from April 23 and 29, 2021, respectively.
She also added that the Maharashtra Board HSC exam 2021 will be held by the end of May 2021 and SSC board exams will be held in June 2021.
Keep checking the official website to get new dates of Maharashtra board exam 2021 as soon as they are announced.
After CBSE, the education minister of Maharashtra, Varsha Gaikwad said that they will study and discuss the Centre's (CBSE's) decision to cancel CBSE Class 10 exam 2021.
Board Exam Cancelled News
ICSE Class 10 Exam Cancelled
The board has cancelled the ICSE exams 2021, earlier these exams were made optional for students. Now, students will be given marks as per the criterion to be developed by the council. Check ICSE time table to get complete information.
JKBOSE 10th Exam 2021 Cancelled
In view of rising cases of #COVID19, ongoing Class 10 exams have been cancelled for the remaining subjects by the government. Students will be promoted to the next class as per their performance in already conducted exams and internal assessment.
TS SSC Exam 2021 Cancelled
The state government has cancelled the Class 10 Telangana board exam 2021 which were scheduled to commence on May 17, 2021. Students will get marks for their exams based on objective criteria to be developed by the board.
PSEB 10th Exam 2021 Cancelled
Along with class 12 postponement, the government has deiced to cancel Class 10 board examinations of PSEB. Class 10 students will be promoted to the next class without exams.
Haryana Board 10th Exam Cancelled
Following the CBSE, the Haryana government has also cancelled Class 10 HBSE exam 2021. Students will be promoted to the next class on the basis of internal assessment.
CBSE 10th Exam Cancelled
The board has cancelled the CBSE board exam 2021 for Class 10. The marks to Class 10 students will be given on the basis of an objective criterion of CBSE which is to be developed.
Karnataka SSLC Exams 2021 Cancelled?
Soon after the CBSE's announcement, the Karnataka Education Minister S Suresh Kumar took to Twitter to announce that the Karnataka education department has not made any decision to cancel Karnataka SSLC exams 2021 as they are scheduled to begin on June 21, 2021. So yet no decision is taken and in future, an appropriate decision will be made as per the situation.