Here is a tough question: "Tell me something about yourself." Whether it is a job or an internship, you can expect this as one of the most questions to ask in an interview. It is a common way to start a conversation. In this article, we will go through all the possible ways you can answer the Tell me something about yourself Interview question. Along with top skill development courses and certifications in your niche, you would be ready to tackle this simple, yet crucial interview question. Here are some of the introduce yourself interview sample for freshers as well as experienced.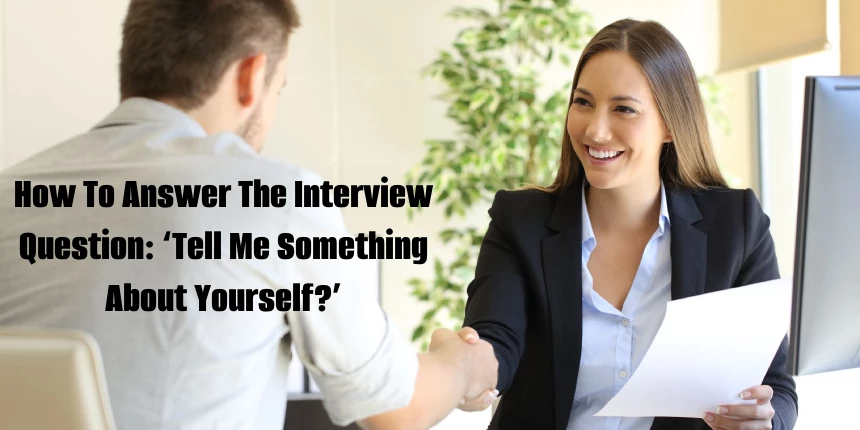 How to Answer the Interview Question: 'Tell Me About Yourself?'
First of all, do not let the simplicity of these questions fool you. It is just the start. You will be scrutinised by these common behavioural interview questions. It is difficult to give an accurate "Tell me about yourself answer". People typically fail to identify themselves in the ways that employers want, lowering their chances of finding work. Despite possessing all of the required qualifications for the position, people wonder what went wrong.
Here are some variations of the Tell Me Some About Yourself Interview Question:
'Please take me through your resume,'

'How would you talk about / identify yourself,'

Tell me something about yourself that I won't find in your resume.'
Also Read
But never fear! In this article, we will be looking at ways to ace a "Tell me something about yourself" question.
A Guide to Describing Yourself to Employers
How to answer tell me about yourself. When an interviewer asks you to introduce yourself, include any relevant talents or experiences. So your small wins at school/ college (debate competition, speech, and the like) or sharing personal information such as your marital status or family background is not useful at all. Because this common behavioural interview question wants to delve into your technical and soft skills.
Let us take a look at two 'Tell me about yourself examples' below to help you answer and tell me something about yourself.
Example 1
"Hello," My name is Sheetal. I worked as an HR Manager for ABC Ltd. I am originally from Kerala, but I moved to Pune because of my husband's professional relocation. I am now looking for opportunities in Human Resource Management. Two of my favorite pastimes are reading and listening to music."
Example 2
"Hello." No. 2 Exercising My name is Richa. I am from Kerala, but I now call Mumbai home. Prior to this, I worked as an HR Manager for ABC Ltd. Career transitions for companies such as XYZ Cosmetics, and YK2 Appliances were my most significant projects to date. In these, it was important to build relationships, as well as provide proper training, and conduct high-quality hiring processes, all of which helped the companies gain skilled professionals. This enhanced the productivity of the company within two years.
I prefer developing personal relationships with clients, yet I excel at paying attention to detail. I devote my time to our professionals as well as our clients, getting to know them. This allows me to rapidly address their concerns and clarify things that are not immediately obvious.
My long-term goal is to improve my HR skills and leadership abilities so that I can advance to management positions in the future. As a result, I am looking forward to working for a company that values these."
Also Read
Is it possible to tell the difference between the two? Give some examples of yourself.
The interviewee in the first scenario went on to detail her personal life, (marital status, interests, accomplishments at school) They were unrelated to the job she had applied for. Furthermore, the candidate gave no indication as to why she used it for the job, what she anticipated to gain from it, or what skill sets and knowledge she could offer to the organisation. Thus this trend of job interview questions and answers will fail.
Consider the following scenario. In a few words, tell me about yourself. In this scenario, the applicant aced the Tell me about yourself question. She detailed not only her job responsibilities, but also her achievements, strengths, and how these would help her succeed in her chosen sector, as well as her long-term objectives. In addition, the interviewee outlines how the organisation she wants to work for could help her achieve her goals. Thus this type of job interview questions and answers will portray the candidate as someone who knows what he/she is getting into. And who won the interview? The second interviewee!
You should be able to respond appropriately to the inquiry "Tell me about yourself answer for freshers." Important facts or expertise that are relevant to their position are frequently overlooked or forgotten by interviewees. As a result, if a prospective employer asks you to describe yourself, follow the suggestions below.
In an interview, you can not escape questions like "Tell me about yourself." While preparing for your interview, have a bulletproof pitch in hand. While you do not need to remember it word by word, the intonation can assist you in answering the question swiftly. As a result, make sure to include relevant work experience, abilities, and skills needed for the specific position, your goals, and how the job or organisation would help you achieve those goals.
Always measure your success in terms of time, money, or people. "My essay on 'HR Management Potential in India' was well-received by readers, and I made it to the list of the 'Top 50 Widely Read Writers in 2023," instead of "My piece on the financial crisis was well-received."
If you previously worked as a sales representative, you can say, "During my time as an HR Manager for XBC Corporation, I led the talent acquisition team. The company recruited over 250 professionals that year." rather than "During my time as HR Manager for XBC Corporation, I assisted the company in HR management."
Make sure you are comfortable with your "Tell me about yourself" script. Practice speaking in front of a group of people until you feel comfortable. Practicing will help you stay calm and recall the most important aspects of an interview. However, it is critical to remember that these types of job interview questions and answers must flow naturally as you speak. It should not appear mechanical or forced.
When it comes to queries like "Tell me about yourself," the STAR approach is usually helpful. The acronym 'STAR' stands for
S- Situation
T- Task
A- Action
R- Result
Also Read
The STAR method
The letter S stands for the scene. Look for a few instances from your prior employment that will help you illustrate your accomplishments and how you overcome any obstacles. Such remarks would demonstrate your skills, as well as your experiences and objectives in these job interview questions and answers.
The task is represented by the letter 'T.' This part should highlight the responsibilities or responsibilities that you had at your previous job. If an employer inquires about your role as a social media manager, you can respond, "As a social media manager, my goal was to increase our Instagram followers by 50%."
Activity is represented by the letter 'A.' While highlighting your achievements is important, do not forget to add the steps you took to achieve your goals. Explain how you doubled the number of Instagram followers at your previous employer if you mentioned it. I started studying important Instagram accounts, tagging people in our photos, adding relevant hashtags, and increasing the frequency of our posts to increase our followers by 50%."
The letter R represents the outcome. Keep in mind to discuss the outcomes of your efforts. If your task was to increase Instagram followers by x %, you would say, "From 500 followers to 500, I was able to expand to 10000 followers in 3 months, which was more than projected."
Also Read
Do's and Don'ts
We have gone over a few instances of how to answer the question "Introduce yourself in interview example for freshers" We have also spoken about how to put up a pitch for such queries. Now we will go over some important dos and don'ts to remember.
Do's
Describe the qualities and abilities that make you a potential candidate for the role.

Tell them why you are interested in the role, the organisation, and how it can help you achieve your professional objectives.

Mention any previous achievements from your previous employment or degree that you think would help you succeed. Include illustrations.

If you are heading to a higher-level position or a different industry, explain how you are boosting your responsibilities in your current employment.
Don'ts
Avoid personal details (family history, marital status, children, and the like.) Only talk about your level of expertise. You are free to discuss your passion.

Avoid delicate topics like politics and religious affiliations, as they may affect your candidacy.

Include no talents or hobbies that are unrelated to the role. Instead, simply state the traits you believe are essential to the role.

Don't Resumes must not be boiled down. The interviewer wants to understand more about you as an individual, something your CV does not reflect. Include information that is not on your CV.

Answer in less than two minutes.
Top Providers Offering Skill Development Certification Courses
Conclusion
That is all there is to it! These are just a few examples of how you should construct your "Tell me about yourself" Interview question response with care. There is no one-size-fits-all method for one of the most significant questions to ask in an interview. The key to nailing the introduce yourself in interview for freshers is understanding what the company is looking for in a professional and selling it in a way that complements your resume and personality. Have faith in yourself and your career goals, and the solution will appear.