What is a Bachelor of Education (B.Ed)?
Bachelor of Education or B.Ed course is an undergraduate professional course in the field of teaching which has become a mandate for those who are interested in teaching at the primary as well as higher levels. The National Council for Teacher Education is the authority that regulates teaching courses in India including B.Ed courses. B.Ed course duration is of two-year which is based on employment as a teacher for primary, secondary, or senior secondary levels in a school.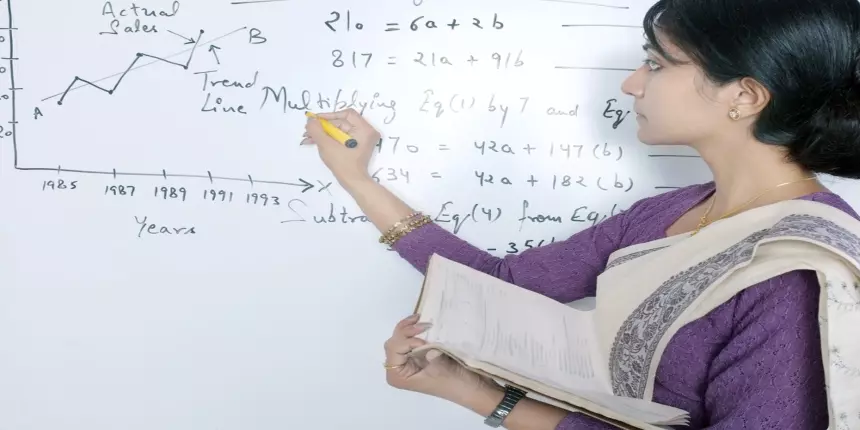 B.Ed (Bachelor of Education) Course, Eligibility, Admission, Syllabus, Scope & Career Growth
Bachelor of Education or B.Ed course is designed for individuals who aspire to become a teacher. B.Ed course equips students with the comprehensive knowledge, skills, and pedagogical methodologies that are required for effective teaching at various levels of the education system, such as primary, secondary and higher secondary levels. In this article, we will discuss all B.Ed course details, such as B.Ed course duration, B.Ed course syllabus, B.Ed subjects, B.Ed colleges, B.Ed admission and B.Ed eligibility criteria.
What is the B.Ed Full Form?
B.Ed full form is Bachelor of Education, commonly referred to as BEd by candidates. B.Ed course is a full-time two-year course for applicants who want to opt for teaching as their career path. B.Ed course is one of the most crucial qualifications for those pursuing a career in teaching in schools, colleges, and other educational institutions. In this article, we will discuss all B.Ed course details, such as B.Ed course duration, B.Ed course syllabus, B.Ed subjects, B.Ed colleges, B.Ed admission and B.Ed eligibility criteria.
Highlights - B.Ed (Bachelor of Education)
| | |
| --- | --- |
| Particulars | Values |
| Degree Name | B.Ed (Bachelor of Education) |
| Degree Type | Undergraduate |
| Degree Duration | Two years |
| Entrance Exams | CTET, HTET, UPTET, HP TET, Bihar TET, MP TET |
| Eligibility Criteria | Bachelor's degree in any stream |
| Admission process | Entrance Exam |
| Fees for the entire duration | Rs. 5,000 to Rs. 5 lakhs |
| Average Salary | Rs. 5 lakhs p.a. (Approx.) |
| Job profiles | Educational Counsellor, Teacher, Language Trainer, Content Writer, Highschool Teacher, Researcher |
| Top recruiters | Schools, Colleges, and Various educational institutions |
B.Ed Fees Structure
B.Ed course fees differ from one university to another and mostly depend on the type of college. Before enrolling in any particular college, students should check the B.Ed course details, such as the B.Ed course duration, B.Ed course syllabus, B.Ed subjects, B.Ed colleges, B.Ed course fees, B.Ed admission and B.Ed eligibility criteria. The average B.Ed course fees range from Rs. 5,000 to Rs. 1.15 Lakhs.
Why Choose B.Ed Course?
The demand for a good teacher never goes down. As the population continues to grow, more teachers will be required to teach students. By pursuing a degree in B.Ed an individual gets to know about the various methods as well as tactics required to become a teacher. By taking up a degree in B.Ed an individual is exposed to several career opportunities. The field of teaching has a large number of jobs.
Students also liked
B.Ed Eligibility Criteria
B.Ed eligibility criteria vary depending upon the institute applying for. The B.Ed eligibility criteria can is mentioned below:
The candidate should have a bachelor's degree in any stream from a recognized university, such as science, commerce, humanities, or journalism.

As per trends, people willing to take up B Ed admission should have a score of at least 50 per cent to 60 per cent or such equivalent grade in their bachelors.

There is no specific upper or lower age limit for candidates who want to get a B.Ed degree.
Skill Required for B.Ed Degree
Bachelor of Arts or B.Ed degree in India requires students to develop a lot of skills to succeed academically and professionally. Teaching and research skills are some of the most important skills that are crucial for the B.Ed degree. In the table below, we have mentioned some of the essential skills required for a B.Ed degree.
| | |
| --- | --- |
| Creativity | Communication skills |
| Visualisation | Presentation skills |
| Command over language | Critical thinking |
B.Ed Admissions
The admission procedure for B.Ed degree courses varies for the different institutes. For example, there are universities that conduct specific entrance examinations in order to take up admissions in B. Ed degree, while some others offer admissions directly on the basis of merit and not through some entrance examination. Thus, the process of admission shall totally be based upon the institute itself.
Students need to follow all the BEd eligibility criteria and fill out the forms for the admission tests.

They need to score at least 50 per cent marks in their undergraduate degree programme to apply for the BEd courses in private and government colleges in India.

Students should pay the BEd fees at the time of the BEd admission procedure.
Top B.Ed Exams
Here, in this section, we will be discussing some of the top teacher's training examinations.
CTET: Central Board of School Education (CBSE) conducts the CTET exam twice a year. Candidates for teaching jobs may apply to the teacher recruitment process by appearing in the Central Teacher Eligibility Test. This hiring procedure is carried out by the Kendriya Vidyalaya Sangathan, Navodaya Vidyalaya Samiti, other central schools, and Army Public School.
HTET: Board of School Education, Haryana, conducts the HTET, or Haryana Teachers Eligibility Test. Primary Teacher, Trained Graduate Teacher (TGT), and Post Graduate Teacher (PGT) eligibility tests are all conducted by the Board of School Education, Haryana (BSEH) for schools affiliated with the Haryana Government.
Bihar TET: Bihar School Examination Board conducts the state-level Bihar TET (Teacher Eligibility Test). Candidates who want to pursue a career as teachers in Bihar's public schools need to pass this exam.
B.Ed Subjects/Syllabus
The B.Ed course syllabus may vary for different institutions and universities that provide admissions to B.Ed courses. However, the National Council of Educational Research and Training (NCERT) can be considered a standard authority for the purpose of referring to the B Ed degree syllabus. Given below are the major B.Ed subjects to be covered under the curriculum of the BEd degree:
Childhood and Growing Up

Understanding the Self

Contemporary India and Education

Creating an Inclusive School

Language across the Curriculum

Health, Yoga and Physical Education

Pedagogy of School Subject

Engagement with the Field: Tasks and Assignments

Understanding ICT and Its Application

Arts in Education

Exposure to School

Reading and Reflecting on Texts

Engagement with the Field: Tasks and Assignments

Gender, School and Society

Learning and Teaching

Two weeks Post Internship

Pedagogy of School Subjects

Engagement with the Field: Tasks and Assignments related to internship

Knowledge and Curriculum

15 weeks Internship

Assessment for Learning

School Attachment

One week Pre internship

Community living camp

Engagement in the Field: Tasks and Assignments for Courses
Browse B.Ed. Degree Colleges by States
Browse B.Ed. Degree Colleges by Locations
Bachelor of Education Specialisations
There are no separate specialisations in B Ed degrees, unlike other graduation courses. Though the students are required to choose specific subjects while B Ed admission depends upon what stream they have graduated from. For example, people who are graduates of medical sciences might opt for subjects related to life sciences, and those having a degree in history, or humanities, will choose their subject options accordingly. The subject-specified syllabus is important because students who pursue the teaching profession have to impart knowledge in their own educational field, thus it is crucial that they should gain in-depth knowledge of their subjects.
What After B.Ed Course?
Bachelor of Education degree holders can proceed with employment in the teaching profession at government or private institutions, or can also think of becoming a tutor for special education apart from mainstream school education as needed by most students these days. They can also go for pursuing further studies in the field of their graduation, or even apply for Masters in Education (M.Ed).
Careers Opportunities After B.Ed Course
It is well known among the student fraternity that B.Ed is a basic requirement for pursuing a profession in teaching. Candidates can be employed as a teacher at primary, secondary and senior secondary levels. Given below are some fields of nature of employment that are open for someone who has completed his or her B.Ed degree and looking for a career thereafter:
Teacher: A teacher is a professional who shares expertise, skills, and information with others, usually in a formal educational facility like a school, college, or university. The main responsibilities of a teacher are to encourage learning, support students' academic and personal development, and assist them in developing new skills, perspectives, and knowledge.
Private Tutor: A private tutor is a person who provides students with personalised, individual assistance outside of an organized educational environment. To help students better comprehend and perform well in their academic courses, a private tutor provides further guidance and training. He or she can cover a variety of topics, such as math, physics, languages, history, music, and art.
Educational Consultant: An educational consultant is a specialist who provides instructions, counsel, and support to people or organisations looking for help with various areas of education. He or she usually have a deep understanding of educational systems, curricula, instructional strategies, and related topics. Their main objective is to assist customers in selecting educational pathways, programs, and tactics that fit their requirements and aspirations.
Top Recruiters for BEd Graduates
| | |
| --- | --- |
| Government and Private Schools | FIITJEE |
| National Council of Educational Research and Training (NCERT) | Bal Bharti Public School. |
| National University of Educational Planning and Administration (NUEPA) | Amity International School, all NCR branches |
| Educomp Solutions | Presidium, all NCR branches |
| TIME | G. D Goenka Public School |
| Everonn Education | Delhi Public School, All Branches |
B.Ed. Salary
The salary of a bachelor of education can not be reiterated in exact numbers, and the numbers will also vary according to the post held by such a person. For the Trained graduate teacher (TGT) level, the B.Ed salary will comparatively be less than a Postgraduate Teacher (PGT). Another factor that matters is whether the person is employed in a private school or institution, or is it employment under the government. On average, a teacher's salary ranges in B.Ed. around Rs. three lakhs per annum for TGT and around Rs. 4.5 lakh per annum for PGT teachers.
| | |
| --- | --- |
| Job Profiles | Average Salary |
| Teacher | Rs. 2.0 LPA |
| Private Tutor | Rs. 1.8 LPA |
| Educational Consultant | Rs. 3.5 LPA |
Top Private B.Ed Colleges in India
In India, there are a number of private B.Ed colleges that offer B.Ed degrees. Private universities are significantly more expensive than public universities. Some of the top private B.Ed colleges and also B.Ed fees are discussed below:
Top Government BEd Colleges in India
A government college is less expensive than attending a private B.Ed college. Government B.Ed colleges are known for their high academic standards in India. The following are some of the best government B.Ed colleges and also B.Ed fees:
| | |
| --- | --- |
| College | Fees |
| | - |
| | Rs. 1.15 Lakhs |
| | - |
| | - |
| | Rs. 81,250 |
| | Rs. 10,820 |
| | Rs. 1.35 Lakhs |
| | Rs. 90,000 |
| | Rs. 27,900 |
| | Rs. 1.21 Lakhs |