What is BDS (Bachelor of Dental Surgery)?
BDS or Bachelor of Dental Surgery is a professional undergraduate degree in dentistry, is pursued by students who want to make a career as a dentist. The duration of the BDS or Bachelor of Dental Surgery course is of four years, students who have completed their 10+2 can opt for BDS course. Candidates who wish to advanced their careers in a healthcare and dental surgery can get all the details about BDS from this article. BDS is an undergraduate course of five years duration, of which four years will be for theory, while one year will be for a rotatory internship. BDS or Bachelor of Dental Surgery curriculum is regulated by the Dental Council of India (DCI).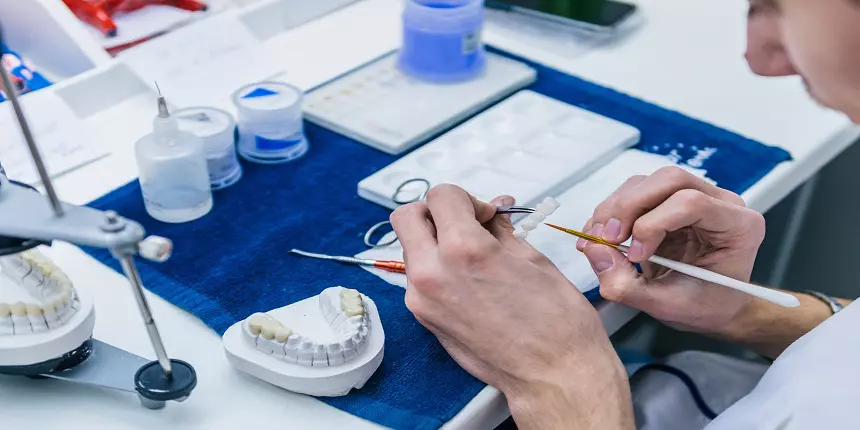 BDS (Bachelor of Dental Surgery) - Course, Admission, Fees, Colleges, Eligibility, Cut Off, Syllabus, Scope
In order to get admission to BDS course, students need to appear and qualify in the National Eligibility cum Entrance Test (NEET), for admission to a total of 26,949 BDS seats offered in 313 government, private, and deemed universities of the country. Except NEET, no other exam will be considered for granting BDS admission, interested applicants can check the article for more information, BDS eligibility, BDS admission procedure, exams, colleges, and other details below. In this article we will be discussing BDS full form, BDS subjects year-wise, eligibility, admission, and career options after BDS.

IMPORTANT: NEET Cut off released!
What is BDS Full form?
BDS full form is Bachelor of Dental Surgery, it is a four-year undergraduate programme. Candidates who want to pursue a career as a Dental surgeon can opt for the BDS course. Students should have PCB in their 10+2 to be eligible for BDS course. Many higher education institutes offer BDS courses. In this article, we will be discussing the BDS subjects year-wise.
BDS Highlights
| | |
| --- | --- |
| Particular | Value |
| Name of Degree | Bachelor of Dental Surgery (BDS) |
| Level | Undergraduate |
| Course Duration | Four years |
| Semester/Yearly | Semester |
| Admission Process | Entrance test followed by counselling by the authorities. |
| Eligibility Criteria | Should have completed 10+2 in PCB from a recognised institute/board |
| Course Fee | Rs. 50,000 to Rs. 1,200,000 |
| Top Recruiters | Dental Clinics, Government hospitals, Dental Institutions, Pharmaceutical Companies, Dental Products Manufactures, Private Practice |
| Types of Careers | Dental Technician, Prosthodontist, Dental Hygienist, Dental Consultant, Dentist |
BDS Fees Structure
BDS fees vary depending on the medical college or university in which students take admission. Before enrolling in any particular BDS college, students should check the Bachelor of Dental Surgery (BDS) fees structure. BDS fee in both the private and government colleges is Rs. 50,000 to Rs. 1,200,000 lakhs.
Why Choose BDS?
Pursuing BDS (Bachelor of Dental Surgery) offers students rewarding career opportunities. BDS graduates provide medical assistance on people's oral health, by offering them essential dental care. BDS or Bachelor of Dental Surgery offer a stable career with wide opportunities in the private and government or public sector. BDS graduates can also join the academics as a professor or lecturer in the medical colleges.
BDS graduates with the required certification perform anaesthesia to calm the patient and avoid extreme pain while the extraction of the tooth. Graduates of Bachelor of Dental Surgery usually get the opportunity to work in dental clinics and perform all such tasks. They can work full-time in a hospital or can practice in their personal dental clinics. BDS graduates can opt for numerous careers such as dental technician, prosthodontist, dental hygienist, dental consultant and numerous other roles.
Students also liked
BDS Eligibility Criteria
Aspiring applicants must meet the BDS eligibility criteria for the admission in BDS course. They need to be aware of the basic BDS eligibility criteria required for pursuing a bachelor's degree in bachelor of dental surgery, including the course understanding. These are the necessary eligibility requirements that the students must follow to obtain BDS admission. The eligibility criteria for BDS admissions as per NEET are given below.
Candidates have to pass a recognised Higher/Senior Secondary Examination or the Indian School Certificate Examination equivalent to 10+2 with Physics, Chemistry, Biology/Biotechnology.
Mathematics or any other elective subject with English as prescribed by the NCERT.

NIOS candidates are eligible for now subject to the matter subjudice in the court.

Students from Foreign/International Boards are eligible if their qualified exam meets the equivalency determined by the Association of Indian Universities (AIU) as per regulations of the Dental Council of India and the concerned University.

Unreserved candidates and OCI, NRI, and foreign candidates must have secured at least 50 per cent in their qualifying exam in Physics, Chemistry and Biology/ Biotechnology.

Candidates belonging to Scheduled Castes, Scheduled Tribes or Other Backward Classes (OBC)must have secured 40 per cent

PwD candidates must have secured 45 per cent in their qualifying exams.

Candidates must have completed 17 years at the time of admission or before December 31 of the year of admission.
Skills Required for BDS Degree
Candidates who want to pursue a BDS degree programme must possess certain skills. After earning BDS degree programme, student need the following skill sets to advance in the career:
| | |
| --- | --- |
| Communication Skills | Physical Strength |
| Patience | Empathy |
| Critical Thinking | Attention to Detail |
BDS Application Process
Since in India, NEET is the single dental entrance examination, no exam is conducted for granting undergraduate dental admission in the country. Admission to the BDS degree will be done only on the basis of NEET scores. In order to pursue a BDS degree, aspirants are required to appear and qualify for the National Eligibility Entrance Test. The admission process for the BDS degree comprises filling out the application form for NEET, followed by admit card, conducting the exam, results, and counselling.
Candidates are required to fill out the NEET BDS application form by paying the requisite amount within the due dates.

Registered candidates will be issued the admit card for a BDS degree, which needs to be carried at the exam center for verification purposes.

The result of BDS will be released in online mode in the form of a scorecard.

Aspirants can download the BDS result-cum-scorecard by logging in using the required credentials.

Aspirants who will secure the BDS cutoff will only be considered qualified and eligible for the counselling process.

Qualified candidates are required to participate in the counselling process by registering themselves for successful granting of BDS admission within the due dates.
Also Read: Dentistry Certification Courses
Top BDS (Bachelor of Dental Surgery) Exams
NEET: National Eligibility cum Entrance Test-Undergraduate or NEET UG is a national level entrance examination which is used for the admission in MBBS, BDS and BAMS degree programmes. NEET-UG is the common entrance examination which is required for admission in all medical universities and colleges in India for admission in the undergraduate degree programmes.
BDS Cut off
Bachelor of Dental Surgery or BDS cut-off is required to determine the student's merit for admission in the BDS degree programme in various medical colleges in India. For BDS degree programmes, NEET cut off is the main criteria that every medical college accepts for the BDS admission process. BDS cutoff is based on the number of students appearing for the NEET examination, previous year's cutoff, NEET question paper.
Browse Medical Colleges Accepting NEET
BDS (Bachelor of Dental Surgery) Syllabus/Subjects
Candidates can go through the below-mentioned syllabus of BDS degree, which an aspirant has to go through while completing the degree. In the table below, we have mentioned BDS subjects year-wise.
1st year

2nd year

General Human Anatomy including Embryology and Histology

General Pathology and Microbiology

General Human Physiology and Biochemistry, Nutrition and Dietetics

General and Dental Pharmacology and Therapeutics

Dental Anatomy Embryology and Oral Histology

Dental Materials

Dental Materials

Preclinical Conservative Dentistry

Pre-clinical Prosthodontics and Crown & Bridge

Pre-clinical Prosthodontics and Crown & Bridge

Oral Pathology & Oral Microbiology

3rd year

4th year

General Medicine

Orthodontics & Dentofacial Orthopaedics

General Surgery

Oral Medicine & Radiology

Oral Pathology and Oral Microbiology

Paediatric & Preventive Dentistry

Conservative dentistry and Endodontics

Periodontology

Oral & Maxillofacial Surgery

Oral & Maxillofacial Surgery

Oral Medicine and Radiology

Prosthodontics and Crown & Bridge

Orthodontics & Dentofacial Orthopaedics

Conservative Dentistry and Endodontics

Paediatric & Preventive Dentistry
Periodontology

Conservative Dentistry and Endodontics

Prosthodontics and Crown & Bridge

Public Health Dentistry
After passing the examination, all candidates are required to do a one-year mandatory rotating internship programme in all the departments for the duration indicated against each department as given below:
BDS internships department and period of posting:
| | |
| --- | --- |
| Department | Period of Posting |
| Oral Medicine & Radiology | 1 month |
| Oral & Maxillofacial Surgery | 1 and a half month |
| Prosthodontics | 1 and a half month |
| Periodontics | 1 month |
| Conservative Dentist | 1 month |
| Pedodontics | 1 month |
| Oral Pathology & Microbiology | 15 days |
| Orthodontics | 1 month |
| Community Dentist/Rural Service | 3 months |
| Elective | 15 days |
| Total | 12 months |
Note: Any student who does not clear the BDS course in all the subjects within a period of nine years, including a year mandatory rotatory paid internship from the date of admission shall be disquallified from BDS course.
Also Read:
BDS Specialisations
BDS specialisations available for the dentists to choose the area in which they would like to mark their career. They have a choice of nine specialisations to choose from while pursuing their masters as given below.
| | |
| --- | --- |
| Oral Medicine, Diagnosis, and Radiology | Prosthodontics |
| Oral and Maxillofacial Surgery | Periodontal Surgery and Oral Implantology |
| Oral Pathology and Microbiology | Pedodontics |
| Conservative Dentistry and Endodontics | Public Health Dentistry |
What after BDS?
In today's world, where oral health is one of the primary concerns for everyone, the scope of BDS in India and abroad is very high. People like to visit the dentist for their oral checkup in a month or two. The scope of a Bachelor of Dental Surgery (BDS) in India is very vast and increasing at a rapid speed day by day. It depends on the respective aspirant's skills, knowledge, calibers, and the place they are practicing.
MDS is not just the only option that is open for students. Dentists can also pursue a management course like MHA (Masters in Hospital Administration) or MPH (Masters in Public Health). This will allow them to step into the management side of health organisations or hospital chains. BDS course is very career-oriented and serves society with its application. BDS graduates can easily earn a handsome salary by working in both private or government organisations.
Other Popular Medical Degrees
Careers Opportunities after BDS
A plethora of career options are available after the BDS degree programme. Career as a dentist is the most sought after career option available after BDS course. However, that in itself has choices of where for whom, and as what. An important point is that students must register with the Dental Council of India to be able to practice as a dentist. Some of the career options are mentioned below:
Dentist: Dentists are doctors who diagnose and treat teeth diseases and oral cavities. Dentists recognise and then treat the diseases of teeth, gum, other oral diseases and make dentures. They guide the patients by providing information on how to maintain healthy teeth and gums and how to take care of oral hygiene.
Lecturer: Lecturers in the medicl colleges are senior doctors who have completed their MD degree and have work experience. Mostly the doctors attached to the Govt hospitals also work as consulting professors to the students at the attached colleges. However, teaching is an option for dentists who have an inclination for it, after gaining some experience working as a dentist.
Top Recruiters
Some of the top recruiters that hire BDS graduates are mentioned below:
Salary after BDS Degree
The salary of dental graduates depends upon their caliber and experience. Aspirants can earn a handsome salary both in the private and government sector. Below, we have mentioned the salary after BDS degree:
| | |
| --- | --- |
| Job Profiles | Average Salary |
| Dentist | Rs. 3 LPA |
| Lecturer | Rs. 6 LPA |
Employment Areas
BDS graduates can join hospitals, other healthcare facilities, and universities. Students who have pursued BDS or Bachelor of Dental Surgery, can also practise individually. Some of the employment areas after graduating from BDS are mentioned below
Top Private BDS Colleges in India
In India there are a number of private BDS colleges. Private university education is significantly more expensive than public university education. Some of the greatest private BDS colleges and also BDS fees are discussed below:
| | |
| --- | --- |
| Colleges | Fees |
| | Rs. 20.07 Lakhs |
| | - |
| | Rs. 12.56 Lakhs |
| | - |
| | - |
| | Rs. 9.30 Lakhs |
| | - |
| | Rs. 3.83 Lakhs |
| | - |
| | Rs. 13.80 Lakhs |
Top Government BDS Colleges in India
Attending a government-run college is less expensive than attending a private college. These colleges are well-known for their high academic standards throughout India. The following are some of the best government BDS colleges and also BDS fees:
| | |
| --- | --- |
| Colleges | Fees |
| | - |
| | Rs. 1.04 Lakhs |
| | Rs. 1.00 Lakhs |
| | Rs. 1.02 Lakhs |
| | Rs. 3.70 Lakhs |
| | Rs. 1.65 Lakhs |
| | - |
| | Rs. 1.49 Lakhs |
| | Rs. 1.55 Lakhs |
| | Rs. 3.00 Lakhs |
Browse Medical Colleges by Cities
Browse Medical Colleges by States