What is BFA (Bachelor of Fine Arts)?
One of the most prestigious undergraduate degrees in visual arts, BFA is the programme that helps students gain skills and experience in various specialisations. BFA includes sculpture, literature, animation, and other specialisations. While students opt for fine arts courses at the undergraduate level; they also have to choose a specialisation as per his/her interest. It is usually a three to four years programme that can be pursued through full-time, part-time, or distance learning. Read this complete article by Careers360 to get more BFA course details.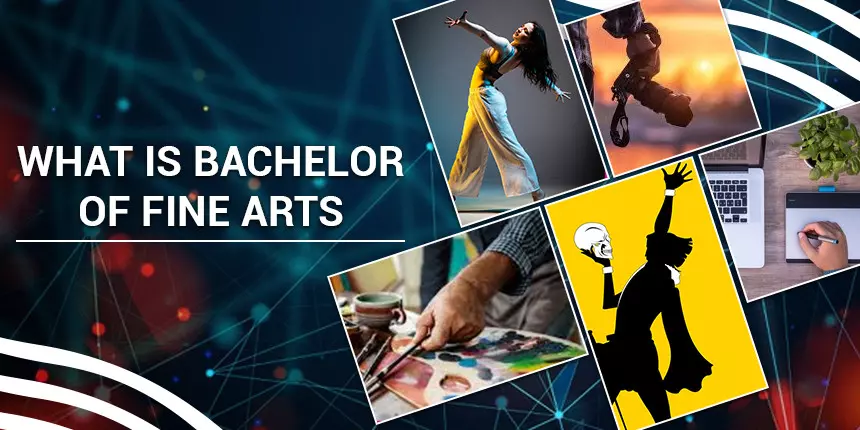 BFA: Full Form, Course, Fees, Admission 2024, Subjects, Syllabus, Career Options
What is BFA Full Form?
BFA stands for Bachelor of Fine Arts and is three to four years in duration depending on the specialisation and curriculum of the college. Please note that while the term Bachelor of Visual Arts (BVA) is often used interchangeably with Bachelor of Fine Arts (BFA), there are slight differences between the two.
Highlights - Bachelor of Fine Arts (BFA)
| Particulars | Values |
| --- | --- |
| Degree Name | Bachelor in Fine Arts |
| Degree Type | Undergraduate |
| Degree Duration | 3-4 years |
| Entrance Exams | AUSAT, CUCET, CUET PG |
| Eligibility Criteria | 10+2 from a recognised board |
| Fees for the entire duration | Rs. 8,000 to 6 lakhs |
| Average Salary | Rs. 6.92 LPA |
| Job Profiles | Actor, Art Director, Writer, Graphic Designer, Animator |
| Employment Areas | Advertising Companies, Boutiques, Publishing Houses, Television Industry, Theatres |
| Top Recruiters | Disney, Pixar, Sotheby's, Yashraj Studio, Decathlon, Marks & Spencer |
BFA Course Fee Structure
The Bachelor of Fine Arts fees depend on the type of college, whether private or public. Academic and placement records of the institution along with the facilities provided are some factors that collectively determine the BFA course fees. Government colleges tend to have low fees compared to their private counterparts, and the average BFA course fees range from Rs. 8,000 to 6 lakhs.
Why Choose BFA?
Learning life skills- By pursuing a degree in fine arts, an individual can develop life skills that will help him throughout his life.
Learning job skills- After completing a BFA degree, an individual also gets an idea of the professional world. He gets to acquire several skills that would help him in his job or professional life in general.
Networking- For individuals wishing to pursue a career in fine arts it is very important to be able to build a network for themselves. Good networking not only helps them grow but also find better career opportunities.
Students also liked
BFA Eligibility
There are no fixed BFA course eligibility criteria for admission, as it depends on the governing body of the institution. The Bachelor of Fine Arts eligibility criteria can be easily found on the official websites of colleges and universities offering these courses. Students applying for the BFA programme must fulfill the eligibility criteria mentioned below:
Students must have completed their class 12th in any discipline from the recognised board.
Aspirants must have scored a minimum of 50 per cent in class 12th.
In some colleges, preference is given to students who belong to the humanities/arts stream. Hence, check the university website before applying.
Skills Required for BFA Degree
Skills in any field help to improve the efficiency and performance of the task. To succeed in the BFA course, certain skills will be beneficial to candidates throughout the course. These BFA skills are not mandatory but play an important role in grasping the course concepts.
| | |
| --- | --- |
| Creativity | Communication Skills |
| Critical Thinking | Problem-solving Abilities |
| Time Management | Collaboration |
BFA Application Process
Annually, notifications of BFA course details are released by several colleges through their official websites or other mediums. The affiliation and governing body of the institution have the full right to modify the BFA admission accordingly. Below, we have provided the BFA admission process followed by most colleges in India.
Students can pursue diploma or degree courses of Bachelor of Fine Arts after completion of Class 12th from a recognised board and institution with a minimum score of 50 per cent in aggregate.
Check the official website of the desired institute and fill out the application form for the BFA entrance exam.
Students will have to appear for an aptitude test which is conducted by various universities.
Students who qualify for the aptitude test will be granted admission to the BFA programme as per the institute's policy.
Top BFA Entrance Exams
Students aspiring for admission to top institutes offering Bachelor of Fine Arts programme can apply for the following entrance exams conducted by various top universities:
AUSAT: Alliance University Scholastic Aptitude Test or AUSAT is a university-level entrance examination, conducted by Alliance University, Bangalore. AUSAT entrance examination is conducted for admission to various undergraduate degree programmes at Alliance University, Bangalore.
CUCET: CUCET or Chandigarh University Common Entrance Test is a university-level entrance examination, conducted by Chandigarh University. The examination is conducted in two phases and in an online mode.
CUET UG: Common University Entrance Test UG or CUET UG is conducted by the National Testing Agency (NTA), a national-level entrance examination, for admission to undergraduate degree programmes in various courses accepted by the central universities in India.
BFA Cut Off
The BFA course details of the cutoff are released every year by various colleges and universities across the country. A continuous change in the BFA cutoff can be seen annually, because of factors such as level of examination, seat intake, and total number of applicants. Also, in government colleges, the BFA cutoff is released separately for all reserved categories and physically disabled candidates.
BFA Syllabus/Subjects
The BFA syllabus is not fixed and it depends on the specialisation and college curriculum. The BFA curriculum spreads over either three or four years and is well balanced with theoretical, practical, and soft skills training. The degree is provided in several universities and institutions, here were are mentioning the BFA course subjects taught at UPES, Dehradun.
Semester 1

Semester 2

Sketching & Drawing- 1

Principles of Design

Elements of Design

Geometry 2

Colour

Material Exploration 2

Geometry 1

Visual Composition

Engineering Graphics

Introduction to Photography

Material Exploration 1

Computer Application 1

Semester 3

Semester 4

Narrative skills 1

Digital Image and Image Editing

Introduction to Digital Media in Social Context

Narrative skills 2

Imaging Tools and Techniques

Intro to 3D and Animation

Principles of Animation 1

Intro to Game Design 2

Introduction to Game Design

Principles of Game Design 2

Typography

Principles of Animation 2

Design for Print

Intro to UI/UX Design

Design Process

Branding and Communication

Semester 5

Semester 6

UV Texturing and Mapping

Level Design in Games 2

Visual Effects and Motion Graphics

Game Engines

Digital Sculpting and Texturing

Type in Motion

Level Design in Games 1

Elements in Video Production

Sound Design 1

Environment Design

Optimisation Techniques

Game and animation Prototyping

Semester 7

Semester 8

Digital Graphic Art

Graduation Project

Game Design (Serious Game)

Portfolio Design

Industry Internship

Design Project

Open Elective

Design and Craft

Art, Design, and Society

Product Photography

Packaging Graphics

Retail and Space Design

Transportation Design
BFA Specialisations
Students wanting to improvise their hidden skills can opt for any of the Bachelor of Fine Arts specialisations. The BFA course details about specialisation are mentioned below:
| | |
| --- | --- |
| | |
| Cartooning | Painting |
| Calligraphy | Sculpture |
| | |
| Dance | |
| Digital Arts | Pottery and Ceramics |
| | Printmaking |
| Illustration | Plastic arts |
What After BFA?
With modernisation and an increase in digitalisation, the scope of the Bachelor of Fine Arts is increasing at a rapid rate in various sectors. To have an attractive salary, prestige, and popularity after completing graduation students have ample scope in various sectors. One can start as a freelancer and go into photography, direction, fashion, and so forth.
Fresh graduates can apply in art galleries, banking, media, and public relations. One can showcase his/her talent in private galleries, and museums. The multimedia animators and artists can work in video gaming and motion pictures which is popular in the present generation.
Careers Opportunities After BFA
Students after completing their graduation in Bachelor of Fine Arts can pursue their careers as writers, art teachers, and art directors to display their outstanding talents. There are ample job opportunities available for freshers and students seeking jobs in the government and private sector. Some of the most promising job opportunities are
Actor- Students after completing their Bachelor of Fine Arts or BFA degree in Theatre can further pursue being an actor on stage or screen. An actor is someone who portrays a character and engages the audience by making them believe that the character is real by drawing their attention.
Art Director- As an art director, a person is responsible for visual styles and images in newspapers, magazines, movie and television production, and product packaging. An art director creates the overall design and guides others who develop layouts and artwork.
Art Teacher- An art teacher generally works in school and teaches children how to paint, create, and draw. An art teacher also guides his/her students about art history, creation of art, and theory.
Writer- If a student has creative writing and completed his/her Bachelor of Fine Arts or BFA degree then he/she can opt to become a creative writer and can work with different advertising agencies, PR agencies, publishing houses, newspapers, and broadcast companies.
Graphic Designer- Being a graphic designer it is a professional job, wherein a person has to assemble several images, motion graphics, and typography to create a piece of design.
Animator- As an animator, a person is responsible for creating multiple images known as frames. When these images are presented it gives an illusion of movement which is called animation. Animators can work in various fields like films, video games, and television.
Musician- a musician is a person who creates music using various musical instruments. A musician can compose, create, or perform music. Some of the examples of musicians include rapping, singing, composing, arranging, producing, or orchestration.
Fine Artist- A fine artist is a person who creates original artwork using different mediums. Fine artists' work is best described as per his/her area of specialisation such as creating a two-dimensional painting, three-dimensional sculpture, and four-dimensional image.
Top Recruiters
The top recruiters for Bachelor of Fine Arts graduates often vary depending on the specific field within the arts. However, several industries commonly seek BFA graduates, including advertising agencies, art galleries, museums, film and television production companies, publishing houses, and educational institutions. Some notable companies that often recruit BFA graduates are provided below
| | |
| --- | --- |
| Disney | Pixar |
| Marvel Studios | Sotheby's |
| Yashraj Studio | Decathlon |
| Marks & Spencer | Christie's |
Salary After BFA Degree
The salary package after completing a Bachelor of Fine Arts depends upon the type of job. A fresh graduate can begin his/her career with a salary package ranging between Rs. 2 to 3 lakhs per annum. Candidates having experience and skill set will have an advantage in their Bachelor of Fine Arts salary package. Candidates aspiring for jobs in publishing houses and advertising companies can have attractive packages as well. The average BFA salary package along with respective job roles are provided below.
| Job Roles | Average Salary |
| --- | --- |
| Art Director | Rs. 6.92 LPA |
| Writer | Rs. 4.03 LPA |
| Graphic Designer | Rs. 3.06 LPA |
| Animator | Rs. 3.95 LPA |
Source: Payscale
Employment Areas
A Bachelor of Fine Arts degree opens up various employment opportunities across different creative industries. Some common areas where BFA graduates find employment include
Advertising Companies
Art Studios
Educational Institutes
Boutiques
Publishing Houses
Fashion Houses
Television Industry
Websites
Theatres
Promotion and Product Design
Top Private BFA Colleges in India
Among the top BFA colleges listed, many private colleges are ranked high because of their academic excellence and placement records. These colleges generally have higher fees and easy admission procedures. The following table contains information about the top private Bachelor of Fine Arts colleges in India along with their total fees.
| Colleges | Fees |
| --- | --- |
| | Rs. 1.63 lakhs |
| | Rs. 3.06 lakhs |
| | Rs. 1.29 lakhs |
| | Rs. 2.15 lakhs |
| | Rs. 2.25 lakhs |
| | Rs. 16,130 |
| | Rs. 6.82 lakhs |
| | Rs. 3.0 lakhs |
| | Rs. 20.0 lakhs |
| | Rs. 3.12 lakhs |
Top Government BFA Colleges in India
Several government-funded institutions across the nation offer BFA courses. Admission to these BFA colleges is slightly difficult because of their rigid procedure. In the table below, we have provided the list of top government Bachelor of Fine Arts colleges in India.
Bachelor of Fine Arts course focuses on developing artistic skills, creative expression, and critical thinking within various visual arts disciplines. Through hands-on experience and theoretical studies, students gain a comprehensive understanding of art history, techniques, and concepts. Also, the BFA course prepares students for careers in various artistic fields such as painting, sculpture, digital media, graphic design, or art education. However, pursuing a BFA course solely depends on the interests and career goals of the student.