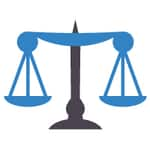 Law
Degrees offered: B.A., B.A. L.L.B, B.A.(Hons), B.B.A. L.L.B, B.Com, B.Com.L.L.B, B.Sc. L.L.B
Q&A : 10.4 K Question
What is Law
Law can be explained as a system of regulations and rules that are created by an authority in a certain country or community, which when not followed, can result in some sort of punishment or penalty. Law can also be described as a brand of justice. Law is one of the most sought after and long-standing professions in India and has always been one of the most popular courses for Indian students to pursue. There are mainly four types of law which are criminal law, civil law, corporate law, and business law.
The main degrees in law are Bachelors of Law (LLB) and Masters of Law (LLM) which are offered by many prestigious institutions in both India and abroad. Students can also pursue specializations in law, which include Tax Law, Corporate Law, Real-Estate Law, Civil Law, Criminal Law, IP Law, and many others.
Eligibility Criteria (UG & PG) of Law
Eligibility Criteria For Undergraduate Law Course:
Must have cleared class 12th from a recognized board with at least 40% marks.

Candidates that hold a Bachelor's degree from any UGC recognized university are also eligible for the program.
Eligibility Criteria For Law Master's Degree (Masters of Law (LLM))
Must have a Bachelor's degree in law from a recognized university/college.

Candidates must have passed the qualifying exam with a minimum aggregate of 45% .
Browse List of Law Colleges by States
Browse List of Law Colleges by Location
Entrance Exams for Law Courses
SET SLAT- The Symbiosis Entrance Test (SET SLAT) is organized by the Symbiosis Law School (SLS), Pune to help students in seeking admission in the university's law courses.
LSAT- The Law Student Admission Test (LSAT) is the most popular entrance exam at the global level for law aspirants. It is conducted by the Law School Admission Council. It is a half-day standardized test held about seven times each year.
CLAT- Common-Law Admission Test (CLAT) is an entrance test in the area of law which is conducted by the National Law University at a national level in India. It is an offline examination and is widely accepted in most law institutions and colleges.
Scope of Law in India and Abroad
Scope of Law in India and Abroad
Law is one of the most sought after and most respected professions in the world. After a student graduates from Bachelors of Law (LLB), he or she can pursue teaching, start practicing the law under another senior lawyer on their own, work in a firm, work for a corporate company as legal contingency and can even go for higher studies and pursue Masters of Law (LLM). Doing LLM helps open up various career paths for the students as after completing the course, the person can work in magistrates and become judges.
Course Fees Law
Minimum Fees
Maximum Fees
Private
Government
Private
Government
UG

3.00 K

L.L.B in Law at Savitri Devi Shankar Lal Mahavidyalaya, Allahabad

1.40 K

B.Com(Hons) in Law at Vishweshwar Singh Janta College, Rajnagar

1.20 Crores

L.L.B in Law at Chettinad Academy of Research and Education, Kelambakkam

32.10 Lakhs

B.B.A. L.L.B in Law at Indian Institute of Management Rohtak

PG

10.00 K

P.G.D in Law at Sonopant Dandekar Shikshan Mandali's Law College, Palghar

1.73 K

L.L.M in Law at Hooghly Mohsin College, Chinsurah

14.00 Lakhs

MBA in Law at Narsee Monjee Institute of Management Studies, Mumbai

4.18 Lakhs

L.L.M in Law at Indian Institute of Technology Kharagpur

DOCTORAL

20.00 K

Ph.D in Law at Saveetha School of Law, Saveetha University, Chennai

79.20 K

Ph.D in Law at Dr Shakuntala Misra National Rehabilitation University, Lucknow

20.52 Lakhs

Ph.D in Law at Amity Law School, Gurugram

10.74 Lakhs

Ph.D in Law at Tamil Nadu National Law University, Tiruchirappalli

DIPLOMA

3.90 K

Diploma in Law at Dr Ambedkar College of Law, Aurangabad

9.00 K

Diploma in Law at Department of Law, Bhagat Phool Singh Mahila Vishwavidyalaya, Khanpur Kalan

64.70 K

Diploma in Law at Amity Directorate of Distance and Online Education, Noida

51.00 K

Diploma in Law at Himachal Pradesh National Law University, Shimla
Course Subjects
Law Subjects
The subjects taught to an aspiring student when he or she chooses to study law are: -
Company Law

Jurisprudence

Legal Writing

Family Law

Administrative Law

Consumer Protection Law
Careers in Law
Careers in Law
After a person graduates from the law, a variety of different career opportunities open up for him or her. A person can work in the different types of law which are civil law, criminal law, business law, or corporate law. Based on that choice, the person can choose whether he or she needs to decide whether they need to work for a law firm, join the practice of another lawyer, set up their shop, or work for a corporate organization. Studying law even further gives the students an option to work as magistrates.
Popular Law Colleges in India
Upcoming trends
Upcoming Trends in Law
Law always has been a very popular discipline and has seen its fair share of developments. The upcoming trends that are being observed in this industry are: -
Paper-less approaches - In the past, lawyers have always been associated with heaps of paperwork as the profession requires proper documentation and the reading of those documents. Due to the advancements in technology, lawyers have been accessing documents on devices such as laptops and tablet computers- this is a much simpler and environment-friendly approach.

Remote Work - Due to the outspread of coronavirus, lawyers and court proceedings have started to be carried out remotely via online methods. This trend is expected to continue, and many court proceedings in the future are expected to be carried out online.

Millennials - A huge number of millennials have started graduating and joining the law force, millennials are hugely relied on inculcating technology in their work. Millennials are expected to be the drivers of any new trends in these kinds of workspaces.
Certifications for Law

Accredited Legal Professional

Professional Legal Secretary
Job Profiles and Top Recruiters
Law Job Profile
Mentioned below are a few job profiles that candidates can opt for after completing a course in law:
| | |
| --- | --- |
| Job profile | Job description |
| Legal Counsel | Legal Counsel works in a company and kelps the important people in a company to make decisions and provides them with legal precautions and protections. |
| Government Lawyer | A government lawyer practices law for the government, helping the government in regulatory bodies and policy formation. |
| | A legal advisor consults his or her clients on their unique legal issues and advises them on how to develop their plans. |
| Corporate Lawyer | Corporate lawyers are lawyers that practise law in a commercial capacity. They make sure that a company stays within the defined rules and regulations and see that the negotiations and transactions run smoothly. |
| | The job of a lecturer is to deliver lectures and teach lessons to students in a college or university. |

Law Top Recruiters
Many top law firms and many companies that require counsel while paying taxes need Law graduates and hire them. Some of the top recruiters that hire Law graduates are listed below:
Trilegal

Amarchand and Mangaldas and Suresh A Shroff Co.

S & R Associates

Khaitan and Co.

Desai and Diwanji

AZB and Partners

Talwar Thakore and Associates

Luthra and Luthra Law Offices
Average Salary
Law Graduates Average Salary
Mentioned below is the average salary of law professionals for their reference:
| | |
| --- | --- |
| Job profile | Average salary |
| Legal Counsel | Rs. 12 Lakhs p.a. (Approx.) |
| Government Lawyer | Rs. 3.6 Lakhs p.a. (Approx.) |
| Legal Advisor | Rs. 6 Lakhs p.a. (Approx.) |
| Corporate Lawyer | Rs. 6.5 Lakhs p.a. (Approx.) |
| Lecturer | Rs. 4.5 Lakhs p.a. (Approx.) |
Required Skillset for Law
Skillsets Required for Law Field
Specific skills are required in a person to carry out a job in a good capacity. The skills required in a person to practice law efficiently and effectively are: -
Information Analysis – Taking up a job in the field of law requires a person to deal with an enormous amount of information, every shred of which needs to be properly analyzed and interpreted.

Research Skills – Research skills are extremely important as the job requires the person to do a lot of research. Doing research, the right way, and the correct interpretation of that research are essential to the job.

Self Confidence – The job requires a person to have a convincing attitude even in the worst of situations. This requires a great amount of self-confidence in the person.

Attention to detail – Accuracy and precision while delivering results is pivotal towards the success of a person's legal career. The smallest of mistakes can cost a lot in this profession; everything should be flawless.
Course Curriculum for Law
Law Course Curriculum
The Bachelors of Legislative Law (LLB), is an undergraduate law course. If done directly after Senior Secondary, it is a five-year course, and if it is done after a student completes his or her bachelor's degree, it is a three-year course. During this course, students are taught about the legal system and the laws in India.
The course includes regular theory classes, moot courts, tutorial work, and internships. The Master of Legislative Law (LLM) is a two-year postgraduate course in law. This course helps the students gain a much better perspective of the law.
Browse List of LLB Colleges by States
Browse List of LLB Colleges by Location
Top Law Colleges Accepting CLAT Score
Popular Law Entrance Exams in India
Frequently Asked Questions (FAQs)
Question: What are the best Law colleges abroad?
Answer :
The top Law colleges abroad are: -
Harvard Law School, United States of America

University of Oxford, United Kingdom

University of Melbourne, Australia

National University of Singapore (NUS), Singapore

University of Cambridge, United Kingdom
Question: What is the average fee of a Masters in Law course?
Answer :
The average fee of a Bachelors in Law course can range from about Rs. 1,50,000 to about Rs. 2,00,000.
Question: What is the average fee of a Bachelors in Law course?
Answer :
The average fee of a Bachelors in Law course can range from about Rs. 1,00,000 to about Rs. 3,00,000.
Question: What are the top Masters in Law colleges in India?
Answer :
The top Bachelors in Law (LLB) colleges in India are: -
National Law School of India University, Bengaluru

Gujarat National Law University, Gandhinagar

National Law University, New Delhi

Symbiosis Law School, Pune

NALSAR University of Law, Hyderabad
Question: What are the top Bachelors of Law (LLB) colleges in India?
Answer :
The top Bachelors in Law (LLB) colleges in India are: -
National University of Judicial Services, Kolkata
Questions related to Law
Showing 10306 out of 10306 Questions
Interested in Law? Find information around eligibility, career scope, jobs , colleges and exams and much more for free.