MBA (Master of Business Administration) - Course, Eligibility, Admission, Syllabus, Subjects, Career Growth
What is MBA?
Master of Business Administration or MBA is a postgraduate degree with its importance across the Globe and is recognized not only in India but in other foreign countries as well. MBA is a two-year degree programme that provides an individual with a gateway to an abundance of job opportunities across India as well as overseas. Candidates with a Bachelor's degree from any background be it commerce, science, arts, can opt for taking a postgraduate degree in MBA. Generally, four semesters form part of an MBA programme and its importance is not limited to only the Private sector. MBA graduates can hold managerial positions in Public and Government sectors as well. The MBA programme was introduced in order to meet the deficit of quality managers at the top level in various organizations. Candidates can pursue an MBA programme either on a regular basis or can opt for online or distance education basis. Apart from regular MBA degree, candidates with work experience can also opt for an Executive MBA programme to enhance their leadership and managerial qualities.
Read: IIM MBA Admission Process to know more details.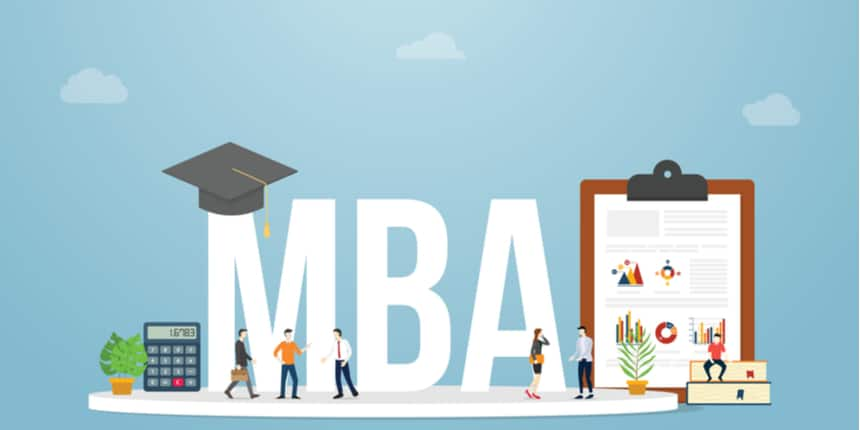 Types of MBA
Master of Business Administration is a post-graduate programme which can be pursued after completion of a Bachelors degree in any discipline. MBA doesn't have any type rather it has various programmes in which students can choose specialize such as finance, marketing, sales, operations and so forth.
MBA Eligibility
Candidates can opt for a regular full-time MBA or distance MBA. Although the basic eligibility remains the same in all institutions providing MBA degrees, some colleges may inculcate some changes in MBA eligibility criteria as per their requirement. The following mentioned are the basic requirements which a candidate should have in order to pursue an MBA degree as a postgraduation:
Candidates must have a Bachelor's Degree in any discipline be it technology, science, commerce, humanities, etc., from any recognized University or Institution of National importance.

Minimum percentage required in graduation degree is 50% as prescribed by most of the Universities/Institutes.

Final year candidates can also apply to apply for an MBA, but they have to provide their final graduation certificate within a specified time duration.
MBA Admissions
Most of the B-Schools conduct their own MBA entrance exams in order to provide admissions to candidates in the two-year management programme. Whereas, some of the B-Schools admit candidates on the basis of national level tests like CAT/MAT/XAT/ATMA, etc. Admission tests of MBA can be divided into three levels.
| | |
| --- | --- |
| S. No. | Level of Test |
| 1. | National Level Test |
| 2. | State Level Test |
| 3. | University Level Test |
Detailed analysis of the entrance exams for two years MBA programme is given below-
State Level Test - Apart from the national level exams, there are some states that conduct their own entrance exams for MBA. Qualifying candidates can take admission in any of the participating colleges across the state. Some of the top State-level exams include MAH CET, OJEE MBA, TANCET, AP ICET, KMAT, etc.
Eligible candidates who are willing to take admission in MBA programme in the top B-Schools of India are required to qualify any of the above-mentioned tests depending on their choice of college/university/institute.
Once the candidates qualify any of the above exams, they have to go through a screening/written ability test/personal interview etc. depending upon the preference of institute and its selection procedure for MBA admissions.
Top MBA (Master of Business Administration) Exams
Students aspiring for admission to the MBA programme of prestigious institutes can appear for the below mentioned top MBA exam at different levels:
| | | |
| --- | --- | --- |
| National Level | State Level | University Level |
| CAT | OJEE MBA | TISS NET MBA |
| MAT | MAH CET MBA | NMIMS MBA/ NMAT |
| XAT | UPSEE MBA | SNAP |
| CMAT | TS ICET | IRMASAT |
| ATMA | AP ICET | IPU CET |
| IIFT | | CUSAT MBA |
Fee Structure of Top B-Schools of India for the MBA programme
Due to the availability of a number of colleges for MBA, it may happen that one college/institute may sound appealing to one candidate, while the same does not to another candidate. While the fees of MBA programmes offered by government colleges and Universities are on the cheaper side, the same MBA programme with similar course structure offered by private institutes is expensive. Fee structure of MBA colleges in India is dependent on several factors like infrastructure, hostel facility, activities, international exposure, placement services and much more. Some of the top B-Schools providing MBA programme are given below:
B-School of India with Fee Structure of MBA Degree:
*Fees of MBA programme is tentative for some institutes and may vary as per the selection of MBA programme specialization.
MBA (Master of Business Administration) Specializations
MBA whether as a full-time programme or correspondence offers exposure to candidates in a variety of MBA specializations. Some institutes give the option of selecting MBA specialization in the very first year, while some institutes let candidates study basics in the first year of the MBA programme and then select MBA specialized area in the second year. Whereas, sometimes the candidates are given the option to select core and elective subjects either in the first year or the second year. Some of the major MBA specializations which are offered by B-Schools in India for MBA programme are given below.
Major Specializations of MBA Degree:
MBA (Master of Business Administration) Subjects
Candidates who pursue an MBA degree are exposed to a wide range of subjects as the MBA syllabus is quite wide and aims to provide complete exposure to candidates about the business tactics. In the two year duration of MBA degree, the candidate begins with core subjects such as Organisational Behaviour, Sales & Marketing, Principles of Management, Business Communication, Entrepreneurship, Business Law etc., Almost all B-Schools offering MBA degree have classified these subjects as core and electives as this allows candidates choose between the elective subjects of their interest. Below-mentioned are some of the subjects that candidates study in while having MBA degree-
Principles of Management
Principles of Marketing
Business Communication
Organizational behaviour
Business environment
Ethics
Corporate Social Responsibility
MBA Syllabus
The regular MBA course is basically of two-year duration which is divided into four semesters that includes an internship as well. Listed below are the semester-wise MBA subjects for a regular MBA programme:
MBA Syllabus for Semester 1
MBA Semester I Syllabus

Business Communication
Marketing Management
Organizational Behaviour
Human Resource Management

Computer Applications & Management Information System

Quantitative Methods
Financial Accounting
Managerial Economics
MBA Syllabus for Semester 2
MBA Semester II Syllabus

Business Research Methods

Operation Management

Management Science

Management Accounting

Economic Environment of Business

Production Operations and SCM

Organization Effectiveness and Change

Legal Aspects of Business
MBA Syllabus for Semester 3
MBA Semester III Syllabus

Business Ethics & Corporate Social Responsibility

Strategic Analysis

Elective Course II

Elective Course I

Legal Environment of Business

Elective Course III

Elective Course IV
MBA Syllabus for Semester 4
MBA Semester IV Syllabus

Corporate Governance

Entrepreneurship Development

Elective 1

Elective 2

Elective 3

Elective 4

Elective 5
MBA Salary Package
Keeping in view the current scenario, it is likely that MBA graduates will see a shift in the increase of the average package. As per the annual survey report submitted by GMAC, more than 50 per cent of the participating companies planned to increase the base salary of MBA graduates from the academic year 2019. Top government B-Schools, IIM Ahmedabad offered an average package of 30.40 lacs per annum in the year 2019 while Private sector-top institute XLRI Jamshedpur offered an average salary package of 22.35 lacs per annum in the year 2019.

Candidates holding an MBA degree are expected to take up the managerial responsibilities in their job profile. A manager's job profile not only includes well-planned working, strategy formulation but includes execution of the plan, falling within the deadlines of work, leading/managing a group, coordination across departments, reporting daily tasks to concerned higher authorities and much more.
Salary:
| | |
| --- | --- |
| MBA Job Post | Average salary per annum (Rs in lakh) |
| Marketing Manager | 9 |
| Operations Manager | 7.5 |
| Human Resources Manager | 4-5 |
| Transport & Logistics Manager | 6 |
| Risk Manager | 10 |
| IT & Systems Manager | 7-8 |
| Supply Chain Manager | 7.5-8.2 |
| Sales Manager | 8-9 |
| Finance Manager | 9-9.5 |
Scope of MBA
Before candidates decide to opt for an MBA programme, it is essential that they understand the scope of the two years programme, the benefits associated along with the average pay package they can get. Currently, candidates from all domains are planning to take up the MBA Programme for uplifting their career path. The importance of having an MBA degree can not be neglected. Candidates having MBA degree are demanded in every industry.
Advantages of MBA Degree
Upliftment in Career Growth

Enhancement in Core Values

Ingenious Attitude

Time Management

Innovative Outlook

Expansion in Job Opportunities

Career Opportunities after MBA (Master of Business Administration)
Students who have completed their MBA degree are in demand. We live in a fast-paced world with so many options available to choose from. After completing the MBA degree it opens the door for candidates in Marketing, Finance, Operations, Human Resources and so forth. Check the list of job opportunities one can have after completing an MBA degree:
Management Consultant
Administrative Managers
Product manager
Operations manager
IT managers
MBA Programme - Top MBA Recruiters
Although MBA graduates are required in all domains, yet in India, there are certain top MBA recruiters that specifically hire MBA graduates. The hiring capacity may differ due to certain factors, but the core aim will remain the same. Recruitment can be done through any source like campus placement, direct hiring, agency recruitment, third party sourcing, etc. Some of the top recruiters hiring MBA graduates are listed below:
Google

Deloitte

NTPC

Citibank

ITC

Vodafone

Larsen & Toubro

Nestle

Flipkart

Microsoft

Amazon

Wipro etc.,
MBA Skill-Set
A candidate after completing his/her MBA duration is expected to work as a manager. Companies expect their managers i.e. MBA graduates to professionals and hence expect them to have not only good communication and leadership qualities but much more. Let us have a look at some of the skill-sets required from a candidate having an MBA degree:
MBA Skill Set:

| | |
| --- | --- |
| Managerial Skills | Goal-Oriented |
| Decision-Making Skills | Analytical Thinking |
| Problem-solving Skills | Business Acumen |
| Ability to work under pressure | Persuasive Skills |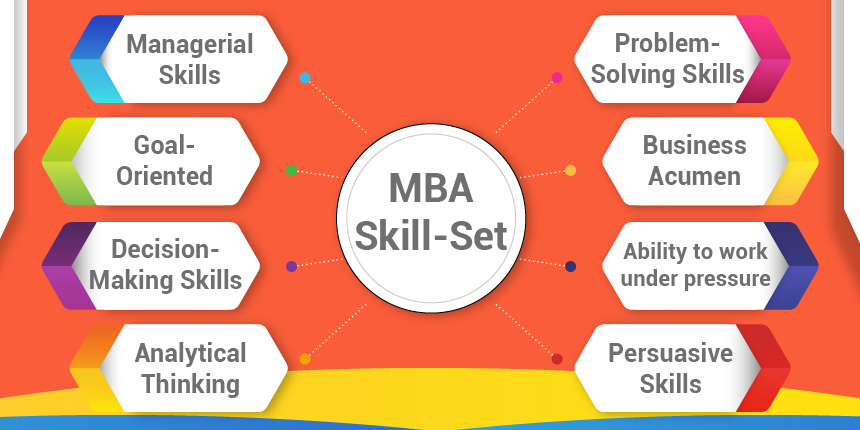 Frequently Asked Question (FAQs) - MBA (Master of Business Administration) - Course, Eligibility, Admission, Syllabus, Subjects, Career Growth
Question: What is the eligibility criteria to take admission in MBA programme?
Answer:
The basic requirement for taking admission in MBA Programme is that candidates must have a Bachelor's degree from any recognized university.
Question: How can a candidate take admission in MBA Programme?
Answer:
Admission criteria in MBA programme differs according to colleges. Major colleges accept entrance exam scores and conduct group discussion and personal interview rounds. Read the complete article to know about the various types of MBA entrance exams.
Question: What is the duration of MBA programme?
Answer:
MBA is a two year programme which is majorly divided into four semesters. After the first year, candidates are required to do summer internships as well.
Question: How many types of MBA programmes are available as option?
Answer:
Currently in India, MBA programmes can be taken as a full time two year regular MBA programme, correspondence MBA programme, Executive MBA programme, one year full time MBA programme or online MBA programme. Depending on suitability candidates can opt for any of the MBA Programmes.
Question: Which specialization in MBA can help in getting a good job?
Answer:
MBA programme itself is a high-status degree. Candidates can opt for any of the specializations, depending on their area of interest. Major specializations opted by candidates include Finance, Marketing, Human Resource Management.