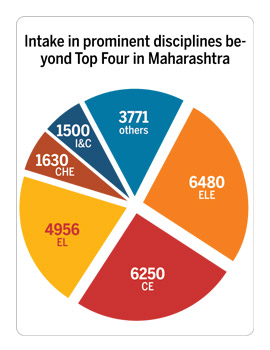 FAST FACT

Admission criteria: Merit-list based on marks in MHT-CET (Maharashtra Common Entrance Test) Number of Engineering Colleges: 276
Total sanctioned intake: 90,038
Major disciplines: Computer Science; Electronics & Communications; Information Technology; Mechanical

Noteworthy institutes: IIT-Powai (Mumbai); VNIT, Nagpur; Govt. College of Engineering, Pune; University Institute of Chemical Technology, Mumbai; Vishwakarma Institute of Technology(VIT), Pune
 
THE School of Engineering was established in Pune in 1845 that  offered a certificate course. In 1887, the Victoria Jubilee Technical Institute was established in Bombay, and the College of Engineering, Pune came into its current avatar by  launching the civil engineering programme in 1912. Only 16 Engineering Colleges were established till 1983 when Government of Maharashtra granted permission to start private engineering colleges in the state. Since then the number of engineering colleges  grew to 141 with an intake of approximately 41,000 by 2001, which has more than doubled in the last decade to 276 institutes with a total student intake of over 90,000. It is worthwhile to note that 253 out of the 272 institutes that follow MHT-CET,, a staggering 93%, are private unaided institutes.

District-wise breakup of institutes as well as the intake in the disciplines having the maximum number of seats is detailed in the adjoining table.
A majority of the student intake (approximately 72%) is in four disciplines: Computer Science (21%); Electronics & Communications (20%); Mechanical Engineering (17%) and Information Technology (14%). Three other disciplines have a fair share of takers: Electronics Engineering (7%), Civil Engineering (7%), and Electrical Engineering (6%). Chemical Engineering has 1,600 seats and Instrumentation and Control has 1,500. G.H Raisoni College of Engineering, Priyadarshani College of Engineering, Yeshwantrao Chavan College of Engineering, Sinhgad College of Engineering & D.Y. Patil College of Engineering feature amongst colleges where the seat intake is more than 600. Almost 70 colleges have over 400 engineering seats at the UG level.

University-wise breakup of engineering institutes as well as the seats is given in the  adjoining table: It is worthwhile to note that Pune University has an astounding 25,000 seats (approx.) spread across 71 different colleges.
Admission procedure
MHT-CET conducted by the Directorate of Technical Education gives you access to nearly 85% seats.
Approximately 14% seats are reserved for admission through AIEEE (15% of all private unaided institutes).
 In addition to the admissions in the first year BE/BTech, a number of students join various departments directly after first year in six autonomous institutes. These candidates are those who have previously completed diploma in engineering at polytechnics in Maharashtra and are admitted through a process conducted by the DTE.

You must have completed 10+2 through Maharashtra State Board of Secondary and Higher Secondary Education or its equivalent and secured minimum 50% marks (45% in case of BC candidates from Maharashtra) in Physics, Chemistry and Mathematics added together and obtained a valid (non-zero) score in subjects Physics, Chemistry and Mathematics added together at MHT-CET.

While candidates from outside Maharashtra (OMS) can appear for MHT-CET, they are eligible only for the institute-level seats of private unaided colleges. Hence 20% of 93% seats are available i.e., 18.6% of 88,300, which accounts for 16,400 seats. Further, there is no reservation amongst OMS candidates; all of them are considered as part of general category.


DISTRICT-WISE ENGINEERING UG SEATS IN MAHARASHTRA

District (No. of Institutes)

Total intake

CSE

ECE

IT.

ME.

Ahmednagar (8)

2760

420

600

330

630

Akola (1)

270

60

0

0

0

Amravati (12)

3204

726

786

540

426

Aurangabad (13)

3937

870

750

420

660

Beed (3)

720

210

120

60

60

Bhandara (1)

300

60

60

60

60

Buldhana (4)

1200

270

300

180

240

Chandrapur (4)

1160

270

120

40

240

Dhule (4)

1320

360

300

120

240

Gadchiroli (1)

240

60

60

0

0

Gondia (1)

480

60

120

30

90

Hingoli (2)

240

120

60

0

120

Jalgaon (9)

3030

660

750

270

630

Jalna (1)

210

60

60

30

60

Kolhapur (11)

3930

720

540

360

690

Latur (3)

750

120

60

60

180

Mumbai (12)

3665

780

780

660

240

Mumbai–Suburban (11)

3570

900

600

780

240

Nagpur (36)

11939

2610

2370

1710

1440

Nanded (3)

1050

270

120

120

120

Nandurbar (1)

390

60

60

60

60

Nashik (12)

3760

810

750

540

840

Osmanabad (3)

900

180

240

60

240

Pune (51)

18185

3945

4185

2770

3645

Raigad (11)

4060

780

840

520

570

Ratnagiri (4)

1200

180

180

150

270

Sangli (7)

2340

390

360

270

480

Satara (6)

1680

300

300

240

390

Sindhudurg (1)

240

60

120

0

0

Solapur (8)

2520

540

510

240

690

Thane (17)

5450

1290

1080

740

720

Wardha (7)

1980

450

420

360

240

Yavatmal (4)

1380

300

330

210

270

Total 33 districts (272)

88300

18891

17931

11930

14781
UNIVERSITY-WISE BREAK-UP OF SEATS AND INSTITUTES

Dr. B.A.T University  

540

1

S.N.D.T University  

180

1

Mumbai University  

17,465

54

Pune University  

24,705

71

North Maharashtra University  

4,740

14

Dr. B. A Marathwada University  

5,767

20

S. R. T Marathwada University  

2,280

8

Shivaji University  

7,950

24

Sant Gadge Baba
Amravati University  

6,054

21

Rashtrasant Tukadoji Maharaj Nagpur
University  

16,099

50

Solapur University  

2,520

8

Total

88,300

272