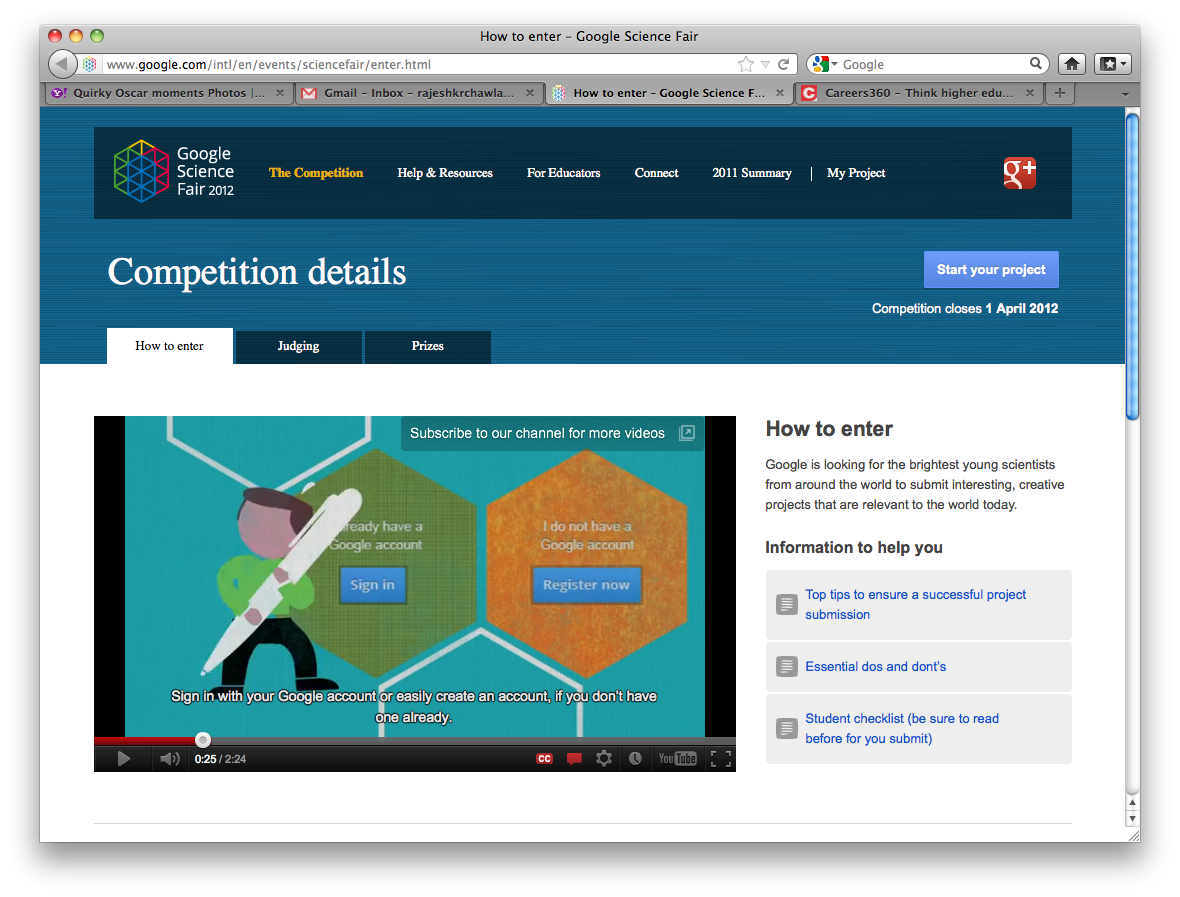 Click on image to go to video guide
Event: Google Science Fair 2012
Conducted by: Google in partnership with CERN, LEGO Group, National Geographic Society and Scientific American
Prizes:
A scientific trip to the Galapagos Islands with National Geographic Explorer, unique scholarships and real-life work opportunities in iconic science centers of excellence like CERN in Switzerland.
 
There's also a special Science in Action prize, sponsored by Scientific American. This is a special judges' award for projects that champion scientific projects that make a practical difference in the lives of a group or community.
Judges: The Google Science Fair judging panel is an international team of scientific experts from a wide range of fields – from biology, physics and chemistry to computer science.
Click here to view jugding procedure
Eligibility:
A student can enter on his own or in a team of two or three.
 
The students should be between the ages of 13 and 18 as on April 1, 2012. If entering as a team, the age category is based on the oldest member of the team.
 
The students should have taken parental consent. They will not be able to submit their project unless their parent or guardian consents to enter this competition. If entering as a team, all members of the team need to get parental consent.
 
Entries and supporting documentation may be submitted in English, German, Italian, Spanish, French, Arabic, Hebrew, Polish, Japanese, Russian, Dutch, Korean, or Chinese. Google Translate is a free tool that may be useful for students who don't speak any of these languages.
Click here to view science fair rules 
Click here to view student checklist  
How to apply: Click here to submit your project
Timeline: The best 60 semi finalists will be chose in early May and the finalist in late May.
Entry deadline: April 1, 2012
Website: http://www.google.com/intl/en/events/sciencefair/index.html