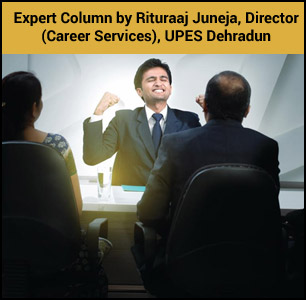 Careers360 brings to you exclusive column by Rituraaj Juneja, Director (Career Services) at UPES Dehradun. In this column, he advices students on how to prepare for the placement interviews and get recruited by coveted companies. According to him, the recent placement trends are not encouraging but if you are armoured with required soft skills, it won't be a challenge to get placed.
Read the column below by Rituraaj Juneja.
If you are a fresh graduate or about to graduate these recent news headlines may have probably bothered you:
Less than 10% of engineering graduates are employable

Only 7-10% management graduates are employable

Top jobs vacant as employers can't find enough candidates
While these headlines highlight a grim job scenario, you don't have to lose sleep. As you gear up to face recruiters and begin your career, know what they are really looking for to be in the reckoning. You may think that you are adequately qualified for a job but for organisations your qualification is just the 'minimum requirement'. Your degree is simply an 'eligibility' and not a 'guarantee' for a job. They assess you on your 'overall employability' and hence you should instead focus on making yourself employable.
Preparing for your dream job is not rocket science, until of course you dream of building rockets someday. Recruiters are constantly telling us that while they hire graduates for their hard skills i.e. domain-knowledge & basic understanding of subject matter, however, more often than not,  they are fired on account of lack of required soft skills!
Go for relevant, futuristic qualification
Recognised higher education and qualification arms you with a clear competitive edge as you gain holistic business and product knowledge. It also reflects your commitment to achieve the best possible. In today's high paced organisational world employers want to hire pre-trained resources who are faster to deploy, focussed and are more productive while delivering quicker results. Therefore, students should opt for domain-focussed programmes to acquire skill-sets in emerging sectors of the fast-growing economy. Opting for new-age courses will make you future-ready. These courses include big data analytics, nano-technology, industrial design, robotics, tech innovations, cyber laws, intellectual property rights, urban planning, modern architecture, interior design, disaster management, automotive design and aerospace engineering. These courses directly fit in to the manpower requirements in the respective sectors. Can you imagine your job fitment subsequent to completion of such courses would be so much easier compared to traditional courses!
Don't ignore soft skills
Organisations look for candidates with excellent 'inter-personal' and 'communications skills'. As students, you must develop a 'positive attitude' with constant 'hunger to learn'. It is said that 'attitudes' decide 'altitudes'. Need say more? Additionally, develop a pleasant personality and an attitude to work within a 'team'. Guess what? Employers look for 'culture fit' too while hiring, as one is generally happier and more productive in a community environment.
Remember, rewards will be higher for those who demonstrate high creativity, ownership, analytical skills, adaptability and team relationship qualities. Organisations, irrespective of their size, encourage candidates who are creative, challenge the status-quo, bring meaningful disruptions and can bring in innovative ideas that could potentially set the stage to catapult the businesses to the next level.
Your interview is not a viva exam
Often candidates come out of the interview room excited that they were able to answer all or most questions and therefore, selection is only a formality. More often than not a rude shock awaits them when they are not selected. But what went wrong? The candidate often does not realise it is not 'what' you answered but also 'how' you answered that was being observed by the interview panel. Therefore, the entire communication was crucial, i.e. verbal and non-verbal that includes body language, tone, pitch, confidence etc. Seasoned interviewers make an opinion about the candidate right from the time the interview door is opened and the candidate walk up and sit in front of the panel. Rest of the interview time is invested by the panellists in accepting or rejecting their opinion. Easier and simpler questions are likely to follow if their formed opinion is positive and vice versa.
Be more than just an 'employee'
Believe it or not, recruiters these days take 'personal interests or hobby' section on your resume seriously. Spending time on personal interests has positive impact on your performance at workplace. It helps you maintain work-life balance, reduce and manage stress, develop thinking, communication, networking skills etc. So pick up a hobby that interests you the most and don't hesitate to highlight it in your resume. It can be anything- playing a musical instrument, gardening, volunteering for a cause or a project, joining a sports. You should also try to take organisation friendly initiatives that are beyond your scope of work. They suggest that the candidate is an initiative taker!
And hey, if you do not clear that interview, do not despair. For one is certain that you are one more 'no' closer to a 'yes'. Success comes to those who decide to get up 'one more time'!
The author can be reached at [email protected]
Stay tuned to www.careers360.com for more news and updates.
Get real-time alerts on exam & colleges at your fingertips with Careers360 App!
Click Here to Install or Give a missed call on 08080944727 to get app link.
Compare Colleges
College Comparison based on Courses, Placement, Rank, Fee
Compare Now
Questions related to School of Business, University of Petroleum and Energy Studies, Dehradun