It is that time of the year again in India, of sweltering heat, dry winds, chilled fruit coolers, and examinations. Despite being a year-round academic phenomenon, examinations take on a different avatar altogether during this period. Two primary stakeholders in this rigmarole are, the students and their parents. Both are enmeshed in the process of examinations right from their very first step into the school system. An enjoyable new phase of life for their child instead becomes a mission for the parents, as they begin to set their children in a certain mould of achievement, entirely as per their expectations, which in turn are grounded in societal norms and personal experiences.
In this race for grades, the plight of one has a cascading effect on the other. In a marks-oriented, examination-driven academic environment, the outcomes can become a make or break kind of feeling for any student. Success, happiness, and thriving scholastically, personally, or socially hinges entirely on the expectations the child inflicts on oneself, which are those imposed by the parents. This article explores the intricacies of expectations and the outcomes for two of the stakeholders in the education landscape, that is, children and their parents.
Also Read | Exam Time: How To Best Support Your Child
What Are 'Expectations'?
Expectations are an integral part of a person and are linked to one's belief system and values. They are fluid in nature, depending on the environmental interactions and happenings. Expectations are of different types and relate to different domains, such as personal (family or relationships), and professional (career). Belonging to a person's cognitive construct, expectations are not directly visible; rather their outcome is displayed in one's attitude, action, and communication.
Types of Expectations We Hold
Let us now take a deeper look into the different types of expectations that parents may hold from their children, or even people in general, from each other.
Realistic Expectations
These are formed based on the understanding of facts or the pros and cons related to something. Resources available, strengths, and weaknesses of a person's ability and potential are taken into consideration while forming realistic expectations. The outcome is usually positive in nature with realistic expectations forming the basis of one's personality. The focus is on balance, facts, and not mere dreams or fantasies. The resultant satisfaction optimises a person's well-being in day-to-day life, yielding better professional growth, and healthier interpersonal relationships.
An example of realistic expectations will be when a child is an average student, doing fairly well in subjects related to Arts (Humanities), with an interest to pursue the same for higher studies, and they are not pushed or coerced by his parents to opt for the stream of the latter's choice.
Unrealistic Expectations
These arise out of a mismatch between the ability and the end results. A person may harbour false beliefs about their achievement potential, growth, and performance. There can be narrow-mindedness towards others' perceptions of one's self, denial, or ignorance of the truth. Imagination, yearnings, and feelings of being thwarted also form a basis for unrealistic expectations. The outcome of such an attitude is usually negative in nature leading to considerable stress, frustration, and strained relationships in personal as well as the professional sphere.
An example of unrealistic expectations is when a child is not so good at Mathematics and Physics, but claims to be otherwise, and continues to write entrance exams for Engineering at the cost of his time, effort, and parents' finances. Aligning with this would be when the parent does not accept their child's below-par academic interest or performance, and continues to push them to become an engineer only, notwithstanding the child's poor ability, frustration, or their own resource drain.
Adaptive Expectations
These are based on past events which are consistent and predictable in nature. There is a certain rationalisation in these expectations as their genesis is based on familiarity with an event and readiness for it. Future plans are made in adaptive expectations taking cognisance of past actions or outcomes.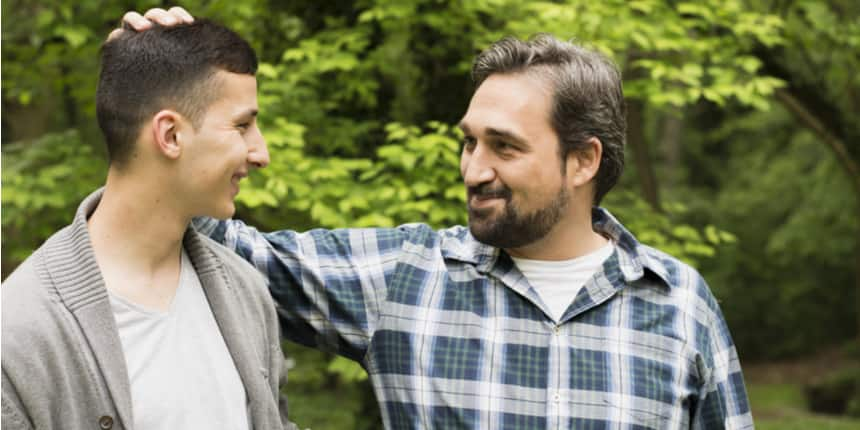 Adapting To Each Other's Expectations Is Key
An example of adaptive expectations can be a situation wherein a parent, whose child is fairly good at academics, wants their child to opt for Physics, Chemistry, Biology (PCB) and pursue Medicine, while the latter is not sure about it. The child and the parent both avail a career counselling session from a professional, counselling suggests PCB, and the child is provided clarity about how to go about pursuing studies in the stream and exploring the possible career options.
Also Read | Your Stream Does Not Limit Your Career Options: Check Out Some Real-Life Stories
Implicit Expectations
These are based on assumptions or a sense of entitlement. This kind of expectation is most prevalent in a parent-child relationship. These are natural bonds, and hence a sense of ownership exists in implicit expectations. There is a deep-rooted trust, reliability and optimism in implicit expectations. An example of an implicit expectation will be, 'My child will study whatever field I want him to be in, as I know what is best for him.' It does not give much choice to a child in pursuing things of his or her own interest.
Explicit Expectations
These are based on other people's reactions or responses to you. Interpersonal relationships, peer groups, among other things, are reflective of a person's explicit expectations. Sustaining or forming new social relationships, career selection and progression, too, entails explicit expectations wherein the onus is more on others than one's own self. A classic example of this is a blind following of one's peers' choices. The need to 'belong' overrules one's own potential or interests. If there is a trend to join one particular course or college, the child wants to aspire for that only just because everyone is doing so.
Expectations are a complex internal system of each individual and can be good or bad. They become the driving force in steering a person's life to set goals and achieve them. Success or failure in any human endeavour is dependent on innumerable factors, and expectations provide a kind of a base for the pathways used by an individual to attain their goals.
Threat Expectations Pose
Segregation of expectations from a personality is difficult. The feelings associated with expectations can vary from contentment, happiness, disappointment, and envy to extreme resentment towards self or others. A spiral of reactions can be triggered by unrealistic expectations, and a person may be blind to it all, furthering unpleasant consequences. Families often bear the brunt of expectations vis-à-vis parents from their children and children from their parents. It becomes an ongoing saga with examinations and the quest for admissions to the best schools and colleges, based not so much on the marks obtained but the expectations from each other. This entire circle of examinations and expectations can be ruinous for the well-being of a person, whether parent or child.
Ideas For A More Helpful Approach
Human growth and development need to rely not only on one's expectations but also on the actions towards fulfilment. Dreaming, wishing or any kind of 'magical thinking' is not going to make something happen. Humans are considered rational beings, and hence, one needs to be reasonable in one's desires, aspirations, and goals. The paradigm of patriarchal control, teenage rebellion, or one-upmanship is not going to work in anyone's favour.
Communicate With Your Child
Communication plays a huge role in filled or unfulfilled expectations. Verbalisation is important in putting your message across to another person. The probability of your expectations getting understood and fulfilled goes up manifold if communicated with clarity and simplicity. It also yields a margin for any kind of change or amendment to what is being asked for by a person and of a person. The language used is very important in communicating a message.
Instead of, "I want you to do this!", one can say, "How about if you do this?". The tone, body language, and words used can have a strong impact on a child. The same can be used by a child in communicating their expectations to parents.
Do Away With The Power-Play
Rationality and amicability are the two pillars in the give-and-take process of expectations. Expectations of blind obedience, dictatorial decision making, and a closed mind lead to stress which can become unpleasant and unbearable over a period of time. The sense of autonomy and self-confidence gets chipped away in a child under an onslaught of unrealistic expectations.
For instance, a parent's tendency to continuously tell their child that 'I know what is best for you; you are an idiot; not to be trusted by your choices.' can lead to a feeling of low self-esteem in a child. Even if the effort is being put by a child into fulfilling the parental expectations, a lack of faith in his or her ability will yield poor outcomes.
Set Mutually Acceptable Goals
The interest of a person is also an important facet in achievement and the same needs to be considered while targeting expectations towards him or her. Mutually acceptable goals can be set for and by the stakeholders taking cognisance of ability, interest, and resources available for optimal achievement. For example, a child struggling with higher studies and limited financial resources, who is good at carpentry, can be given an option of joining a diploma or an ITI course. It is vocational training and matches a child's interest.
Expectations are beliefs that a person harbours about the occurrences which may take place in future. They may be inherent or learned and acquired over time, based on one's life experiences. For the youngsters and their parents, expectations predominantly revolve around academics and examinations. The outcome may be negative or positive, depending much on the nature of the expectation.
Realism used as a base for expectations tends to yield positive outcomes regarding acceptance, happiness, encouragement, and bonding. Unrealistic expectations arising out of idealism or a mismatch between potential and ability, and ambition, tend to cause resentment, anger, envy, and strained relationships. Examinations need to be looked at as a matter-of-fact occurrence that calls for realistic expectations, a balanced view, and a certain amount of learning from all the stakeholders, especially parents and children. It is a pathway to a vocation, not to destruction.
Also Read | Why And How To Not Make Exams Larger-Than-Life Events
Dr. Sanjana Seth is a Psychologist and Psychotherapist, registered with RCI, and holds more than two decades of practising experience with the healthcare organisations of the Armed Forces, as well as those operating as private. She is skilled in administering psychological assessments, providing therapeutic intervention and psychoeducation via talks, lectures, workshops, and literary articles. She has worked extensively for children with special needs, and has taught Psychology to students at undergraduate and postgraduate levels.