Students in a class will have different learning skills. Teaching effectively by catching the attention of all the students is important for an active participation in the class. For this teachers plan different activities and learning methods in the class. Some teachers start a topic with a questionnaire or activities while some teachers prefer lectures first and activities at last. Here a method known as the 4 MAT learning model is discussed. After reading this article you may find that 4MAT learning styles models are usually adopted by teachers.

The 4MAT learning model was developed by Bernice McCarthy in 1980. The 4 MAT learning style has four quadrants of learning. Read on to know what are those four quadrants of learning and how the learners are classified based on their preferable quadrant in the 4MAT system of learning.
Quadrants Of 4 MAT Learning Model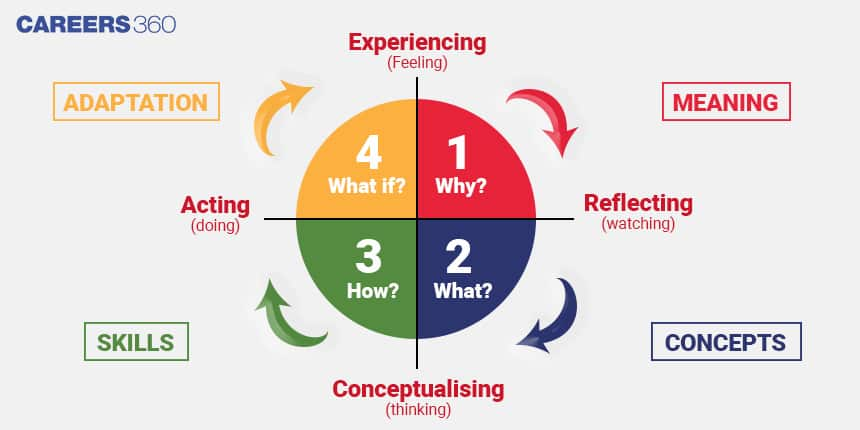 Quadrant 1- Address The Question Why?
While discussing a topic students should know why they are learning it. The first quadrant of 4 MAT learning is about finding answers for why through personal experience of pupils and connecting with present and past understandings or experience. The teacher should engage the students in discussion, games or activities that make them curious about the topic and build an interest to learn more about the topic. Students should be able to make a meaning out of their experience and listen to others' views or experience on the topic. Finally from this quadrant of the 4 MAT learning styles model, students should be able to know why they should learn the topic and what is the use of learning it in real life.
For example- If the topic to be discussed is electrical energy- Teacher can give an example of a fan and tell how much electrical energy it consumes and how it contributes to the electric bill? This creates a curiosity in students to know about how to calculate the electrical energy.
Quadrant 2- Address The Question What?
The second quadrant of the 4 MAT model is to know what the concept is. That is concept building is the main objective of this quadrant. Mode 1 of 4 MAT learning style is about discussion while mode 2 is about information gathering. The discussion in quadrant 1 is conceptualised in quadrant 2. Teachers deep dive on the topic and make students gain more information on the topic. The main aim in quadrant 2 of 4 MAT models is to address the question "what" by acquiring knowledge.
Here the teacher gives different methods of calculating electrical energy and its formulas.
Quadrant 3- Address The Question How?
The third quadrant of 4 MAT models is where students learn through solving worksheets, experiments, questions and more. That is, students practise the knowledge gained in step two. The main aim of the third quadrant of 4 MAT learning model is to practise the concepts learned through various tasks like participating in activities, working on projects, data gathering, hypothesis and decision making.
Here the teacher may give a set of data to calculate the electrical energy or an activity to find how much electrical energy is consumed by each appliance at home and to estimate the total energy consumed.
Quadrant 4- Address The Question What If?
The fourth quadrant of the 4 MAT learning process addresses the "what if" question. The summarising of concepts learned and the evaluation are done in the fourth quadrant of the 4 MAT learning model. Here, students discuss what they have learned. What projects or activities they have done. Through this students will be able to identify how much they have achieved and how to improve on that. To improvise on the topic students do more research. Quadrant 4 is mainly about summary, evaluation and improvising.
Here the teacher may give a questionnaire and sum students may come up with doubts and interest to know more about electrical energy calculations. Teachers can suggest journals or books that help them to study more.
Types Of Learners
As discussed there are four quadrants in the 4 MAT learning model. Some students may love quadrant 1 and some may prefer quadrant 2, 3 or 4. The interest in each quadrant varies for students. Based on the interest in each quadrant, the students can be classified into four types of learners. That are
Imaginative learner- These types of learners prefer quadrant 1 of 4 MAT models. They like learning through discussion and sharing

Analytical Learner- These learners have interest in quadrant 2 of 4MAT system of learning. They prefer learning through information and analysis.

Common Sense Learner- These learners love the third step of 4 MAT learning styles. The students coming under this category like learning through experiments.

Dynamic Learners - This type of learners prefer the 4th quadrant of the 4 MAT model of learning. These learners favour innovation and adaptation.
By adapting the 4 MAT method in a class all the four types of learners will have a fruitful learning experience. Students who are not interested in one quadrant can find interest in another quadrant. This method makes learning effective through addressing all types of learners inside a classroom.