Medicine in itself is not just a field that you opt for, it's a lifestyle you choose for yourself. So, when you plan to enter this challenging yet beautiful world of the stethoscope and the white coat, there might be a few questions you should ask yourself and get answers to, for better orientation of the field, and to make sure that the goal you are working towards is actually meant for the person you are.
What Are You Passionate About?
To start with, think deeply about what you are passionate about. Having a passion towards healthcare, patients' needs, along with the empathy to handle them, is something that can drive you to pass through all ups and downs you will ever come across in this long journey of becoming a medical practitioner.
For me, this is the most important question you need to ask yourself before entering the medical profession. Are you passionate enough about it? What is it about this field that drives you more than any other field does? Further in this article, I have discussed a few points about medicine as a profession that might help you get some of your answers.
Can You Spend That Time?
The doctors practising in big hospitals like Max, Medanta, or Manipal, have done two years of high school, five-and-a-half years of graduation, three years of postgraduation, three years of super-specialisation, and then a few years of training to refine their skills which may include some foreign universities' memberships as well. And, believe me, the higher you go, the more time you will have to spend in study and subsequent practice.
In a nutshell, it shall take you around 15 years to become that doctor whom you might have seen in the consultation room you once went, and got excited to be in their chair one day. While you would still be making notes and struggling to pass exams, your friends in other fields may already have fetched good jobs and started earning decently. However, in my opinion, it is worth it. To see people going back better and healthier than how they came to you is a feeling that is unmatchable.
Also Read | What Is Academic Burnout? Here Are Ways You Can Deal With It
Are You Willing To Sacrifice?
Sleeping, hanging out with friends, binge-watching your favourite shows, family gatherings, and relationships, are some things that you may have to partially sacrifice on, at least in the initial few years, if you choose to enter the medical profession.
However, here, the silver lining to the cloud is:-
When you shall go to sleep, you would be satisfied that you are making a contribution to the well-being of people, and moving a step closer to your dream each day.
Your friends and family will respect you for your commitment towards your goals.
Whenever you budget time for watching a flick on OTT, you will be more selective in your choices.
What Are Your Expectations?
Almost like every field, every person who chooses to enter medicine has their own set of expectations from it. Let me tell you my first-hand experience, class 11 is where the real journey begins. You have got your school studies to manage, along with coaching, its regular classes, and weekly tests.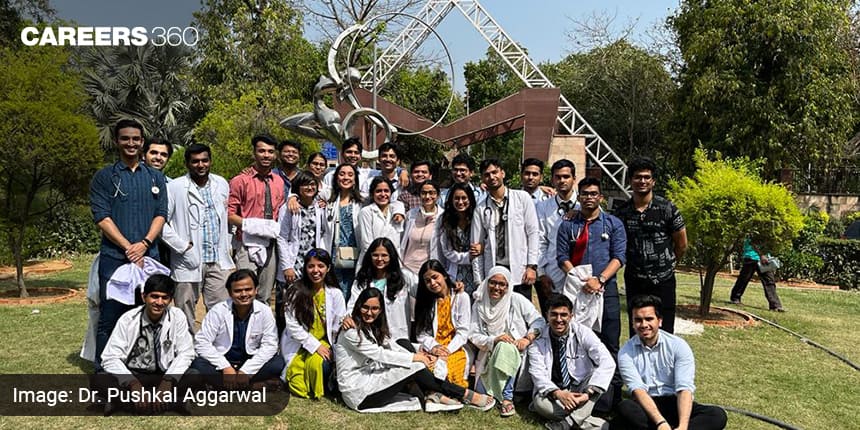 Life At A Medical Colege Is One That You Will Remember For A Long Time
Then, once you enter a medical college, it will be like a roller-coaster of a journey. You will be learning from doctors who would have medical honours to their names, reading different topics, meeting patients with different issues, seeing different procedures being performed, every day. The best part of this study and practice, according to me, is that we do what we read, and we write what we do for others to read.
You would experience an array of emotions, joy, sadness, excitement, frustration, and much more. Keep reminding yourself that you cleared one of the toughest exams in the country to reach where you are, and all this is a part and parcel of the journey. Keep a positive attitude, and maintain a positive social circle. Being around people may not solve your problems, but don't let yourself face them alone, for it is a huge help for anyone toiling to achieve their goals.
Also Read: 5 Challenges I Fought To Reach My Dream Medical School
Are You There For Money?
I remember my first day at Maulana Azad Medical College, New Delhi, when my Biochemistry professor said, "This is the best time to opt out of medicine if you are here for money, because here, it is not money that we run after. If your goal is to make money, you can do great in other professions that need less hard work and time." Having said that, we hear from our seniors that whatever branch you may choose to specialise in, and wherever you may go after graduating from medical college, a doctor will always be able to fetch at least sufficiently for himself, given that doctors are always needed in every community.
These questions that we have addressed will perhaps help you gain more clarity about the softer aspects of medicine as a field, and become more confident in the choice that you make for yourself. Research, introspect, be sure, and then take the plunge!
Dr. Pushkal Aggarwal has completed his MBBS from Maulana Azad Medical College, and is currently interning with Lok Nayak Hospital, Delhi. He aims to pursue his MD in Medicine, and DM in Cardiology. Dr. Pushkal is passionate about contributing to the wellness of people through his practice.