Whether or not we consciously realise it, we all go through bouts of anxiety at some points in our lives. It could be before entering an exam hall, while waiting for an important result, before a surgery, after a conflict with a loved one. Situations may vary from person to person but some signs of anxiety, such as excessive worry, racing thoughts, restlessness, difficulty in eating or sleeping, remain common. While sometimes, some amount of anxiety might be helpful in helping one perform better, anxiety beyond a point can hamper the task at hand.
Further in this article, we shall discuss a few things which one should totally avoid saying to someone having anxiety, despite their intent of trying to make the latter feel better.
"It's In Your Head!"
When you tell someone with anxiety that it is all in your head, it is implied that what they are feeling is somehow a make-believe horror story that they have willingly created. For someone feeling anxious, what they're experiencing, be it sweating, racing thoughts, breathlessnes, bowel issues, etc. is real. What they're going through at that point may be overwhelming and difficult for them to take control over.
"Calm Down!"
Directly asking someone feeling anxious to calm down could exacerbate the situation. They may be already feeling breathless, sweaty or confused, if they could actually calm down at that moment, they'd simply do it . Anxiety can be irrational and trying to regain control over your thoughts, clarity and body difficult. There's no 'on' or 'off' switch, the phrase "calm down" may imply that the person is choosing not to be calm or that they're willingly feeling anxious. Therefore, it is helpful to avoid saying this as it can cause them to feel embarrassed, powerless, and alone.
Also Read | Anxiety And Depression In Children: Preventive And Remedial Strategies
"Stop Worrying!"
Someone with anxiety is bound to worry more than usual. But at the moment, worry is not exactly a conscious choice or under voluntary control. Simply asking them to stop worrying will not make the anxiety go away, rather it might send them a message that their worry is baseless, thereby making them feel more worried about not being able to stop.
"Others Have It Worse!"
Trivialising your loved one's anxiety is not exactly the thing you should do. Making statements like these to someone with anxiety at any moment only indicates that you do not believe in or empathise with what is their real, lived, experience. You might be attempting to make them feel better by saying that their case is still better than others, but being talked down to, and having the anxiety symptoms trivialised and downplayed does not make them go away. Rather this invalidates their feelings, feeding into a spiral of shame and stigma that only makes symptoms worse.
"Grow Up And Get Over It!"
People don't choose to have anxiety. It's a health condition, just like diabetes, asthma, or high blood pressure. Telling someone to "get over it" is insensitive at best; at worst, it signals an unwillingness to help the individual deal with a chronic condition and the concern at hand. Asking them to grow up would send a message that what they are experiencing is a childish thing and their helplessness is looked down upon as being needy or attention-seeking.
Also Read | "Distinguish Between Real And Imagined Fears", Expert On Dealing With Exam Anxiety
What You Can Do
Let us now discuss some helpful things you can say or do for your loved ones going through anxiety.
"I'm There For You" | The best way you can extend your love and empathy to your anxious friend or family member is simply by letting them know that you're there for them and willing to listen to them without judgment. They may not want to open up at the moment, and may even be looking for a bit of space (which you should give them) – but if they are willing to try to talk you through what they're feeling, appreciate the trust that they're putting in you.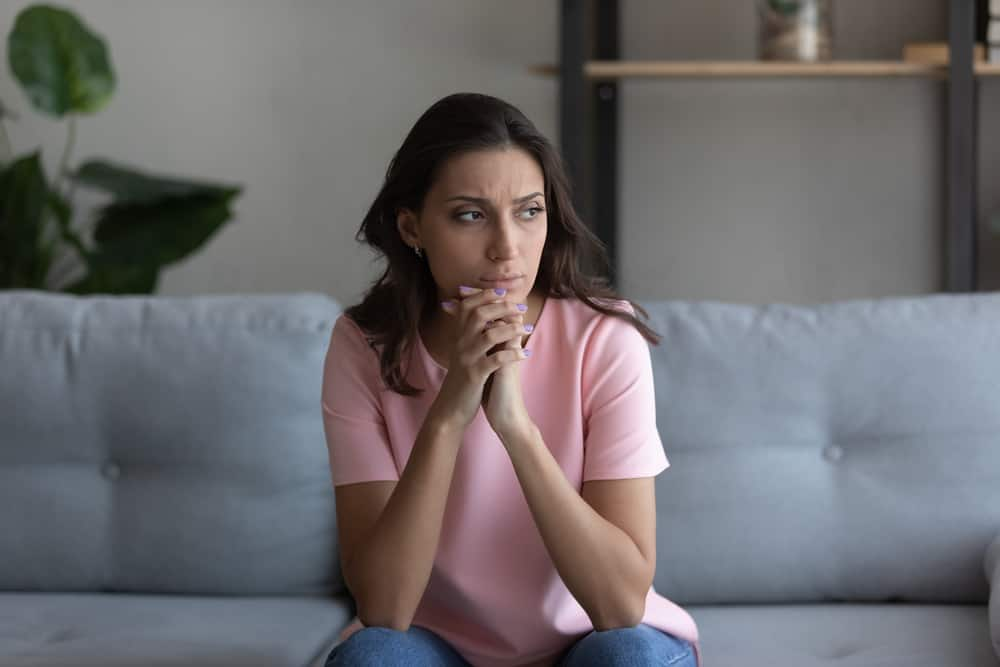 Situations may vary from person to person but some signs of anxiety, such as excessive worry, racing thoughts, restlessness, difficulty in eating or sleeping, remain common.
Offer Tangible Help | If a coworker is anxious about a big presentation and convinced she'll fail, you can say, "It's totally normal to feel stressed. But I know you've prepared and have given great presentations in the past." Ask –" Is there anything I can do to help you?", don't assume what you know is right for them.
Also Read | Build Habits, Not Goals : How Developing Habits Gives Better Results
Suggest | By all means feel free to suggest different anxiety-curbing activities, but be sure not to pressure them into doing anything they do not want to do.
Try To Empathise | It's much more helpful to show your support, even if you don't truly understand the condition or what it feels like. Try saying something like, "This is tough, but we'll get through it together." If you want to help someone with anxiety, you should try to see things from their perspective. Be patient and gentle.
Also Read | World Mental Health Day 2022: 4 Practices To Adopt
While these tips shall be helpful in day-to-day situations, if signs of anxiety persist consistently for long and seem to interfere with a person's everyday functioning, it is advisable to seek help from a qualified and experienced mental health professional.
Sanskriti Khera is a Counselling Psychologist, with five years of hands-on experience in helping young adults navigate through social and emotional concerns. Her approach to counselling is person-centered, trauma-informed, and insight-oriented. She was formerly Counsellor at the Ashoka Centre For Well-Being, Ashoka University, Sonepat. Currently, Sanskriti is Consultant with Daffodils Therapy Studio, New Delhi.