Start-ups are emerging companies established to develop and market a new product or service. MBA aspirants are increasingly being recruited by startups who are looking for people with business and management skills to help take the companies to the next level. The MBA syllabus has also evolved to keep in step with the changing times. Most MBA courses now place more emphasis on skills such as data science, business analytics, and coding.
According to Sangeet Chowfla, president and CEO of GMAC which conducts the GMAT exam, startups now follow big companies and MNCs. He states;
"In this highly competitive environment, measuring a business quickly requires world-class management knowledge and skills, attributes associated with MBA graduates," he said in an interview with Poets & Quants.
So, why do startups hire MBAs? There are many reasons for this. One specific MBA skill that is important for start-up companies is entrepreneurial skill. Startups that hire MBAs are looking for people who understand not just business management but entrepreneurship. Most importantly, the entrepreneurial skills developed in the MBA programme will be useful for individuals who want to start their own start-up.
Startups Hiring MBAs: Top 5 Industries
According to the GMAC's Corporate Recruiters Survey report, The following are the top five industries whose startups hire the most management graduates.
Technology, Internet and Ecommerce
Pharma, Medical Devices and Biotech
Food, Beverage, and Tobacco
Diversified Financial Services
Education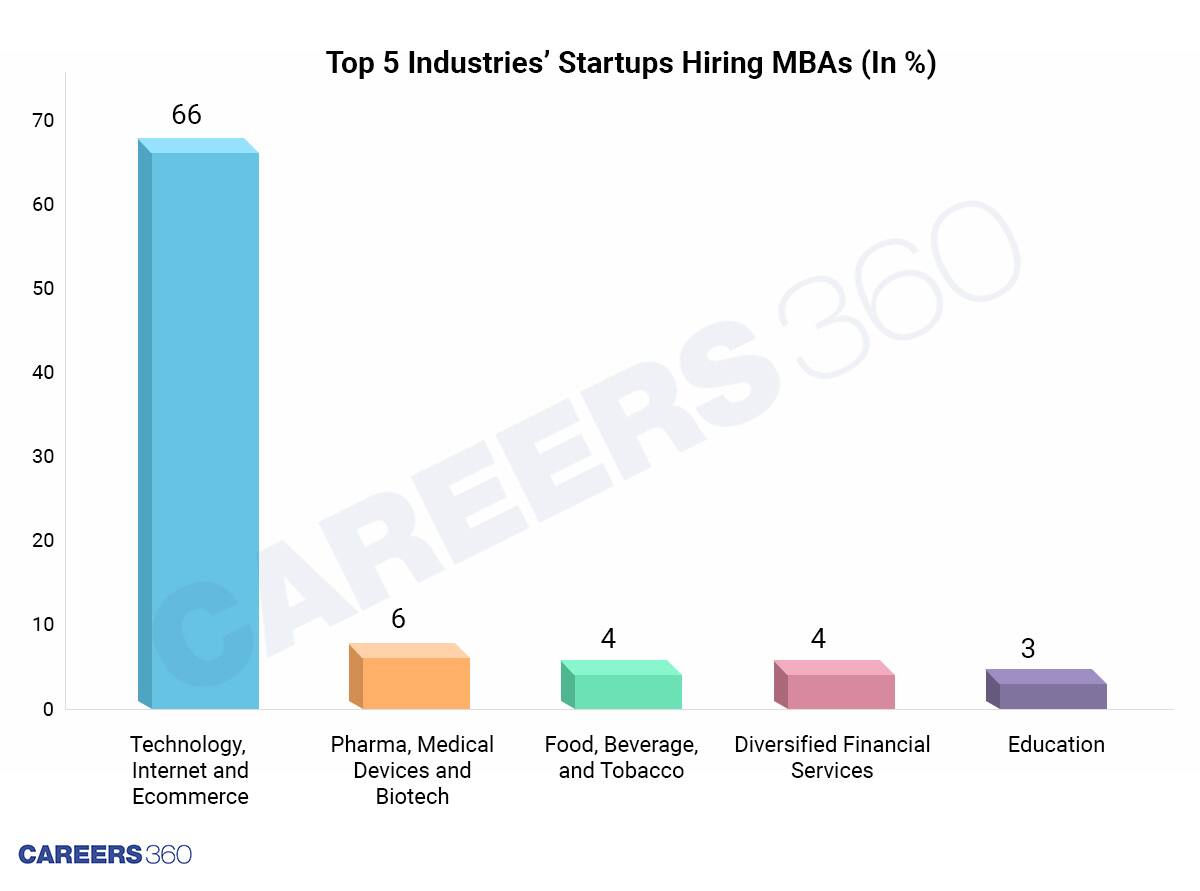 MBA Jobs: IT, E-commerce sector startups recruit the most MBAs
This trend is significantly higher in late start-ups. This is because start-ups are more growth oriented and focused on maximising profits once they are set up.
MBA Job Offers
Startups in different states of their growth and development hire MBAs. According to Embroker and Review42, this is how new MBA recruits are distributed across different types of startups:
Pre-seed: 5%
Seed: 10%
Series-A: 20%
Series-B: 18%
Late Stage: 47%
Most MBA graduates are hired to accomplish "traditional" tasks, or more accurately, business development and product management. Business development is not about sales or strategy, but a combination of the two, and it crowns post-MBA job roles. Product management is heavily technology dependent and MBAs with a technical background are more suited for strategic positions within this domain.
Why Hire MBAs?
An MBA degree usually comes with extensive domain knowledge and versatile management, business and analytics skills. MBAs help transform startups.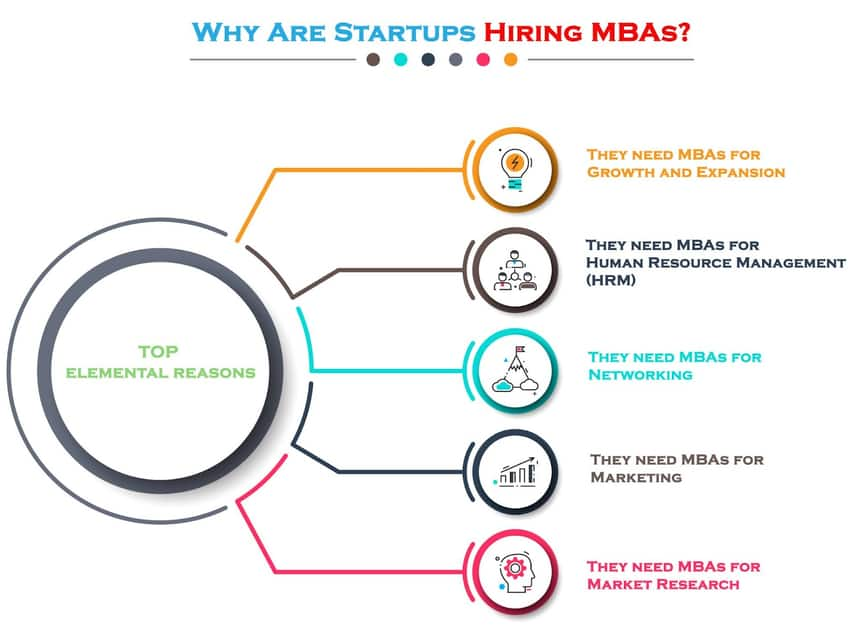 6 reasons startups are hiring MBAs
Growth And Expansion
Every start-up, even if it is in an industrial domain, aims to eventually mature and develop into a well-structured and fully-functional company. To achieve this goal, it is essential to design strategic business processes, define best practices and create communication channels for transparency within the organisation. This is where MBAs can bring a competitive advantage.
MBA graduates are trained to understand and are well versed in the organisational hierarchies, they know the importance of well-defined strategies, policies, and practices for a growing company and can help develop financially viable plans and policies.
Marketing
Marketing is not just about promoting products or services. It includes comprehensive market analysis, customer segmentation and targeting, pricing and more. Because MBA graduates are trained in marketing and management, no one can promote brands better.
MBA graduates are trained professionals who specialise in the "what, when, and how" to design and manage marketing campaigns. They know how to market products or services in ways that increase both customer satisfaction and return on investment (ROI).
Networking
While most startup founders are very creative experts in their core domains, they often need the two essential products of marketing - networking and affiliation. This is where MBA graduates can make a difference through their connections, alumni networks and such.
As MBAs meet professionals, mentors and leaders in various fields during their courses, they generally have strong professional connections with many. In fact, networking is one of the mainstays of MBA programmes. Therefore, MBA graduates can help build a solid network of influential links to expand your business.
Human Resource Management (HRM)
While hard to believe, it is true that start-ups may lag behind in racing ahead due to poor human resource management. Start-up founders find it challenging to understand the needs of their employees, manage them and communicate effectively with them. As a result, business infrastructure begins to decline. This is one reason why startups look to hire MBAs.
MBAs typically have excellent communication and management skills that enable a company's human resources to run like a well-oiled machine. Moreover, the pressure of human resource management is off their shoulders, and start-up founders can focus on other important activities such as drawing investments.
Market Research
A key component of growth for businesses of all sizes is proper market research. Thanks to the vast selection of market research and business analysis tools, start-ups can now conduct market research to gain an in-depth idea of the market, their competitors, latest trends, product prices and more.
However, the efficient use of these tools requires expertise and analytical knowledge - a standard that MBA graduates possess. They specialise in analysing and interpreting data to uncover valuable business insights that further encourage data-driven decision making.
Financial Planning And Management
As start-ups grow, financial planning and management becomes more important. This is where trained professionals make a difference. MBA graduates can make a difference in this aspect and contribute to the growth of the company in the right direction.
Joining a startup after completion of MBA is beneficial in terms of experience, honing of skill sets as they have enormous potential and the right environment for professional growth and development.
In the startup culture, MBAs can also gain maximum exposure and run a large part of the show, fulfilling a variety of roles -- gaining customers, building valuable business connections, expanding business ventures – which is not possible in a large company, at least not in the early years.
It will be a win-win for both parties, startups and MBAs, as it allows both to realise their potential and see the impact of their same. As the startup culture around the world thrives, job opportunities for MBAs in business development, product management and operations will also open up more.
So, if you are an MBA graduate who is open to learning and expanding your horizons as well as experience, look at joining a startup. It can be a rewarding experience and can lead to better opportunities in all ways.