The world has evolved tremendously in terms of the opportunities it has to offer. Every student wants to encash upon the best possible opportunity for themselves and so do their parents want for them. Seeking this competitive edge may get a little overwhelming for both the students and their parents.
Its time for college admissions these days again. Dealing with college admissions, letters, filling up forms, fulfilling documentation requirements, visiting colleges, giving interviews and group discussions, and then the long wait for the final call for admission, the whole process can be tiresome and exhausting. However, there are a few simple tips parents can keep in mind that will help them and their children to deal more effectively with the stress of college admissions. Let us take a look at a few of them.
Final Decision Is The Child's
For students who get calls from multiple colleges, deciding which one to join can be challenging and may require additional research and concerted effort. If you really want the interest of your child to sustain over the long-term, believe in their research and support them in the choice that they make. You are entitled to sharing your opinions, ofcourse, but let the final choice rest with your child. This also validates their sense of autonomy and holds them more responsible for their choice. However, remember to be there in all possible ways whenever the child needs your assistance.
Arrange Documents Beforehand
College admissions require lot of documentation, like arranging letters of recommendation, certificates, internship letters, mark sheets etc, which can be very time-consuming. To ease things during actual execution, parents should help their children in starting to collate these as early as possible in well-organised folders and files.
Also Read | Use These 4 Tips To Help Your Child Plan Their Career
Take College Tours
Take your child to visit the campuses of colleges where they are considering taking admission to. Nowadays, many colleges are hold in– person campus events for prospective students in different cities to visit the college and see what it has to offer. Attending such events gives students a fair idea about the course and college, along with an opportunity to clarify doubts regarding course content, evaluation pattern, study schedule, facilities in campus, campus life, events, placements, etc . In case students face any time or location constraints and physically visiting the college is not an immediate possibility, they must take virtual tours of the campus usually available on official college websites.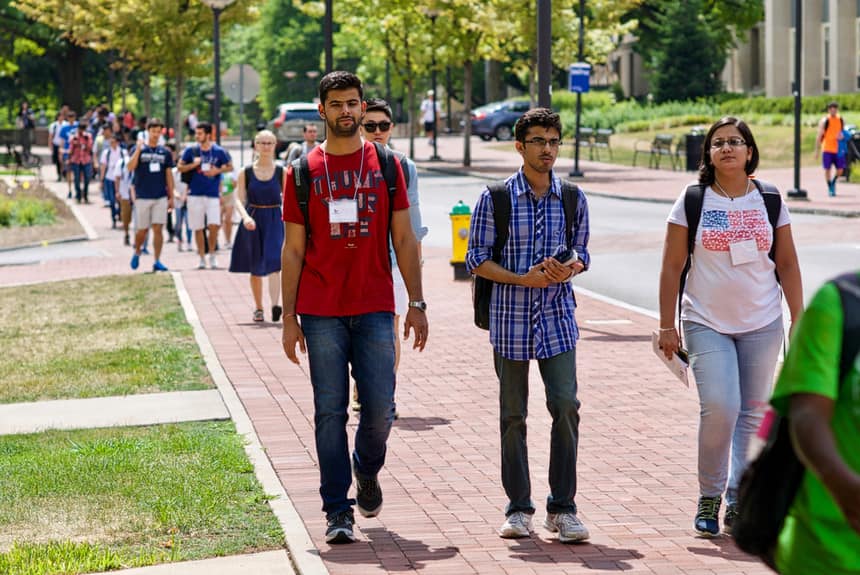 Take Your Child To Visit The College Campus
Research Admission Processes
Different colleges have different admission processes and requirements, so you and your ward should research them well together to get authentic, in-depth information. Surf through the official websites of prospective colleges, try to connect with alumni and get their feedback, seek opinion of experienced and qualified career counselors. This will help you and your child be better prepared for what you are getting into.
Be Financially Prepared
College studies demand money and are getting expensive each passing day, so you must be prepared to pay the college fee, and if need be, then your ward's hostel and other living expenses too. Make sure you calculate all possible expenses well in advance and plan as per your paying capacity. Evaluate if there is a possibility of your child getting a scholarship. Consider taking an education loan, if required. Being financially prepared eases the stress of college admissions a great deal.
Also Read | Financial Planning For Your Child: How To Budget For School, Tuition Fees, Education Loans, Internships
Consult A Counsellor
If your child has received admission offers from multiple colleges and is confused about which one to finalise, it is always a good idea to approach a professional and qualified career counsellor to guide you objectively. With vast experience behind them, counsellors can help you and your child decide on the right college based on data and feedback accumulated over the years.
Avoid Comparisons
Last but not the least, please do not compare your child's college acceptances or rejections with those of your friends' or colleagues' children, as it doesn't help but only discourages your child. Know that every child would carve their own unique journey and find their calling.
The best thing that you can do as a parent while your ward is undergoing the college admission process is to stay positive, supportive, patient, and happy and model these traits for your child. Anxiety at your end can be contagious and may detrimentally influence your child. Remember that continued patience and support from your can significantly contribute to making your child's college experience a cherishable one.
Also Read | Anxiety And Depression In Children: Preventive And Remedial Strategies
Ritu Johari is a Delhi-based Counselling Psychologist with more than two decades of experience in counselling students - both children and adolescents, their parents, and teachers. She has a specialisation in Developmental Psychology from North Campus, Delhi University, and did her professional training at AIIMS, New Delhi. She received the Upgrad Global Expo 2022 award for her outstanding contribution to the field of counselling