Growth and development are ongoing processes from the moment a child is born. Time just flies and suddenly you see your little girl grown up into a pig-tailed teenager experimenting with her nails, hair, and clothes. She is no longer the baby who followed you everywhere that you went. The teenager now has her plans for sleep-overs, movies, and hang-outs with friends. Are you as parents taken unawares by these new needs of your daughter? Were you expecting it or turned a blind eye to the changes in your growing up girl? A mother especially has a stronger role in helping her teenage daughter with concerns and queries regarding her maturation process.
Let us now see which are some of the domains that call for conversation with your teenage daughter.
Menstrual Health
Menstruation and related hygiene practices are topics barely spoken about in a conventional household. There are enough taboos attached to it, for example, "Periods are dirty!"; "Girls should not enter a kitchen or prayer area while menstruating.", "A girl should not touch pickle when on her period.", and the list goes on.
This (mis)information has been, and is still, passed on from generation to generation. These diktats by family often induce irrational fears related to health, sickness, and life in general in the mind of the girl. Further, these may get entrenched in her and get reflected in fixated behaviours like excessive hand washing, prolonged bathing or repeated sweeping and mopping. If the facts are not explained by a parent about the normalcy of menstruation in a girl, it may negatively impact her in the long term.
Changes In Hair And Skin
During teenage, hair and skin can be matters of major concern to an individual as there may be sudden hair fall or excessive facial hair growth. Similarly, she may experience acne breakouts or blackheads may become too prominent. While physical appearance usually holds great importance for a teenager, these hormonal changes may be beyond her comprehension, which is why it becomes essential that parents take this up in their conversations with their daughters.
The onslaught of media advertisements for fair and unblemished skin can add to a teenage girl's anxieties. Also, a lot of times, our fellow society members, referring here to relatives, neighbours and the like, tend to make comparisons between young girls in terms of their physical appearance, which can be extremely hurtful for the latter. A reassuring conversation by you as a parent can have a calming effect on the child and help her gain clarity on the medical reasons behind the hair and skin concerns.
Eating Right
Nutrition for overall health is so very important. Deficiency of Vitamin D and Iron is common in females in India. Food habits and appetite changes in your teenage daughter cannot be taken lightly. Trending diets such as keto, gluten-free, orange juice diet or intermittent fasting, among others, are not one-size-fits-all kinds of things. They can have serious implications on an individual's health and therefore, you should speak to your daughter about these.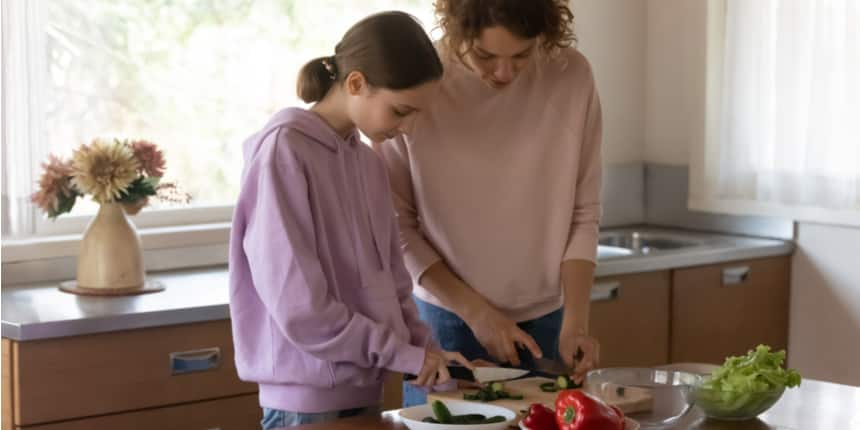 A Healthy Diet Is Just As Important For Your Teenage Daughter
Comfort In Own Skin
Body image is a big influence on a teenager as the trend for a certain body shape (hourglass) and body size (zero) is being broadcasted from various platforms. Bollywood, Instagram, TikTok, and Snapchat are powerful sources of trends in India and coupled with influencers from the West like the Kardashians, a lot of youngsters succumb to pressures to ape them. A desire to look a certain way creates pressure for the young girls, and fear of being laughed at or not getting accepted by the peer group makes them lose confidence in themselves.
Parents need to understand their daughter's need for belongingness and have a conversation with her regarding healthy body shape and the importance of self-acceptance.
Also Read: How Is Your Parenting Style Impacting Your Child?
Need To Draw Boundaries
Peer pressure pushes one to do things which one may not do otherwise. It is a testing time for teenage girls as the need for peer acceptance conflicts with family values. For example, nights out, dating, or dressing in a particular manner. It becomes "me" versus "them" and a failure to conform to the clique leads to angst against the parents.
Communicating with your daughter in an open manner can help her in drawing boundaries with the confidence to say 'no' to her friends. A two-way conversation helps rather than a critical approach or preaching to your teenager.
Proper Use Of Social Media
Social media can be addictive and luring to a young mind. You should talk to your teen daughter about what is to be believed and what not, what is to be posted and what not. She may be measuring her self-worth by the number of "likes" that she gets on her pictures, content, or posts and that can be a formula for losing self-esteem.
An unfiltered reality of social media has to be communicated to your daughter. A check has to be kept on your own use of social media as the children tend to be observant of their parent's behaviour. However, ensure that all your discussions with your daughter are rational, grounded in logic, and give her equal space to express herself.
Also Read: 8 Mistakes You Should Avoid Making With Your Teenage Child
Keeping Safe
Safety at home and beyond for your young girl is of utmost importance. Vigilance to an inappropriate touch or a glance by a familiar person or a stranger is a fact which needs to be spoken about by you as a parent. Trusting with care, communicating safely, and knowing the means of self-protection are subjects of conversation to have with your daughter. You should be practical in communicating these concerns and not get your daughter to feel unduly anxious.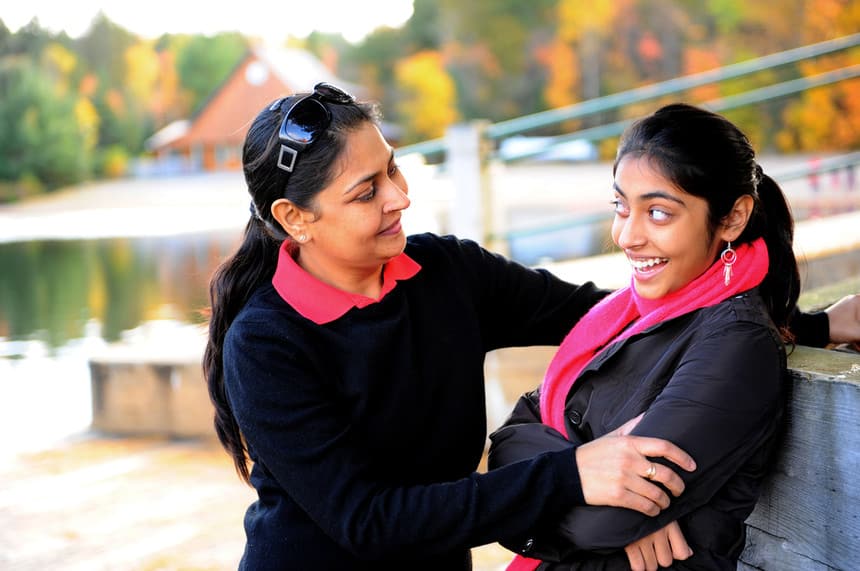 Talk To Your Daughter About The Need And Ways Of Keeping Herself Safe
Handling Relationships
Relationships have to be understood by a teenage girl as healthy, meaningful, or toxic. You as a mother can talk about attraction, infatuation, and liking to the youngster. You may ask about her likes and dislikes for people, whether they be classmates, cousins, or teachers. It gives you a fair idea about any concerns your teenage daughter may be facing in her interpersonal relations and then address them accordingly.
Also Read | Talking To Your Teen About Love And Relationships
Conversations about life skills need to be ongoing with the youngsters at home. However, if not done so, it is never too late to start talking to your teenage daughter. Parents have to have a trusting rapport with their young daughters to be able to show and share their wisdom with. Preparing the teenager about her body, personal safety, decision-making, and responsibility for consequences are some of the very basic lessons to be communicated. Equipping her with strong life skills is the best gift that you can give to your teenage daughter as parents and as the cliché goes, "Kyonki Maa Bhi Kabhi Beti Thi".
Dr. Sanjana Seth is a Psychologist and Psychotherapist, registered with RCI, and holds more than two decades of practising experience with the healthcare organisations of the Armed Forces, as well as those operating as private. She is skilled in administering psychological assessments, providing therapeutic intervention and psychoeducation via talks, lectures, workshops, and literary articles. She has worked extensively for children with special needs, and has taught Psychology to students at undergraduate and postgraduate levels.