Ninety-four percent of students who got admission in medical colleges in India started preparing for the national-level medical entrance test, NEET, in Class 11 or later.
This edition of Careers360's The Big Questions student survey sought to understand the role and quality of coaching accessed by students who wrote the NEET UG and succeeded. The survey found that the vast majority of students writing the NEET UG do take the help of coaching; over 80 percent enrol in online or offline classes and about 19 percent choose to study on their own.
Conducted by the National Testing Agency (NTA), the National Eligibility cum Entrance Test is the single entrance exam for MBBS, BDS and allied undergraduate medical programmes in all colleges across the country. Students can write it after completing Class 12. In 2021, over 15.4 lakh candidates appeared for the text.
NEET Coaching Survey
The online survey was conducted by Careers360 from February 18 till March 16, 2022. In total 717 students responded to the survey. Of them, 42 percent – or 315 – didn't get admission in any medical college and did not answer further queries.
Excluding name and basic details, the survey contained five questions and 14 sub-questions based on the response.
The questions included college name, admission year, Class 12 graduation year, school board and the method of preparing for NEET – online, offline, both, or self study. Almost all were multiple-choice questions, offering a list of options for the respondent to choose from as answer. Some offered an "Other" option and respondents were given the space to explain but few exercised it.
Based on the responses, further questions on coaching methods, duration of classes, time of joining, fee, hours of study in a day, quality of study material and teaching, frequency of tests and more were asked.
Of those who did get admission in medicine, 59 percent took admission in 2020-21 and the rest in 2021-22.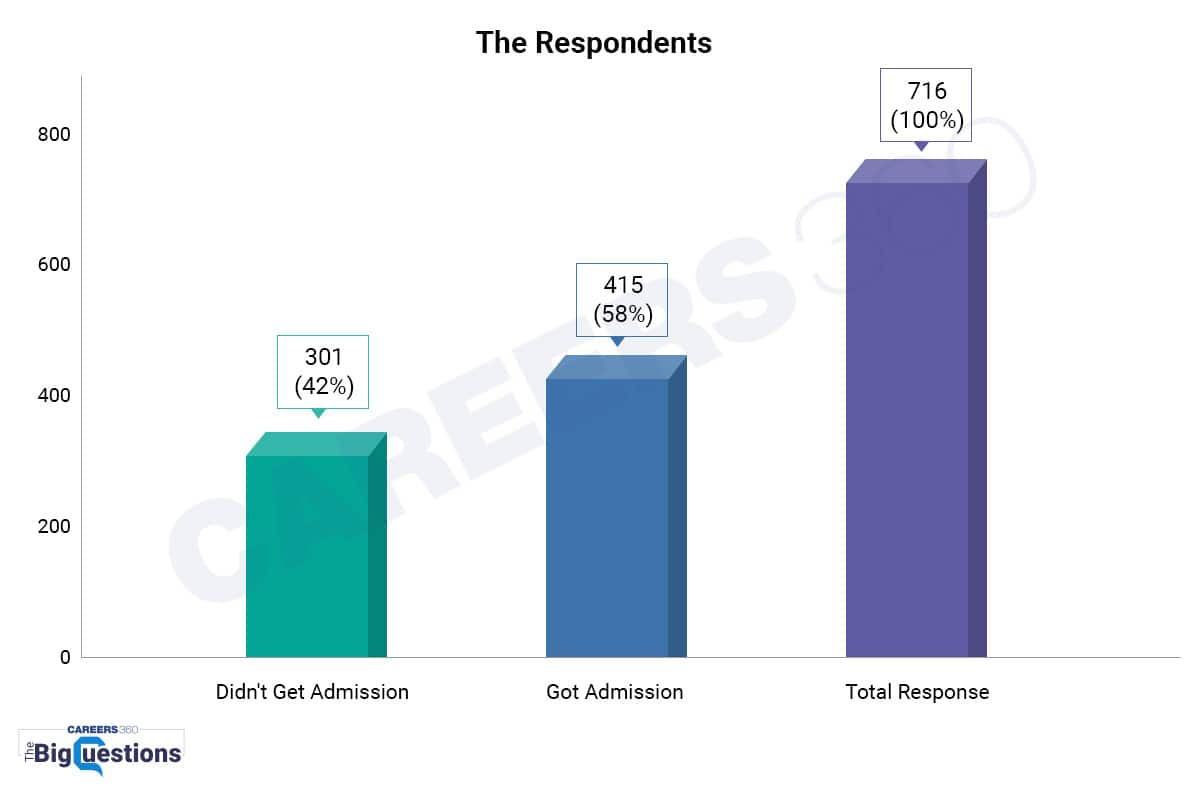 Survey about the admissions
Of the 415 students, 328 students stated the names of the colleges they joined; 17 of them students got into one of the All India Institutes of Medical Sciences (AIIMS) including three in AIIMS Delhi, four in AIIMS Kalyani (West Bengal) and the rest spread of the the other AIIMS. From this group, 14 students had studied in schools affiliated to the Central Board of Secondary Education (CBSE), two in state-board schools and just one in a school affiliated to the Council for the Indian School Certificate Examinations (CISCE).
Start Of NEET Coaching
In total, 107 students responded to the question on when they started preparing for NEET. More than 94 percent of them started in Class 11 or later, in either online or offline mode.
When Students Joined NEET Coaching
| | | |
| --- | --- | --- |
| Class | Online (In %) | Offline (In %) |
| Class 9 or earlier | 2 | 3 |
| Class 10 | 3 | 0 |
| Class 11 | 17 | 50 |
| Class 12 | 78 | 47 |
NEET Coaching And Self-Study
When asked why the students opted for online coaching over offline, most said they found it more accessible as well as affordable. For some, Covid-19 forced them to go online and the rest sought "extra guidance" online or found the "quality of the coaching" in their programme superior. The table below shows the distribution of survey respondents by how they prepared. This was calculated out of the total number of students who responded to this question in the survey.
11 AIIMS students who responded to the question chose offline coaching as their mode of preparation; three studied on their own; two opted for online coaching and just one went for both online and offline classes.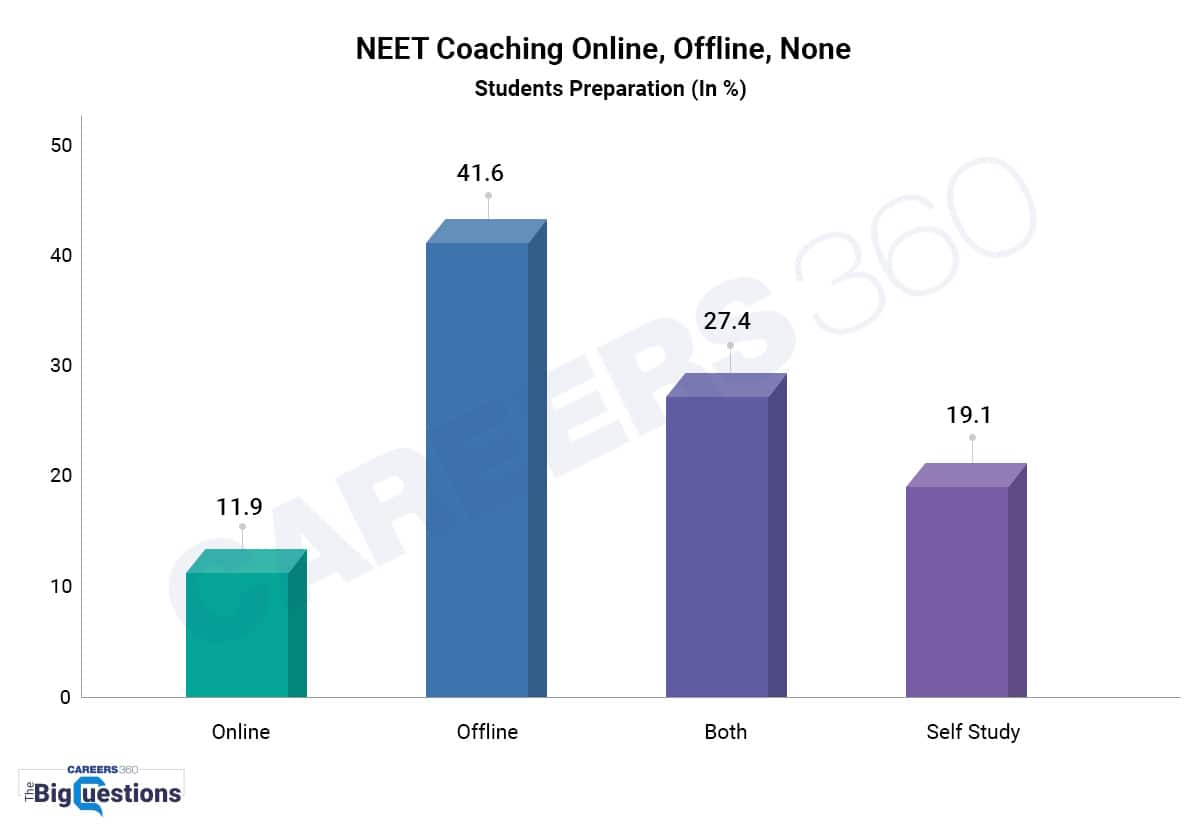 NEET Coaching Preparation.
Also Read | NEET UG: How To Prepare At Home, Free Of Cost
Hours Per Day For NEET Coaching
The majority of responding students did not state the number of hours they spent per day on studying in coaching classes– online or offline. Among the ones who did, the distribution was as given in the table below.
NEET: Hours Of Coaching
| | | |
| --- | --- | --- |
| Hours Per Day | Online (In %) | Offline (In %) |
| < 4 hours | 26.9 | 8.7 |
| 4-6 hours | 23.9 | 27.2 |
| 6-8 hours | 20.9 | 37.9 |
| 8-10 hours | 22.4 | 16.5 |
| > 10 Hours | 6.0 | 9.7 |
NEET Coaching Fee
The cost of NEET online coaching ranges from around Rs 30,000 to over Rs 1 lakh, while the offline coaching fees can range from Rs 50,000 to Rs 3 lakh and more.
In numbers, the majority of students, that is 39, opted for online courses that cost less than Rs 30,000. Given below is the distribution of respondents by the amount they paid.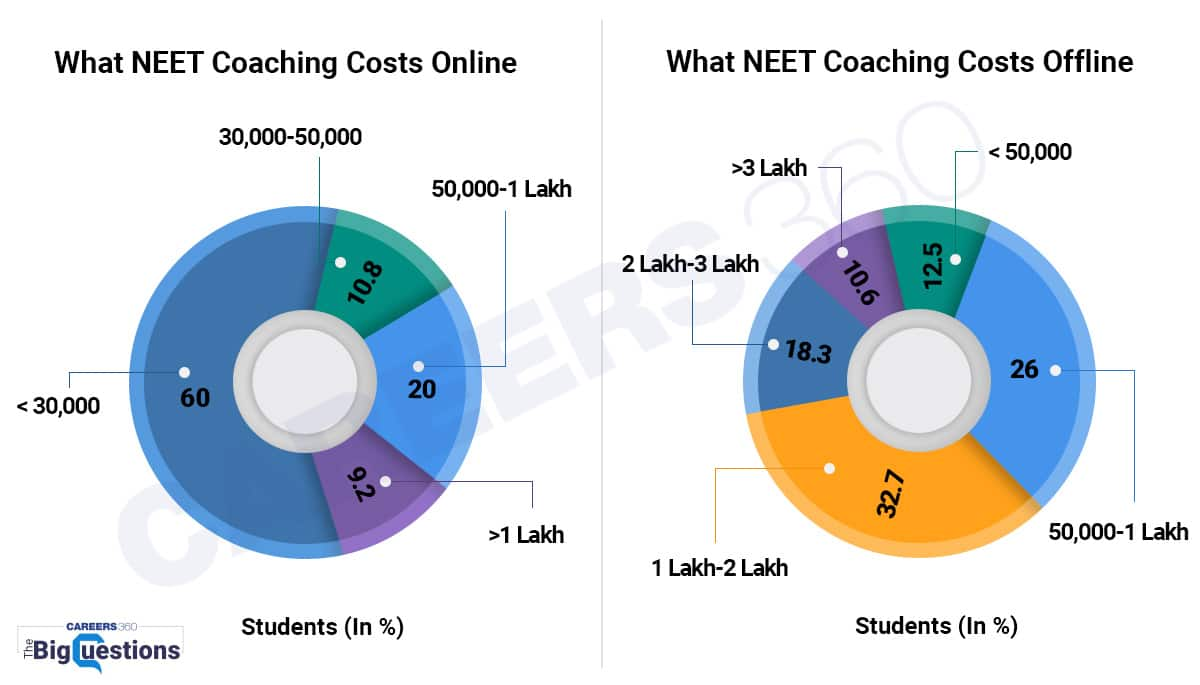 NEET Coaching Cost: Online & Offline