French language learners in India, studying in schools, universities, and any other institutions can get certified for their language skills through international certifications, namely Diploma In French Language Studies (DELF) and Advanced French Language Diplomas (DALF). DELF and DALF are six independent and official certificates of the French Ministry of Education:
DELF A1, DELF A2, DELF B1, and DELF B2, from Basic and Independent level
DALF C1 and DALF C2, Advanced and Mastery level
These certifications are based on the Common European Framework Of Reference For Languages (CEFRL), an international standard for describing language ability. It describes this ability on a six-point scale, from A1 for beginners, up to C2 for those who have mastered a language. This makes it easy for anyone involved in language teaching and testing, such as teachers or learners, to see the level of different qualifications. It also means that employers and educational institutions can easily compare these qualifications to other exams in their country.
These diplomas are recognised worldwide and they have lifetime validity. Every year, more than 3,00,000 speakers certify their communication skills through DELF or DALF all over the world.
Why Take DELF Or DALF?
Let us discuss a few reasons as to why it would benefit you to take the DELF or DALF exam.
Higher Education In France Or Anywhere In The World
Any student wishing to pursue their higher studies in France is advised to seek certification for their French language skills. This certification will show their motivation and will be an asset for their application. Moreover, the French government provides several scholarships to study in France. The jury gives special attention to the students who can speak French and who have a certification for their French language skills.
Also Read | IELTS Writing Section: All You Need To Know About Scoring Band 7 Or Higher
Enhance Your Job Application
More and more international companies are looking for French speakers in various domains - Tourism, hospitality, fashion, luxury, teaching, engineering, import & export, etc. The DELF and DALF will open new avenues for you.
Immigration To France Or Canada
A certain level of efficiency in French is required for those who want to emigrate to France or Canada. It will add extra points to your application and hence, increase your chances of immigrating to France or Canada.
Also Read | Top 5 PG Programs To Pursue In Canada
Choosing The Right Diploma
The exams are open to non-native speakers, without any set requirements as regards to the minimal number of guided-learning hours. All the diplomas are independent of each other. DELF A2 can actually be given without having passed DELF A1. It's really up to the learner to ascertain his/her most appropriate level.
The descriptions about DELF-DALF exams provided in this article will help you decide the appropriate level and exam for you.
DELF-DALF certifications are available for age groups from seven years old and above. A different version of the exam is available for each age group:
DELF Prim | DELF Prim is for the age group of 7-11 years. As children start learning the French language, they can assess their acquired level from a young age. Children can sit for 3 levels A1.1, A1, and A2. The subjects are designed according to the interests of children. After the age of 11, learners can continue with DELF Junior.
DELF Junior | DELF Junior is for the age group of 11 to 17 years. It is composed of four levels A1, A2, B1, and B2. Likewise, DELF Junior contains exam topics according to the interests of adolescents.
DELF Tout-Public | DELF Tout-Public is for adults.
It should be noted that all three types of DELF exams are equivalent in level. DELF Junior A1 is equal in level of proficiency to DELF Tout-Public A1. If a candidate has given DELF Junior A2, they can sit for DELF Tout-Public B1 in the next examination session. DELF and DALF exams are exactly the same worldwide.
How To Prepare?
The 14 examination centres in India provide classes to prepare for the DELF and DALF exams. To find a French class, you can visit the Alliance française network's website: https://afindia.org/learn-french/
Here are some additional resources you may use to prepare for the exams:-
Youtube Videos | Youtube videos conceptualised by the French Institute in India to help you prepare for the oral exams.
Also Read | These 8 YouTube Channels Will Make You Smarter
Sample Papers | Sample papers available online on France Education International's website: https://www.france-education-international.fr/diplome/delf-tout-public?langue=fr
RFI Savoirs | RFI Savoirs is the educational website of Radio France Internationale, intended for the general public as well as for education professionals, to learn French and understand the world in French. It provides resources and tools to prepare for the oral comprehension part of the exam. This is the link to discover audio articles, articles, images and much more: https://savoirs.rfi.fr/fr
French Cinema | Improve your French and enjoy a wide range of French films, series, documentaries and more at https://www.tv5mondeplus.com/.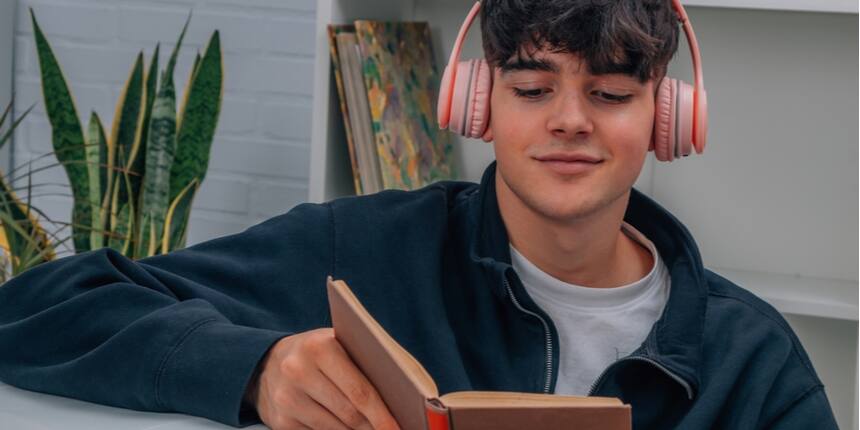 Immerse Yourself In The French Language
Taking The DELF-DALF
We shall now discuss details of how and where to take the DELF and DALF exams.
Where | There are 14 examination centres, 13 Alliances françaises and the French Institute Jaipur. You can, therefore, sit for DELF-DALF exams in 15 different cities in India: Ahmedabad, Bangalore, Calcutta, Bhopal, Bombay, Chandigarh, Goa, Hyderabad, New Delhi, Lucknow, Madras, Pune, Pondicherry, Trivandrum and Jaipur.
When | There is a national calendar for the DELF-DALF exams across India. This means that the exams will be held at the same time all over the country. The forthcoming examination sessions for 2022 are: June, July, September, and December. For further details about the DELF-DALF exam calendar, you can visit our website https://www.ifindia.in/certifications/.
Grade-Passing Scheme
The whole exam is graded out of 100 points. Each part of the exam weighs 25 points. To pass DELF and DALF exams you must satisfy two conditions:
Score at least 50 out of 100 points;
Get at least 5 points for each part of the exam (there are 4 parts in each exam - listening comprehension, reading comprehension, speaking, and writing)
For more information about DELF and DALF exams contact: mla@ifindia.in or kse@ifindia.in
The article has been co-written by Maryline Laidin and Kripalinee Seeparsad, French Institute In India/Ambassade de France en Inde.