The Graduate Record Examination (GRE) is taken by a huge number of students every year, who wish to pursue higher studies outside India after completing their undergraduate degree here. Worldwide, the GRE is conducted by the Educational Testing Service (ETS). Careers360 recently hosted a webinar with Jay Bryant (Associate Director, Business School Relations, ETS) and Tanya Bajaj (Director, Client Relations - GRE, ETS India) on everything pertaining to the Graduate Record Examination, how and when you should apply, eligibility, validity, and much more.
Q. Which countries and courses is GRE needed for?
Globally, including the US, Canada, UK, Australia, etc., business schools employ the Graduate Record Examination General Test as a component of their admissions' process, whatever the graduate business programme it may be, an MBA, a specialised master's programme, etc. The GRE examination is one of the most commonly used exams to gauge a student's preparation for graduate-level coursework, and it is the only one that will allow you admission to graduate programmes, business schools, etc.
Approximately 1300 business schools worldwide currently use the GRE general test as a requirement for admission. Discussions are currently on about accepting GRE scores throughout India. In India alone, there are roughly 100 colleges at present that use the GRE general test score as one of their entrance requirements.
Read further to know all about the GRE exam.
Q. What is the difference between the GRE General Test and GRE Subject Test?
Graduate Record Examination General Test | Students from all over the world who wish to enroll in a master's programme, a business-specific master's programme, a JD programme, an MBA programme, or a general master's programme must take the GRE general test. The purpose of this exam is to evaluate a student's verbal reasoning, analytical writing, and critical thinking abilities.
Graduate Record Examination Subject Test | These are academic assessments that gauge a student's proficiency in a particular subject area.
Q. What level of Maths content is included in the test?
One of the GRE frequently asked questions is about the inclusion of Maths. The math material for the Graduate Record Examination is typically created so that it can evaluate your capacity to comprehend and analyse quantitative data, as well as solve problems using fundamental mathematical concepts. Quantitative comparisons, basic ideas like mathematics, data analysis, arithmetic, and geometry are typical question kinds.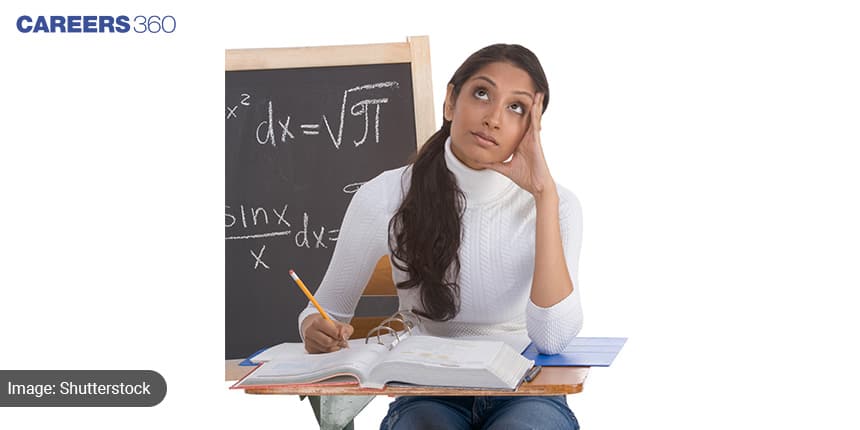 The Math Material For The GRE Is Created To Evaluate Your Capacity To Analyse Quantitative Data, And Solve Problems
Also Read | Top Career Options For Those Who Love Maths
Q. What skills does the GRE General test measure?
Another one of the GRE frequently asked questions is to know about the skills that would be assessed. Algebra-2 is the highest level of Maths proficiency measured on the Graduate Record Examination General Test on the quantitative side. This test primarily evaluates your ability to transform a problem into a manageable, arithmetic problem.
The verbal portion of the test evaluates your command of English grammar as well as your capacity to read, understand, and analyse complicated texts. There is also a writing part. This is important for students who want to know all about the GRE exam.
Q. How many times in a year is the GRE exam held and how can a student obtain the GRE exam schedule?
One GRE frequently asked questions by students is how often can they give the exam. The fact that the GRE test is given more than 50 times annually means that students who want to take it more than once have an edge. With at least a 3-week break between each test, you are permitted to take the exam up to five times each year. The Graduate Record Examination exam schedule can be found at www.ets.org/mygre, where students must create an account and register in order to access it. You may find out here all you need to know about exam dates, test locations, whether you want to take the test at home, how to acquire score reports, etc. Additionally, this account is where ETS and students typically communicate with one another.
Q. How many times can a student take the GRE General and Subject Test?
The Graduate Record Examination Subject Test is only given three times a year, that is in September, October, and April, as opposed to several times for the Graduate Record Examination General Test. The score has a 5-year validity. The professionals here advise you to take the tests as soon as you can and not to wait around needlessly.
Q. What is an ideal GRE score for engineering students?
This varies greatly between programmes and schools. The scoring for each GRE section ranges between 230 to 270. In contrast, if you want to follow a STEM course or a business programme, you should concentrate on the test's quantitative portion. If you want to enrol in a course like liberal arts, you must concentrate on the verbal portion of the exam. Students typically average 250 on each section, which is the standard. Aim for a score of more than 250 if you wish to apply to prestigious universities. Your goal should be a score of 260 if you are considering a STEM course at a tier 1 university. You are doing pretty well if you score in the top 10 percent of all test takers. You might choose to retake the exam if you scored in the 75th percentile and want to attend a prestigious university.
Also Read | Career Opportunities For Engineers Of The Future
Q. Does admission to universities depend only on GRE scores?
Absolutely not, different schools and programmes that operate extremely differently from one another. Business schools take a variety of factors into consideration. Schools may choose to accept applicants who score in the top 25 percentile on the Graduate Record Examination since graduate-level Maths becomes exceedingly challenging. The GRE gives a platform to directly compare test takers on the academic scale.
On the other hand, if you are applying to a business programme, the schools may also take into account your undergraduate work, the type of school you attended, the programme you completed, and even your employment history. Your interpersonal skills, soft skills, current affairs' knowledge, and effective communication abilities are also taken into account.
Q. What strategies should students follow for GRE preparation?
To start getting ready for the Graduate Record Examination, take a full, uninterrupted practise test. Assess your areas of strength and weakness. Recognise your areas of weakness and begin to improve them. Access the materials that are available, including the official manuals, exam preparation tools, books, etc., all through your ETS account if you feel that you need assistance. Consider consulting with a specialist who can help you if you still feel you require outside assistance.
Q. Is GRE mandatory for applying to MS and PhD programs outside India?
It is usually a good idea to take the Graduate Record Examination and keep your scores in hand, in case you end up needing them during the admissions' process. However, it does depend on the colleges and courses you are applying to.
Q. How important is the GRE score in helping secure scholarships for graduate studies?
When universities announce new scholarships, they always post information about them on their official websites along with the requirements you must meet in order to be eligible to apply. Your Graduate Record Examination score, financial situation, the programme you are applying for, the scholarship you wish to apply for, etc. are additional considerations.
Also Read | Funding Your College Education: Know About Loans, Scholarships, And More From An Expert
Q. How important are extracurricular activities for a student's profile?
Every programme and institution will place a different value on extracurricular activities. For many (but not all) engineering courses, extracurricular activities may not be as important as academics but from a business school perspective, what all you do beyond academics will be given good consideration.
Watch Now | All You Need To Know About GRE