Universities abroad have a holistic approach to admissions and shortlisting of applications. Both aspects of student applications- academic and extracurricular are carefully reviewed by each university to evaluate a student's suitability for a particular course. Certain universities, especially those in the United States, review arts portfolios for international students for applications to all degrees since it is considered an important means of understanding students' proficiencies, personalities, and profiles.
What Are Arts Portfolios?
Arts portfolios are a collection of pieces prepared by students that display their proficiency in a defined field. For example- an arts portfolio of a theatre aspirant will contain videos of plays acted/directed by them, their critique of a popular theatrical piece, and even documentation ranging from arts CVs and artistic statements. Different universities have different requirements for different courses but students are required to submit some or all of this documentation for evaluation by the admissions' committee. Arts portfolios are designed to give the admissions committee a comprehensive insight into the student's talent and approach to their field of interest. Students are required to upload arts portfolios alongside the rest of their undergraduate applications.
What Do Arts Portfolios Consist Of?
Different universities have different requirements for arts portfolios. These requirements are more stringent for students pursuing specific visual/performing arts courses and relatively relaxed for students who are submitting their arts portfolios as additional documentation for admissions. Broadly, an arts portfolio consists of the following documentation:
Collaterals | Students are required to upload pieces that demonstrate their experience and expertise in a particular artistic field. This could range from images of artistic designs, videos of musical and theatrical performances, and 3D models of architectural designs. Students are required to upload arts portfolios in formats defined on university websites. Universities also advise students on the required number of pieces for each course. These pieces are always accompanied by descriptions, which enable the reviewer to gain a holistic understanding of the piece.
Critiques & Interpretations | Whilst collaterals allow admissions committees to understand the practical proficiencies of different applications, critique prompts are leveraged to understand the theoretical leanings and skills. Students are given open-ended prompts to explain their interpretations and present critiques of popular pieces in the public eye.
Artists' Statements | Artists' statements are essentially personal statements contextualised to a defined artistic field of interest. Students must answer a basic 'why' essay prompt and explain their reason and motivations for pursuing the said course. These could be driven by both personal and professional motivations and should address a student's desire to pursue a defined BFA major in a particular university/school.
Art CVs | As the same suggests, art CVs are CVs that specifically focus on a student's artistic endeavours and achievements. A well-drafted art CV should contain information about qualifications earned, notable performances/displays, relevant internships/apprenticeships completed, and awards received. It should be well formatted and the approach used should be in line with a clean and structured undergraduate application CV.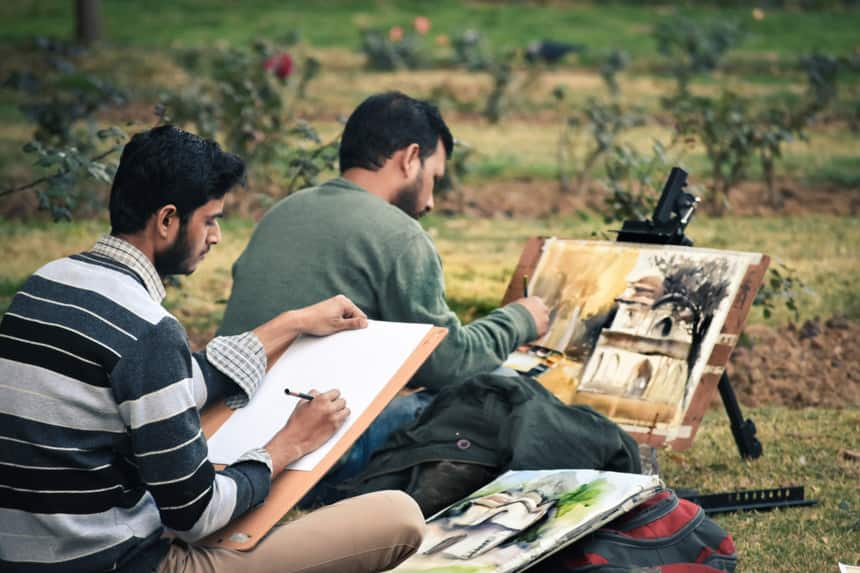 Art CVs Focus On Student's Artistic Endeavours And Achievements
Letters Of Recommendation | Certain universities also require students to submit an additional letter of recommendation that testifies to their proficiencies and validates other information presented as a part of the arts portfolios for international students. These letters are typically drafted by the student's instructor within or beyond high school. Whilst students do not submit these letters themselves, the request for obtaining the same is made by the student whilst filling out the arts' portfolio form.
Interviews | Lastly, certain universities also require students to complete interviews as a part of the selection process alongside their arts portfolios. These are required only for the most selective and practical courses where an in-person interaction with the admissions committee is required to holistically drive the admissions process. Both cultural fit and artistic proficiency is determined through such an interview. Interviews are conducted both online and in-person, with the former option being opted for by most international students.
Also Read | How Should You Create A Balanced College List For Study Abroad Applications?
Types Of Arts Portfolio Requirements
It is important to understand the different types of arts portfolios' requirements.
Compulsory Portfolios
Students applying to certain BFA courses, architecture courses, and engineering design courses are required to submit an arts portfolio. In simpler terms, applications to these universities are considered to be incomplete without the submission of the arts portfolios. Given their nature, requirements are also more extensive and deadlines are stricter. Students wishing to apply to these courses must start preparing the base of their portfolio a couple of years in advance.
Optional Portfolios
Arts portfolios for international students are not mandated by universities but can be submitted by students to showcase their talents and subsequently enhance admissions' possibilities. These can be submitted by students applying to any and all courses, and this provision is most prevalent in the United States (given their focus on a holistic evaluation of applications).
Also Read | Exams You Need To Take To Study Abroad After Class 12
How To Submit Arts Portfolios
There are three distinct methods of submitting arts portfolios, and universities across the world tend to utilise one of the three to accept applications for different courses:
The Undergraduate Admissions Application Form
This is the form used by students to submit diverse application requirements ranging from personal details to essays and transcripts. Examples- Common Application for the United States, UCAS for the United Kingdom etc. Certain colleges allow students to submit Google drive/website links of their arts portfolio or provide space to upload the actual material on their form. This is primarily used by universities in the US for courses which do not have intensive or compulsory arts portfolio requirements.
College-Specific Portal
Most universities provide students with unique credentials to log in to their specific application portal after the submission of the application form. For example- a student applying to Dartmouth College will receive specific login details to a Dartmouth portal after submitting the Dartmouth application via the Common App. This portal is used by universities to accept additional material after the application deadline and communicate results and additional requirements to students. Several universities such as Stanford use their portals to accept art portfolios- both compulsory and optional.
Arts Portfolio Portal
Several universities use a specific arts portfolio portal to receive undergraduate applications. These portals can be imagined as Common App-like systems through which students can send different portfolios to different universities. Portals like Slideroom have become highly popular amongst universities as they provide students with a single unified platform to submit different arts portfolios to different universities as per their requirements. Students create common login credentials for all universities and submit applications as per deadlines. For example- Slideroom has been used by Harvard, Northwestern, Duke, and Princeton in the past to receive application material.
It is extremely important for students applying to BFA courses (visual and performing arts) to research the method and the deadline for submitting their arts portfolios. Given that the evaluation process for these courses is more prolonged, colleges tend to impose an earlier deadline for applications. This, compared with the extensive and additional arts portfolio requirements, implies that students should start planning and preparing application material months in advance- a process that should be initiated by conducting a deep dive into specific university requirements and processes.
It is fairly evident how complex, intricate and beneficial arts portfolios are, especially for admissions to leading universities in the United States. Streamlined focus and investment right from high school are important approaches to leveraging students' innate talents to generate the most beneficial admissions outcomes, irrespective of the intended major.
Also Read | Your Pre-Departure Checklist Must Contain These Items
Vijeeth Srinivas is a development consultant with more than extensive experience in the foreign education industry. With the Centre for Career Development and Essai Education he has helped hundreds of students secure positions in leading universities abroad. He is keen to make novel developments in education and skill development more accessible to students from diverse socioeconomic backgrounds.