For almost two years, Covid-19 has forced us indoors, where we have lived with the haunting omnipresence of the pandemic. Nonetheless, over the course of two years, we have found ways to create a new normal, and just as we were beginning to become comfortable with it, things began to change drastically again, with the waves subsiding and schools beginning to open again.
It may almost feel like, as adolescents, you have neither any say on what happens nor any control over these situations. However, as is the nature of life, nothing is ever in our control except our minds, and the willingness to keep afloat in dire times. Setting aside what lies beyond our locus of control, the article outlines tips that you, as well as your parents, can use to ease the transition back to school.
Coping Tips For Students
Here are a few tips you can employ to make this process smoother and perhaps, simpler.
Prepare Ahead
Some of us really took a dislike to the 'study at home' idea without any social lives and are now looking forward to getting out of the house soon, while some of us quite liked living in our rooms and being by ourselves. Either way, this transition will be a new experience for all of us. It won't be the same as going back to school after the summer break, so it may require a bit of preparation.
When I speak here of preparation, I refer to a kind of mental preparedness. Often as adolescents, one isn't reassured the way young children are, and the responsibility to do so falls upon your shoulders. Prepare yourself mentally by reflecting upon the 'want' behind the 'should'. This implies having to work out (preferably on paper) why going back to school is something you want, rather than something you have been asked to do. This may seem like it is too simplistic, but we have to understand that our brain is designed to comprehend positives, i.e. "anything I want has a higher value than anything I should do". Autonomy is valued over conformation. And, this is a trick to fool our brains and eventually ourselves too (just as 'All is well' works).
Daily Routine
Perhaps one of the downsides of "study from home" is the lack of a daily routine. Sometimes you get up 10 minutes before class, and sometimes an hour before it if you're lucky. The whole day is mostly unplanned, or rather, vaguely planned. And, it may seem like a positive thing, but our bodies and brains are designed to comprehend and crave patterns, i.e. routines.
Going back to school would mean grappling with sticking to a schedule, and that may seem infuriating sometimes. If your school is just starting, it would be a good idea to create a practical chart of 'to do's' for each morning and afternoon. This helps lessen the chaos and provide a structure to the day, thereby helping you create a daily routine. If your school has not started as of yet, try to practise getting up, getting ready, eating and sleeping on time. This will help gradually prepare you for the incoming changes. If your school is in a hybrid mode, try going once or twice a week, to slowly get a taste of what you are about to step into. Start taking gradual steps to once again make school a part of your daily routine.
Expect Reasonably
Perhaps you expect that school will look and feel the same as it did before, but it is important to understand that it is not a return to the old times, or what you used to refer to as normal. Rather, it is another, a new normal. It will require both, some effort, as well as some patience, to feel comfortable with and enjoy it at some point.
This not just applies to your school, but also to your peers. You will notice that many of your friends have changed, they may look or speak differently, or even behave differently. You yourself might feel differently. So many of us entered the pandemic as someone and now, two years later, are different people.
So, it is important to set reasonable expectations of how it may feel to return to school. This may also mean waiting to experience a few days of school and spending time with friends to see how it feels to start with a fresh slate, like entering a new school.
Kids Going Back To School- Self-Compassion
Any new transition can be heavy on us, especially this one. Many of us may still be carrying grief, loss and sadness from the past, as well as the fear and anxiety for the future. The older we get, the more we are expected to get ahead and simply move on from travesty. However, it is important that we are compassionate with ourselves by checking in to see how we feel, how something may be affecting us, looking into our apprehensions, our hesitations, and actively reassuring ourselves that how we feel is valid, despite what the world expects from us.
Manage Stress
As you begin this transition, things may seem stressful and challenging, and many adolescents take to unhealthy ways of coping with these stressors. It is important to find healthy ways of not just taking care of yourself, but also practising stress management. Stress management is primarily about discovering, and practising ways to prevent, and reduce stress. This means capitalizing on building a routine by adding breaks, workouts and me-time. Taking care of the mind and body is essential for stress management. Get plenty of sunlight, fresh fruits and vegetables, keep yourself hydrated, sleep for 7 to 8 hours between sunset and sunrise, and practise gratitude.
Seek Support
Humans are social animals. More than anything, we require support. Remember to keep your family, friends and other loved ones close during turmoil. Don't be afraid of reaching out, even if you feel like now living with the pandemic is the new normal and one mustn't be affected by it anymore. We have all been through a collective episode of trauma, and different individuals require different ways and varying amounts of time to resolve this trauma. Importantly, do not be afraid to speak to a therapist about your troubles and get professional mental health support whenever you feel it's necessary.
Stay Safe
It is possible that in all this rush, while grappling with these new changes, we let safety slide. But, it is important to remind yourself that the pandemic is not over, rather a bit subdued. It is important to keep following all safety protocols while making this transition. In fact, focusing on the safety of your peers, families, and your own is essential. If anything, Covid-19 has taught us the need to put our safety first.
Take care of yourself, build resilience and go on!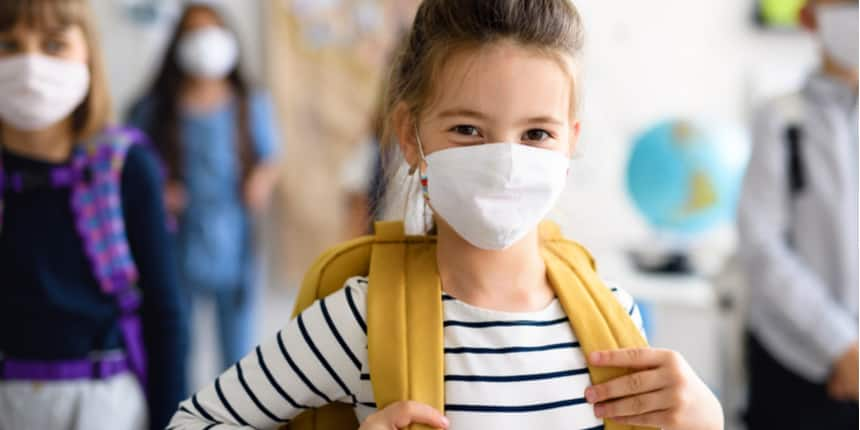 Helping Your Children Move To The Next 'Normal'
Tips For Parents
Now, let us talk about a few ways that shall help parents can give their teenage child support, as well as get used to this transition of the latter going back to school.
Be Empathetic
Create support for your children by not just providing them with encouragement to move forward, but also empathy to soothe their past. No matter how old they get, children need their parents to cradle them, of course with words. Remember to listen in to how they feel, their fears and anxieties, and to not offer solutions sometimes, but rather an ear. Listen empathetically, and by that I mean, listen intently, give them your undivided attention, ask questions, and follow up with them.
Encourage A Gradual Approach
Schools, teachers and society, in general, will push our children to achieve and perform even when they have been through all this. It is our responsibility as parents to help them slow down, and progress gradually. Transitions are difficult for everyone, but for young ones it can be more challenging, and changes made too fast are never good for us, they only invite chaos.
Praise Your Kids
Learn the ability to praise them for psychological achievements, like making this transition without losing their cool, reaching out to you for help and support, or taking care of themselves and expressing their emotions. This will provide the mental health support that your teenage children need but often do not consider asking.
Model Good Coping Behaviour
We all learn by watching rather than listening, and as parents, we can use this to our advantage by saying nothing much to our stubborn teenagers, but rather modelling to them the ways to take care of oneself, and creating spaces for stress management. They will learn more effectively when they see you do yoga for 20 minutes in the morning than hear you lecture them about it. Show them how to effectively deal with their anger and frustration, and express it to others.
Be Vulnerable And Honest
It is our natural approach to avoid speaking about what disturbs us, to put on a brave face for our kids, and be unrealistically positive. Be honest about what is happening to the world, and what the course looks like ahead. Learn to be vulnerable and honest about how you as their caregivers and parents feel, and watching you own up your grief is likely to encourage them to own up their grief and sadness. Optimism does not imply being oblivious of one's anger, sadness and frustration. Acknowledge them, and practise moving on!
The transition back to school may not be a cakewalk, given the difficult circumstances we all have faced in the pandemic. However, patience, careful handling of emotions, creating and following routines, effective stress management, and mental health support are some of the ways that can help both adolescents and their parents sail through this transition smoothly, and begin to find normalcy in the 'old', once again.
Nilanjana Parijat is a depth-oriented, and holistic wellness psychologist, with extensive hands-on experience in working with children, adolescents, and familes. She currently works with Reboot Wellness, Gurugram.