Health education is a vast profession that includes aspects of physical, mental, emotional, environmental, intellectual, sexual, and reproductive health. Some of the typical roles in this area include health officer, health outreach coordinator, health counsellor, environmental health educator, nutritionist, wellness consultants etc. This article will highlight some of these areas and share some insights into this career option.
What Does A Health Educator Do?
Any role that promotes health and well-being directly – through patient education, awareness-building camps, or indirectly – through community outreach campaigns and programmes, is broadly clubbed under the area of "health education".
The work of a health educator includes public services, community health, government offices, non-government sector, hospitals, educational institutions, and private organisations. The role may be full-time, part-time, contractual, or project-based. Health educators often need to work on weekends or evenings when the community or target audience they are educating are available only after their work-shifts.
Also Read | One Step at a Time: Why Rigid, Long-Term Career Planning Won't Always Work
What Qualifications Are Needed ?
A variety of different degrees are useful based on the nature of work and skills required. Degrees in nutrition, nursing, zoology, public health, medical profession, certificate programmes in counselling and health education, health psychologists, counsellors, clinical psychologists, and even experienced educators with a good understanding of biology are considered for a variety of roles. Community outreach or social marketing professionals may also have a management or mass communication degree. This area of work is relatively new in India and is a growing and developing field. A background in Biology and Life Sciences at the high school and undergraduate level, complimented by good communication and advocacy skills helps in this role. Diplomas and certificate courses are also available for individuals who want to specialise and volunteer or offer their services in specialised hospitals or care centres.
Precisely, a combination of academic qualifications similar to any of the following may help one become a health educator:-
A medical degree followed by a postgraduate course in Public Health
A nursing degree followed by a certification course in health education, public health etc.
A Psychology degree with a specialisation in Health, Counselling or Community Psychology
A Life Sciences degree with a postgraduate specialisation in Mass Communication and Media for outreach and social media roles
A degree in teaching Science with good experience in counselling, communication, and adolescent challenges for educational institutions
A degree in marketing and desire to engage in social media marketing for health and lifestyle products
What Kind Of Jobs Will You Get?
Some examples of the different roles, their examples and relevant experience has been shown below to give you an idea.
Also Read | 6 Questions To Ask Yourself Before You Choose To Drop Out Of College
Government Organisations | Organisations like WHO employ programme and policy officers and researchers for specific projects and focus areas. These are usually contractual and may be renewed based on performance.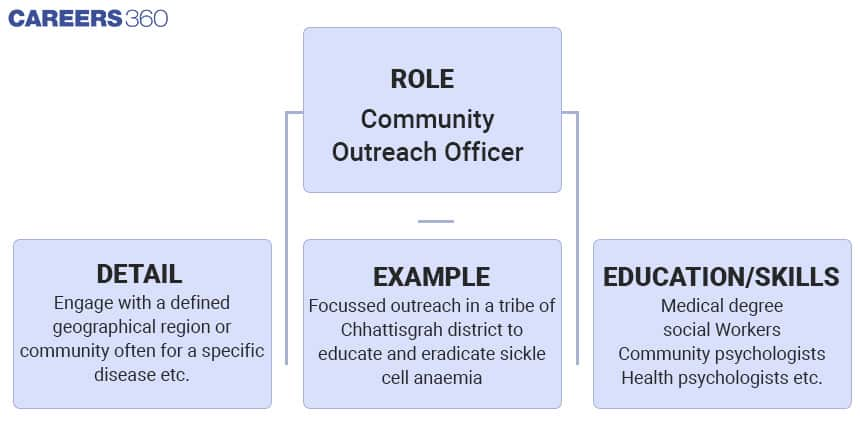 There are several NGOs that focus on various aspects of health and nutrition and need health educators with varying skills.
Non-Government Organisations | There are several non-governmental organisations that focus on various aspects of health and nutrition and need health educators with varying skills. Some examples include Parivar Seva Sansthan that works to promote reproductive health in women belonging to rural backgrounds and low socio-economic status. Lepra works to educate people about leprosy and eradicate leprosy from the country, they also help in the National Malaria programme to prevent the spread of the disease. Namaste Life focuses on adolescent wellness, hygiene, and cleanliness and reducing coronary heart disease and other lifestyle diseases.
Schools | Life skills educators are needed to help adolescents with socio-emotional and health challenges. Further, as adolescents are vulnerable to drug and alcohol usage, educators are available to spread awareness and provide the necessary counselling services. Government school mid-day meal plan requires educating the chefs regarding nutrition and cooking practices to increase immunity and strength. Nutritionists and health educators are employed full-time or on project basis for these roles.
Hospitals And Clinics | Large private hospitals often recruit nutritionists, lactation consultants, health psychologists, counsellors and other profiles that aid in the treatment and recovery of patients and clients. Awareness and education camps, medical testing camps, patient outreach managers are some of the roles that help in the smooth running of a hospital. Some of these roles are full-time, while others may be for a specific time-period or as a visiting consultant.
Business Houses | There is an increasing focus on promoting health and well-being of employees and their families in corporations. Business houses hire wellness consultants, fitness trainers, psychologists and even nutritionists to ensure overall wellbeing and fitness of employees.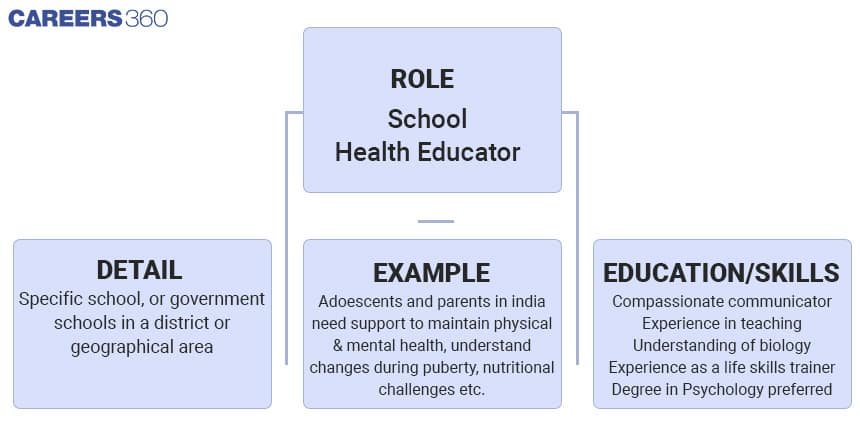 Life skills educators are needed to help adolescents with socio-emotional and health challenges.
What Skills Would You Need ?
What kind of skills would be needed to become a health educator? Let us take a look.
Interpersonal Skills | Social skills are important for health educators. Listening keenly, communicating, making notes, sharing information in a timely manner, providing reassurance, and empathising is useful for a health educator role. Apart from this, proficiency in multiple languages and especially the local language is critical for the role of a health educator.
Advocacy | A health educator needs to spread awareness and focus on the specific objectives of the health programme they are working towards. Focusing on the important points, convincing, and strengthening the objectives of the program are important for a health educator.
Also Read | Career In Insurance: Roles, Recruitment, Jobs In Government And Private Sector

Problem-Solving | An analytical and logical mindset that is complemented by a good understanding of the cultural and social challenges is needed to solve health problems and challenges.
Teaching Skills | A good health educator is also a "teacher at heart" who would like to bring awareness and understanding in the hearts and minds of the people they are working with.
IT Skills | This is essential as teaching and training materials need to be documented, made with IT applications, presented to the learners, etc.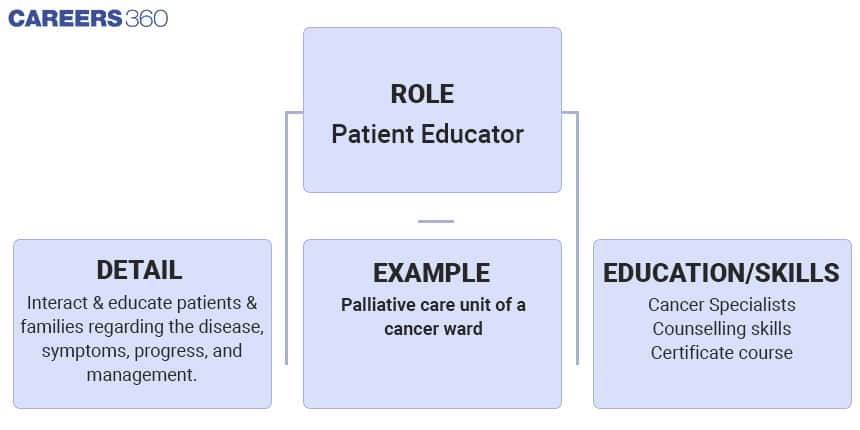 Large private hospitals often recruit nutritionists, health psychologists, counsellors that aid in the treatment and recovery of patients and clients.
Continuous Learning Mindset | As research progresses and our understanding of disease and infection changes, it is essential that health educators keep learning and updating themselves about the specific infections and diseases they are working on so they can educate and spread awareness effectively.
How Much Will You Earn?
The salaries for health educators vary based on the qualifications and experience needed for the specific role. Freshers may join as volunteers to assess their own alignment with the role and then take on specific projects or contractual roles. Payments may also be flexible based on geographic area, number of people educated, etc. Fitness coaches, yoga instructors, health coaches usually charge per session and have different plans for individual and group sessions.
Also Read | Know Yourself, Communicate: Tips For Choosing A Career Different From The Family Norm
Dr. Srividya is a Career & Life Coach who works with teens, adults and returning professionals to help them find joy and alignment in their careers and lives. After working for over two decades, she founded LifeVidya in 2019 and has worked with hundreds of students, professionals, and women.