A degree in Statistics equips a person to apply their skills to any real-life problems that involve numbers and data. There are a number of options in context of statistics jobs for those who wish to pursue a career in Statistics. If you have a head for numbers, like to make sense of data, have a deeply analytical mind, and know how to meaningfully present information, statistics jobs are a great option for you. This article will highlight some options for statisticians and the diverse careers in statistics that are flourishing.
Data Analyses
A data analyst helps interpret data and generate reports using statistical analysis. This role requires a good head for numbers and familiarity with data analytical tools and packages. You can pursue a career in Statistics by completing a certification in Data Science and Analytics to get familiar with the available software tools. Data analysts are hired in many industries as all business, product and strategic decisions are usually based on past data and a prediction of future trends.
Business Analyses
A business analyst uses data and statistics to solve business-related problems and challenges. They need to take a more macro view of the problem and analyse the emerging data to see how business processes and efficiency can be improved.
For example, the customers of a giant automobile organisation were challenged with problems of late delivery of automobiles to the end customer. To help solve this problem, a team of business analysts were engaged. A detailed statistical analysis of the time and cost involved in each step, from order to procurement to manufacturing and delivery, helped them pinpoint that the maximum delay was occurring at the procurement phase. Once this data was shared with the procurement business head, they identified the vendors who were making maximum lapses and took corrective action.
Such critical business decisions can be taken with the help of statistical and data analysis.
Consumer Analyses
A retail e-commerce giant wants to understand which specific discount coupons are used by which profile of customers. They want to devise a coupon plan that entices the customers to buy more and hence make the business more profitable. One of their team members, an expert at statistics, collates all data regarding the different discount and coupon schemes, product sales, and the customer profiles. Now, they need to analyse the data so the marketing team can devise better strategies to increase sales. Such business assignments are typical of a statistics' major's task. Knowing which statistical tools to use, which tests, how to analyse data, and how to present is a critical skill that is helpful in applying statistics in the industry.
Market Research
You may have heard of leading Indian market research organisations like Marg or IMRB. Many large organisations from different sectors rely on their market data and reports to get consumer insights, locally and globally. These consumer insights are gained through both primary and secondary data sources and analysed using relevant statistical techniques and tools. Any type of market research requires good statistical knowledge to plan, design, implement, and analyse. Graduates in Statistics have a huge role to play in market research. These reports are sought-after by many corporates and business houses on a regular basis to understand business trends and the market.
Also Read: Career Trends Of The 21st Century You Should Know
Actuarial Science
One of the good statistics career options is actuarial science. An actuary is a professional who compiles and analyses statistical data to calculate insurance risks, premiums, and helps provide inputs to reduce business risks. The process of becoming an actuary in India is very competitive and requires you to complete a series of qualifying exams. Actuaries are extremely well-paid and sought-after professionals. A degree in Statistics helps you understand the concepts and techniques behind analysis and risk management, and aids you in your career as an actuary. Do take Commerce with Maths in your high school if you plan to pursue a career as an actuary.
Also Read | Wondering If There Is A Future Without Maths? Read To Get Your Answer
Financial Analyses
Another statistics career option is to be a financial analyst who helps analyse business and financial data that is then used to take critical business decisions. To become a good financial analyst, you need to have good sectoral knowledge and should be comfortable working with numbers, analysing data, and drawing conclusions. A degree in Statistics often provides an edge to students who want to become financial analysts as they understand which trends are significant or likely to be due to sampling variations. As a financial analyst, you may be a fund manager, a ratings analyst, a risk analyst, or a portfolio manager. It is usually helpful to complete an MBA in Finance to pursue the role of a financial analyst after a degree in Statistics.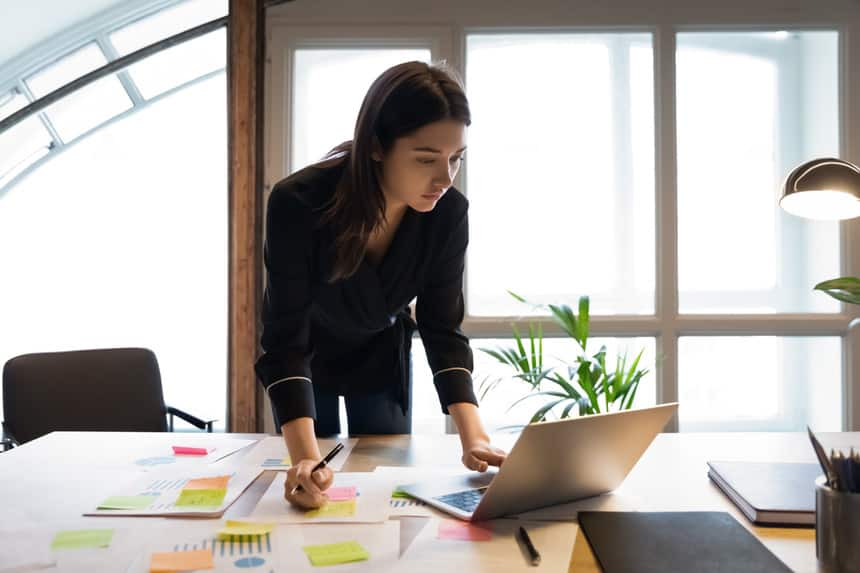 A Promising Career In Statistics Is That Of A Financial Analyst
Also Read | Careers In Finance To Look Forward To
Professor/Educator
Sadly, there are only a very few professionals who understand statistics in-depth. To become a good educator, you need to know the relevance and application of different statistical methods and have an aptitude for quantitative analysis. As a professor of Statistics, you could be a part of a business school and teach papers in Research Methodology and Statistics, or even teach students majoring in Statistics. You need to have in-depth knowledge of both theory and application and good communication and administrative skills to be an educator. Apart from these, you need to qualify for the National Eligibility Test (UGC-NET) for lecturers and university educators to become a professor.
Technology-Related Roles
Most students who are good at Statistics have a logical mind and may do very well in roles that require coding and programming. If the world of IT is interesting to you, you may consider pursuing certifications in different programming languages and combine it with your knowledge of statistics for good statistics jobs. For instance, a good UIX/UID designer also needs to understand user behaviour on the website and improve the look and functionality of a website. This is a good everyday application of statistics and technology. Similarly, roles like those in big data analyses wherein technology is used to analyse very large chunks of data, a good knowledge of statistics comes in handy. To handle these roles, you need to be adept at both coding as well as statistics.
Also Read | 6 Evolving Tech Careers You Must Look Out For
BioStatistics
Bio Statistics is another statistics career option. If you are keen to answer questions related to health, disease, and medicine you may want to lookup careers in the same. Many studies are conducted to see the efficiency of a certain vaccine or drug and understand if the intervention is producing the desired effects. Even large-scale studies related to pandemics and epidemics require very skilled bio-statisticians on the job. To become a biostatistician you need to have a double major in Science-related fields like Biology, Epidemiology, Virology, and Statistics. This is a specialised area and the demand is likely to increase in the coming years.
Sports Analyses
Have you sat through live telecasts of matches wherein the commentator shows past statistics related to sports as well as shares predictions of what might be? Yes, you guessed right, all these data trends and graphs are the result of statistical techniques and models. So, if you have an interest in sports and enjoy handling quantitative data, you could do a double major in Sports Science and Statistics and join a sports or news channel. You need to have a good understanding of data analytics to pursue these statistics jobs.
Also Read | Going Beyond Play: Know About Careers In Sports From An Expert
Psephology
A psephologist understands voting trends and data over the years and is adept at political analysis and forecasting. To become a psephologist, you need to have a good understanding of political science as well as be adept at statistical tool and techniques. A double major in Political Science and Statistics will be useful in becoming a psephologist.
Also Read | How Can You Turn Your Passion Into Your Profession?
As you can now see, careers in statistics play a critical role in everyday life and decision making. Based on the sector you want to serve and your skills, the nature of your work may vary. You may also need to do additional certifications and courses to build your functional knowledge. In a nutshell, your knowledge of statistics will help you carve a career in any role that requires the collection, analysis, and reporting of quantitative data.
Dr. Srividya is an Organisational Psychologist, Career, and Personal Growth Coach. She works with teens, parents, adults, and returning professionals, to help them align their personal and professional needs, desires, and overcome personal and professional challenges. She can be reached at www.lifevidya.in.