You may have come across a teenager who finds it hard to sit for long periods in class. Maybe he threw tantrums as a child in kindergarten baffling his peers and teachers. After a few episodes of distraction and inattention and maybe even academic underperformance, the student goes through the recommended assessment and is diagnosed as suffering from Attention Deficit Hyperactivity Disorder (ADHD). This usually makes parents and teens anxious about their future and likely prospects. With suitable intervention and management, students diagnosed with ADHD can craft careers they enjoy and can learn to grow in. Let us look at a few such career options with the help of examples inspired by real-life cases.
Technology-Related Careers
Shashank (name changed) is sharp and quick in his thinking. His razor-sharp brain is buzzing with questions he is forced to suppress as his peers prefer to keep pace with the teacher. Occasionally, he offers "out-of-the-box" solutions that others had not dreamt of. While his mother was worried in school, Shashank is currently pursuing a course in programming and is interested in app development as well as cyber security and hacking. The constant shift in technology and the adrenalin of learning something new is something that hooks him to the computer. He is heading toward a career in coding and hacking. Incidentally, he is good at fixing gadgets and hardware-related problems himself. He likes to read user manuals and is often seen with DIY kits that he assembles himself. Shashank is aware of his inability to connect socially and regulate his emotions sometimes. He connects with his therapist to manage this aspect. His parents have observed a definite increase in his social skills over time.
Sports-Based Careers
Inability to sit, hyper-focus, and hyperactivity become assets if applied to a fast-moving sport like football, basketball, athletics, etc. Michael Jordan, the famous basketballer, was diagnosed with ADHD and is an inspiration to many. The key is to channelise the energy early and encourage sporting avenues for students who have ADHD.
Maanya (name changed) was upset when she realised that her 5-year-old was hitting other children in his class and was being recommended a special educator. Three years of behaviour therapy and she found her son doing academically well academically and playing good cricket. He has a supportive social circle, and Maanya invests time and energy in cultivating relationships and support systems.
Developing good motor skills and encouraging the special abilities of children suffering from ADHD encourages them and boosts their self-esteem. A good career track requires self-esteem and confidence that a supportive family is instrumental in providing.
Also Read | Top 10 Career Options For Those Who Love Sports
Art And Design Careers
If you are a parent, see if your teen has a creative or artistic streak. Many students carve careers in art, music, design, or dance and excel in their performance and work. Their keen sense of observation, attention to intricate details, and sharp sense of balance, colour, and geometry make them ideal for design-related roles. Ankit (name changed), a student who had a troublesome childhood due to his ADHD is currently working in one of the big five consulting organisations as a UI/UX designer. At times, he feels the work is too structured for him, so he makes sure he sketches freely often and listens to a lot of music when the work is repetitive. He is planning to pursue a course in strategic design after a few years.
Also Read | What Is Liberal Arts Education?
Professional Gaming
Many teens who have ADHD enjoy gaming. If this is the case for your teen and they can practice and excel at gaming, becoming a professional gamer could be an option. The non-stop stimulation and control that they can achieve over the game can be gratifying. It is important for the children to know their skill level in the game and be realistic about their income and other expectations in this profession as it is still growing.
Healthcare Sector
Emergency workers, nurses, and other healthcare services that have a high stimulation and workload may work well with the short attention span that a person with ADHD displays. The training and structure of these services may provide people suffering from ADHD the support they need to manage their lives.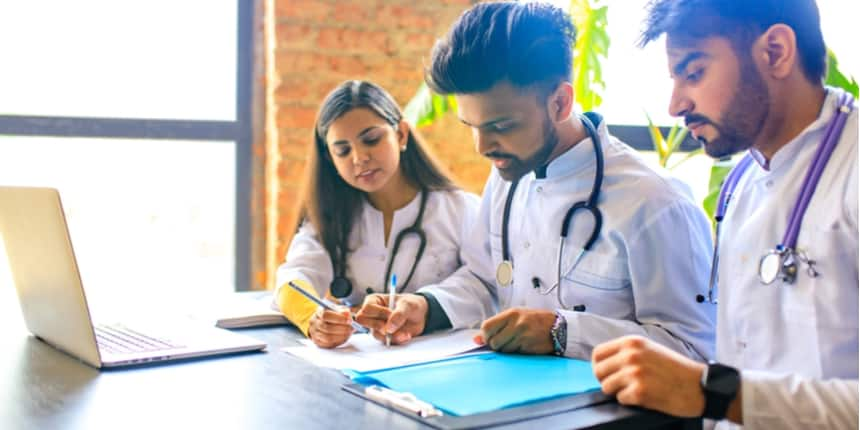 The Training In Healthcare Sector May Provide People With ADHD The Support To Manage Their Lives
Journalism
Imagine the constant activity at a news desk or media centre and you shall realise why this may prove a good occupational choice. As a news reporter or journalist, you would need to be on the field, cover news spaces, interview people for short spans of time, and try to get the attention of your viewers through the news you are capturing. All of these may be areas that can align with an adult who may show mild to moderate symptoms of ADHD.
Also Read | Things To Know Before Choosing A Career In The Media
Vanity Industry
If you are creative, comfortable working with people, and good with your hands, becoming a hair stylist or beautician may be a good career option. Salons and spas are usually crowded on weekends or holidays with more footfall and working here might be a good idea for people with ADHD who need constant stimulation. Additionally, being a beautician or hair stylist requires hyper-focus which may be one of your strengths. If you are interested in helping people look good, training to work in a salon or even owning one may be an area to explore.
Performing Artist Or Writer
The adrenaline of performing as a dancer, actor, or musician is not everyone's cup of tea. It requires intense hours of practice, energy, and concentration. If this is an area of strength where you feel you can excel, do consider learning drama, music, or dance and carve a career in this area. On the other hand, if you find yourself bursting with novel ideas for scripts, plays, and stories, you may want to try your hand at writing novels or even scripting plays. The income in these areas may vary unless you find regular employment in this area.
Also Read | 6 Questions To Ask Yourself Before You Choose To Drop Out Of College
Culinary Arts
A culinary specialisation may be just right if that is an area of interest or calling for you. Usually, kitchens have a lot of activity and require you to respond fast, and there is a great variety in the kind of work and orders you need to work through. Baking, making designer cakes, and running your own home bakery is a good option if you choose to opt out of a hotel chain or fancy restaurant.
Having a condition like ADHD requires you to consciously work on improving your concentration and social skills. It requires a good support network and ongoing therapy when needed. It does not need to limit your career options; however, you do need to carefully consider your abilities and work mindfully towards providing a service or product of monetary value. The most important aspect is to keep your spirits high and work on yourself just like any other professional. You will find avenues where you can work competently and even excel.
Also Read | 5 Questions You Must Ask Your Career Counsellor
Dr. Srividya is a Career & Life Coach who works with teens, adults and returning professionals to help them find joy and alignment in their careers and lives. After working for over two decades, she founded LifeVidya in 2019 and has worked with hundreds of students, professionals, and women. She can be reached at www.lifevidya.in.