Covid 19 has challenged many of the norms of the world of work and careers. It has disrupted the way we have traditionally looked at careers, and many lucrative and attractive careers of the yesteryears have been adversely affected.
Looking at career planning in the Covid-19 situation, there was a real slowdown in many sectors like retail, aviation, hospitality, tourism, food & restaurants, consulting, entertainment, aviation amongst many others.
During the peak period, only the essential services were functioning to make living logistically bearable. Now, since the past few months, most sectors are inching back slowly and trying to restore normalcy while some have also outperformed as retail, tourism, and hospitality return with a vengeance! This would perhaps play a huge role in career planning post-Covid.
Covid also brought to the surface many industries and professions that were side-lined for many years, for e.g., edtech industry, fintech industry, E-commerce services, life science research, public health, social work, environmentalism, epidemiology, etc., which is likely to add a fresher dimension to career planning post-Covid.
There has been an increased demand for technology workers, app developers, e-commerce applications, and other technological applications like blockchain, etc. Apart from this, the work of healthcare workers, doctors, nurses, and even teachers became very challenging due to a sudden spike in work pressure, and so their quality of work-life was often adversely affected. Hence, career planning in the Covid-19 situation would ideally need to take all these factors into consideration.
In such turbulent and changing times, how do you plan careers for yourself or your children? It does become a challenge. This has evidently created panic amongst many parents and students as the assumptions of successful jobs as pilots, engineers, doctors, lawyers, educators have all been adversely affected.
Another question that looms large is, let's say a student chooses a career that looks good today in terms of the success indicators, what if it becomes obsolete or loses demand a few years from now, then what?
Career planning in the Covid-19 situation can be viewed as an opportunity to look inward and understand the skills, strengths, predispositions, and interests of students better. A deeper reflection will reveal that almost all students and even adults have varied strengths and interests. In pre-Covid times, there was often a preference for choosing a very narrow and specific skill set often to become specialists in a chosen career and earn higher remuneration. Perhaps, Covid 19 is challenging this very mindset, perhaps it is time to focus on students as more complete human beings who can service the world in different ways and craft diverse careers based on their strengths and interests.
So, what does this imply? In the immediate term, it could mean taking up more general courses or degrees, so we gain more diversified knowledge and skills. This helps us gear up for an alternative career in the face of environmental challenges, and consider remote jobs or online jobs from home, which has really taken off for those doing career planning post-Covid. It may also mean that it is better to specialise in expensive and time-consuming degrees at a higher level when you are better sure of your inclinations as well as the environmental demands for the jobs in the near foreseeable future. This way you reduce the risk of choosing a career that may not really take off.
Mostly, career planning post-Covid requires us to fundamentally rejig our mindsets and perspectives regarding careers. This may seem difficult for you as a parent of a teenager, but if you look at it, this is exactly what you experienced as a young professional yourself. Previously, the senior citizens of today preferred to be in the public sector or government jobs and were usually employed for life in a single organisation. The next generation of professionals who started their careers in the 90s preferred private-sector jobs and switched jobs typically in 5 to 7 years for better growth or opportunities. This was unheard of in the previous generation and such "job-hopping" often caused turmoil in families where elders and seniors labelled not looking for government job vacancies as poor career planning. If this rings a bell, you may find a grain of truth in what is to follow.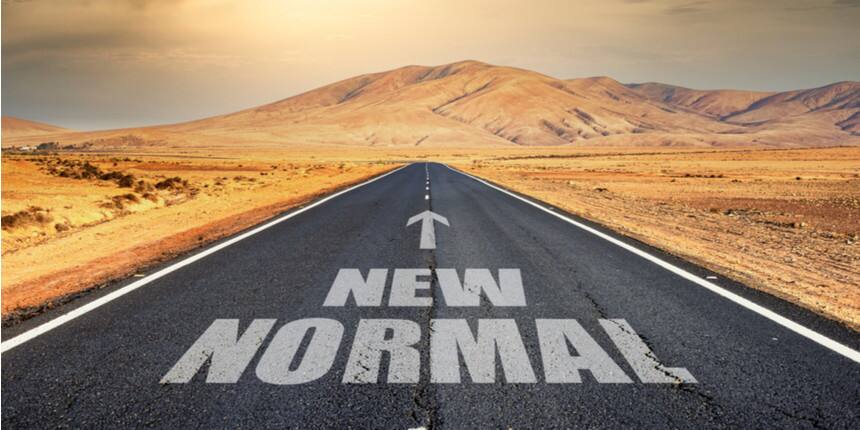 Career Planning post-Covid-19
The demands for today require that we be ready to fundamentally switch not just jobs, but also careers, which may become the norm in the coming times. So, a person who is a banker may after a few years start or join a media company and manage productions, or even take up freelance jobs.
This essentially means that job seekers need to become learners for life and stop seeing degrees as the ticket to a job. Degrees are just entry points for a few years in a role, while we keep learning another skill or even manage a side hustle which may grow into a full-time career later.
For those of us who find this idea very radical, it may seem overwhelming when the demands of the economy require us to change the way they perceive careers and roles. So start accepting yourself as a complete congregation of skills and strengths and not just a "science", "humanities" or "commerce" student who needs to only focus on a limited few options.
However, if you are only reading this article to see which jobs are likely to be in more demand and be stable, then possibly areas in medicine, food, health, essential services, technology and finance are likely to be the more stable industries or sectors. If you feel it is very important to eliminate risk, then it would be advisable to start your career in the essential services or have a side hustle in them.
And yes, for career planning post-Covid, there seems to be a growing return of interest now in government sector jobs and government job vacancies for their security and predictability. Per se, this is a good trend and a win-win as we need competent and educated professionals opting for civil services and public sector roles as they are the backbone of the nation.
For those of you willing to revisit your mindset, try to see your career as a service you are providing in return for money, rather than the power/position and ranking it is giving you in the market. This way, you will always feel secure as you will be working with a mindset of learning and growing your capabilities.
Some emerging trends have indicated a rising need for mental health professionals, environmentalists, economists, sustainable architects, town planners, and genetic researchers, in the scenario of career planning post-Covid. So, you may want to see if any of these interest you.
On a closing note, remember that career planning is about discovering yourself and your strengths better and matching them with the environmental needs or demands. The criterion of working to get a degree for a stable job is losing relevance fast. So start looking at careers as a reflection of yourself and you will definitely plan a career in which you will be successful and focused on growing.
Also, do focus on extracurriculars and sports too, as focusing only on tutorials and coaching for competitive exams helps you only clear the entrance exams. However, learning key social skills and having a good network of friends you can rely on, helps you withstand the stresses of life and grow emotionally resilient.
In short, career planning requires you to go inward and discover and re-discover your strengths every few years and find ways of serving the environment. Apart from a few essential roles, many roles will metamorphosise, reduce or enlarge based on the interplay between technology, environment, and demands. So, get used to this idea of things changing often, read, learn, and keep yourself updated.
On a closing note, keep striving for a better lifestyle, but don't get addicted to the idea of a comfortable life.
Start looking at careers as expressions of your highest potential in different areas. Such a perspective is secured in your strengths within, rather than the turbulence outside.
Start smiling, Start shining. Good luck and God bless!!
Dr. Srividya is an organisational psychologist, career, and personal growth coach. She works with teens, parents, adults, and returning professionals, to help them align their personal and professional needs, desires, and overcome personal and professional challenges. She can be reached at www.lifevidya.in.