Biology is one of the most fascinating fields of study that a student can pursue and brings with it a plethora of career options. Medicine, paramedical services, pharmaceuticals, environmental science, forensic science, and the list may just go on. Hence, students interested in pursuing careers in Biology may need more clarity on the different courses they may choose out of after class 12, the various Biology career options and how the industry views them, and most importantly, how to find a career option that aligns with their interest. Keeping this in mind, Careers360 hosted a webinar with Dr. Pramod Yadava, Visiting Professor, IISER, Behrampur; Former Dean, School of Life Sciences, JNU. Read below some snippets from the session.
Biology today is an all encompassing discipline and requires the skills from all fields of Science, like Physics, Chemistry, Mathematics, Statistics, Computer Sciences. For those who are considering Biology career options and are wanting to take up a careers in Biology, some of the fields for good Biology jobs that would be open are broadly:-
Academia | Basic research and teaching
Medicine | New tools in diagnostics, prophylaxis, and therapy
Industry | Large-scale production of goods of general, biopharmaceutical, and agricultural interests
Own Enterprise | Running your own business
Areas Of Application
Some of the Biology jobs areas which require extensive application of Biology and offer careers in Biology to specialists of the subject are agriculture, animal husbandry, environmental sciences, industrial production, and healthcare.
Specialisations In Biological Sciences
As you graduate and wish to advance your knowledge, you may find yourself interested in any of the following specialisations for pursuing a career in Biology:-
Molecular biology
Neurobiology
Parasitology
Molecular Genetics and Genomics
Cell Biology
Immunology
Microbial Pathogens
Virology
Plant cell culture and regeneration
Developmental biology
Cancer biology
Molecular signaling
Bioinformatics
Endocrinology
RNA Therapeutics
Molecular evolution and origins of life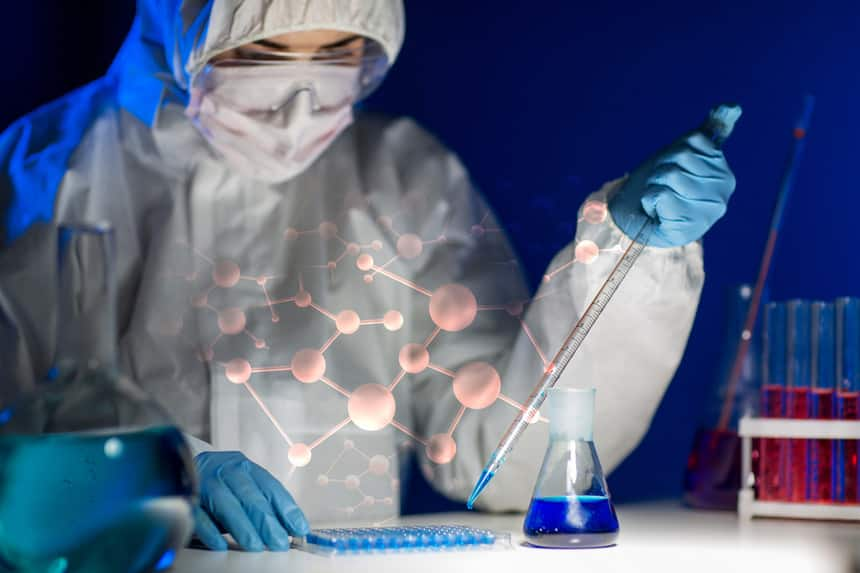 Biology Offers A Variety Of Specialisations To Those Interested In It
BSc Biotechnology
BSc Biotechnology is a very popular choice among students who want to undertake careers in Biology or related fields. There are nearly 720 biotechnology colleges in India which offer a BSc in Biotechnology. Out of these, 65% of the colleges are private, 19% are government, and the rest 16% are public-private colleges. Their admission process is via different entrance examinations.
Also Read: Top Career Options In Biology You Could Pursue
Emerging Applications Of Biotechnology
Biotechnology is an offshoot of Biology. Some emerging applications of Biotechnology in careers in Biology are:-
Eco-genomic- environmental variations as determinants of genome organisation and function
Socio-genomics
Ex -vivo gene therapy
Gene-editing
3-D printing to produce organoids and organs
Bioethics
Intellectual property rights
Skills You Shall Acquire
Biological Studies today have become very technology-intensive which in turn, makes them capital intensive. Some common skills that one acquires while pursuing careers in Biology today, with the techniques and methods that have come up are:-
Cloning and expression of proteins of one's choice
Genome-wide gene expression profiling
siRNA, MiRNA, and LNC RNA: Biology and applications
Visualising associations
Biomolecular structure modeling and experimental determination
Bioinformatics, drug discovery and drug design
Genomics, comparative and functional genomics, palaeogenomics
Next generation sequencing
Proteomics and metabolomics
Confocal microscopy and live-cell imaging
In-situ immunocytochemistry
Cell sorting and flow cytometry
Cryo-EM for viewing biomolecular structural dynamics
Gene editing
Viral reverse genetics for delivering vaccines and therapeutic molecules
Stem cells for cell therapy
Transgenic plants and animals
Artificial intelligence and machine learning in biological systems
While there are many institutions offering courses that lead to careers in Biology, the prospects of pursuing a supported higher studies in Biology still remain to be addressed. Most of the PhD pursuits are duly supported by fellowships offered by DST, DBT, CSIR, UGCICMR, ICAR etc. You may have to pass certain examinations like UGC-NET which entitle you to draw research fellowships and pursue careers in Biology and further get good Biology jobs . But for BSc and MSc, there are not many fellowships in India.
Also Read: Know All About Physics From An Expert: Subjects, Career Options, And More
Before you choose to take up higher studies in Biology, research the subject, the prospects it shall offer you, and then make an informed decision.