The Common App essay is of immense importance for students who wish to apply to study in the USA after class 12. In this article, we shall explain to you in detail what the Common App essay is and what all it comprises, while also providing some Common App essay tips to write a compelling essay.
The common application portal is a common matter of iportance for more than 800 colleges in the US, for whom it is a determinant of providing admission to UG aspirants. On this application portal, the aspirant submits an essay, which is then sent to colleges that accept the Common App essay, given that the student has applied to them. The best part is that the Common App portal provides the applicant with seven essay topics- also called prompts- to choose from. Let's look at the options.
Some students have a background, identity, interest, or talent that they believe adds a lot of meaning to who they are, and might thus be keen to share it- This prompt asks for one particular aspect that is central to your personality. If people need to understand who you are, they must know this aspect of you.
Obstacles that we encounter, mostly lead us to lessons for life, and greater discoveries about ourselves- This prompt asks for you to write about challenges that helped you evolve into a better version of yourself. It can be about success or failure, because either way, the way you talk about it would most likely show how the experience helped you rise a level above how you were in the past.
Reflect on a time when you questioned, or challenged a belief or an idea. What prompted you into doing that? And, what was the outcome?- This prompt talks of your decision-making abilities. At some point in time, you might have questioned some ideas or beliefs, in a way that brought about a bigger change in things and people around you. If so, you must talk about it in this prompt.
Describe a problem you've solved or a problem you'd like to solve. It can be an intellectual challenge, a research query, an ethical dilemma—anything of personal importance, no matter the scale. Explain its significance for you, and what steps you took, or could have taken to identify, and execute a solution- This prompt talks about your critical thinking abilities. If there's a problem you solved, talk about it. It won't matter if the problem was small or big, what would matter is the approach you took to solve and get through it.
Discuss an accomplishment, event, or realization that sparked a period of personal growth and a new understanding of yourself or others- Did you achieve something that brought about a transformation within you?- This prompt talks about one such achievement that you are proud of. The achievement must have contributed to your personal growth. It could be an academic, or extracurricular area wherein you outshone yourself.
Describe a topic, idea, or concept you find so engaging, it makes you lose track of time. Why does it make you feel captivated? What or who do you turn to when you want to learn more? - This prompt talks about your adherence to an endeavour, in a way, your focus, and concentration. It could be anything from your hobbies, philosophical thoughts, wisdom from books, someone's way of leading, or anything else.
Share an essay on any topic of your choice. It can be one you've already written, one that responds to a different prompt, or one of your own design -This is about creativity. The common app provides an aspirant with the freedom of creating their own question. So, if you feel that you would be able to talk better about something other than what is asked in the six Common App essay prompts, you may choose a theme of your liking.
Now that we have understood the seven Common App essay prompts, let's understand how to choose a prompt and write an essay.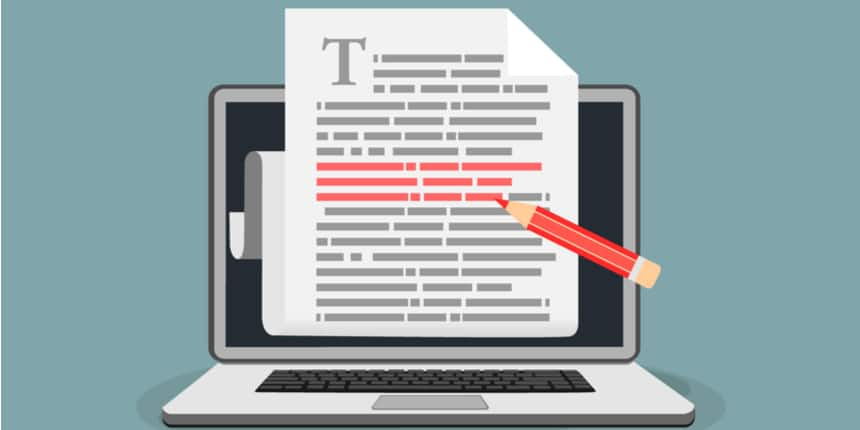 Tips To Write A Strong Common App Essay
Tips For A Powerful Common App Essay
1. Select The Topic Carefully
As we discussed above, Common App provides you with a choice of seven essay prompts or topics. These prompts can be divided into 4 types
About incidents that had an impact on you (fits prompts 2, 3, and 5)
About interests or personal qualities that have been relatively stable (fits prompts 1 and 6)
About your problem solving and decision-making abilities (fits prompt 4)
About your creativity (fits prompt 7)
Colleges want to understand if you are equipped enough to deal with the challenges that come your way. One of the ways this could reflect is in how you describe your past life experiences, what challenges have come your way, how you have dealt with them, and what all learnings came out of the experience. Hence, before you finalise on a Common App essay prompt, carefully look back at your life, where all you went out of your comfort zone to learn something new, if you have yet been able to create social impact through some initiative or participation, how you solved a significant problem that came your way, or your creativity helped you build something new. Then, whatever seems like a good fit, go ahead!
2. Select The Essay Structure
There are majorly two essay structures in which you can write.
Journey structure- Good for 1.A (about incidents that had an impact on you).
Montage or Collage structure- Good for 1.B and 1.C (about your interests and personal qualities, and problem-solving abilities).
Journey Structure- The Methodology
If planning to use the journey essay structure, you pick up an incident of life and start talking about it, while keeping in mind two things: one, avoid mentioning things in a way that they look absolutely chronological, and two, while narrating an incident, focus more on what impact the incident had on you, rather than the details of the incident itself.
Journey structure essay can be divided into four parts. They are-
a) Introduction: Introduction is the most important element in your essay. It decides whether the reader will go on to read the essay further or not. The best way is to describe a key moment (also called hook) about the incident you want to mention, and then build on the story.
For example, "There were less than 24 hours remaining for the school's annual function. I was assisting my teacher who had to rush home to attend to an emergency, leaving me in charge of creating a temporary stage using wooden planks that were to arrive in a few minutes. Two hours passed, the truck was nowhere to be seen, and I couldn't connect with my teacher about the crisis. It was a do-or-die situation for my school, which was supposed to host a footfall of 7000 people the next day."
Reading an introduction like this is likely to make the panel want to know more about how you handled the situation.
b) BDA Sectioning: After the introduction, you start with creating three sections, namely B-Before, D-During, and A-After.
In the 'Before' paragraph, provide some context or background to the reader. Talk about what you were before the incident you mentioned in the introduction. For example, "I had never shouldered a responsibility of such magnitude before then, and hence it did not dawn upon me to have alternate plans for times of crises."
In the 'During' paragraph, you come back to the moment mentioned in the introduction and describe your actions. For example, "In the event of no contact getting established with the truck driver, I called the agency. I subsequently arranged for a few labourers from outside the school area, to gather the decoration material and chairs from the warehouse to the celebration ground, and started setting them to cover for the time lost in waiting for the truck to arrive."
In the 'After' paragraph, talk about how you salvaged the situation, what you learnt, and also reflect on your shortcomings. For example, "The time saved by advancing the schedule of other tasks helped us to expedite making the stage when the truck arrived with wooden planks. The additional labour that I had hired from outside of the school provided the much-needed help to speed up the process further. I understood the importance of contingency plans and buffer time for dealing with crisis situations. If I had already ensured stage-making as the first part of the whole plan, the crisis could have been avoided. However, the incident became a major learning experience for me."
c) Conclusion: Conclude by reflecting on the most important learning from that experience. Also mention how this learning helped you in dealing with similar situations later on, and how it may contribute to your academic and professional life ahead.
Montage Structure- The Methodology
When you want to talk about a particular interest or quality of yours, you cannot limit the discussion to only one incident. For example, if your particular interest is Yoga, then you may want to talk about your life before and after Yoga, your initiatives to bring more people into Yoga practice, the certifications you received in Yoga, etc. When writing in the montage essay structure, you collect multiple moments to write a compelling narrative.
Montage structure can be divided into three parts:
a) Introduction: This portion defines your overall theme. Once again, the introduction should be attention-grabbing.
For example, "I was in high school when my grandfather succumbed to heart disease, leaving our family bereaved. The demise of my grandfather was difficult to deal with, especially for my father. His friend, a Yoga teacher himself, took us through guided meditation a few days later, which brought a sense of calmness, and a smile to my father's face after many weeks. Seeing the power of rhythmic breathing and meditation, I felt more enchanted towards the practice, and resolved to learn more about it."
b) Middle Sections: Middle sections can be divided into two to three paragraphs, stating various facets of your journey.
For example, one paragraph could talk about your practices within the realm of Yoga, including asanas, breathing, and meditation. Another paragraph could talk about the transformation it brought in your life, both academically, as well as in areas other than that. The third paragraph could talk about how you drove other people to join the practice of Yoga, since you felt more inclined towards helping people live stress-free lives.
c) Conclusion: In a nutshell, explain what changes Yoga brought in you as a person, and how it may help you deliver better in your life during your higher education and work. It may also be a good idea to mention the introduction again briefly, and give an optimistic conclusion to it.
Writing a Common App essay is easy, given that you understand yourself well. Hence, before choosing from the different Common App essay prompts and writing the essay, reflect on your life, your personality, and then begin writing.
Penolipi Wordsmith is a pioneer in drafting compelling SOP's, LOR's, CV's, and Custom Essays. Their team consists of graduates from the top B-Schools in India and Abroad, and have been actively working in the study abroad domain for more than 10 years. They can be reached at www.penolipi.com.