Why Is Time Management Important- We all appear to be working, studying, or staying busy doing something round the clock these days, but are we really making the most of our time? Students usually have a lot on their plates most of the time, be it school, tuition, extra-curricular activities, and so on. These questions make us pause and think. Through this article, we will answer one very important question of why is time management important for students, what are the tips, tricks to manage time effectively, so that it not only inculcates discipline in a student's life but also facilitates holistic development.
To begin with, we shall talk about what is time management and why is it important. Stay with us to know more.
Also Read | How To Reduce Exam Stress
Understanding What Is Time Management
To begin with, let us understand what is time management and why is it important. Time Management is the process of efficiently managing time so that an appropriate amount of it is devoted to each activity. Managing time effectively can make us do more in less time, and at the same time can give better results. Effective time management necessitates shifting your attention from tasks to possible outcomes. Good time management helps you to work smarter, and not harder. Further, we shall read about why is time management important for students.
Also Read | How to increase memory power
Why You Should Manage Your Time Well
Why is it important to manage time? There never seems to be sufficient time during the whole day. But, given that we all have the same 24 hours, the question is why do some individuals do far more with their time than most others? Why is it important to manage time? Effective time management is the answer.
Students who utilise their time carefully may finish more in less time, because their mind is focused and they are less distracted. Judicious time management minimises stress and pressure from a student's mind while they tick activities off the task list. It can also create a sense of accomplishment when goals are met. For example, you may intend to finish a task by Friday in order to spend the weekend with friends.
Some of the reasons why is it important to manage time-
Reduced stress and anxiety: Poor time management is one of the key sources of stress. If you want to handle large amounts of workload without becoming overly stressed, you might need to work on developing good time management skills. Time management assists in reducing long-term stress and this answers why time management is important for students.
Helps you in post-college life: Learning effective time management skills right from the beginning is a life hack. After graduation, you'll be glad you took the time to acquire and master time management skills, since you will find yourself smoothly handling multiple roles in life, personally and professionally.
More self-care time: Efficient time management teaches you to have more time to sleep well, eat healthily, and exercise on a regular basis. When you manage your time well, then you get more time overall in the day. When we think about why time management is important for students, this is one of our answers. You get time to better take care of your body, hobbies, family and other things in life. Investing a little effort in time management today, is likely to provide you with more energy to get through your days later.
Better quality of work: If you have a proper plan that you are striving to adhere to, you are more likely to complete your tasks quickly and efficiently. To add to that, being unhurried makes you more attentive and centred. Hence, you can deliver better quality work and get better results.
Never miss deadlines: Students sometimes have trouble finishing their assignments on time. Thus, finishing them at the last minute results in scores that are lower than they had imagined. Students who master the art of time management will not only be able to finish the task on time, but will also have extra time for revision. Are we still wondering why time management is important for students?
Sense of achievement and peace of mind: Developing good time management skills can benefit you both inside and outside of the classroom. This gives a sense of confidence, achievement, and brings peace of mind in oneself after finishing the work on time.
Also Read | How To Overcome Procrastination
Some Tips To Manage Time Effectively
Now that we have spoken a little about what time management is and why it is important, let us go through some tips on managing time effectively.
Try habit stacking: Tie your time management behaviours to habits you already exhibit (e.g., track daily progress every evening when you sit down for dinner).
Try setting goals that are half the size: In order to achieve a goal that appears to be too difficult, create a less difficult version of the original aim.
Make project plans: When studying or doing projects seems daunting, procrastinating is common. The tip here is to break down the study plan or the project into tiny and relatively manageable chunks. You might assign a due date to each segment, to make yourself feel good about completing tiny goals.
Avoid multitasking: In order to study well, avoid multitasking. Keep your attention on one task at a time to maximise your efficiency.
Reduce distractions: Put away superfluous devices, such as smartphones, and turn off social networking notifications during school hours. In addition, they operate as huge distractions, taking you out of your focus zone. So keep them out of sight.
Regular breaks: Too much time spent on a task can cause one to lose attention. Every half hour or so, it is advisable to take short rest to refresh.
Using time management matrix: Using a time management matrix helps students to spend time wisely. It was developed by Steven Covey to help prioritise tasks and identify time wasters. Students can put their daily activities into the relevant quadrant, and get a real picture of what are the activities they can spend more time on, while which are those that they can avoid.
The matrix table below shows 4 quadrants with different tasks:-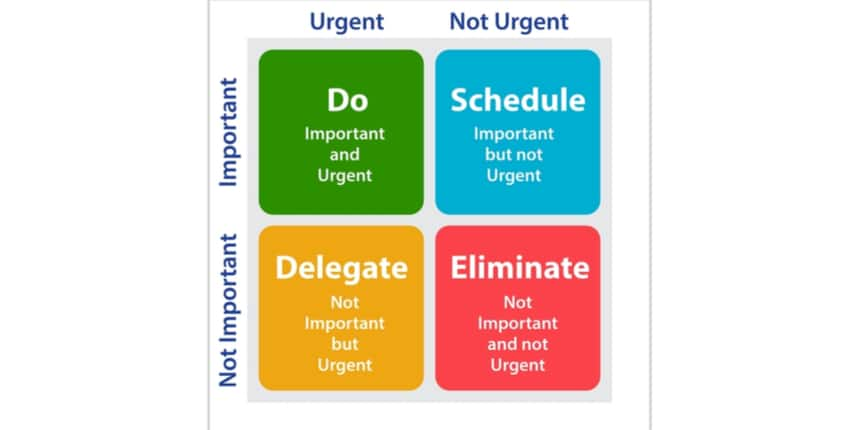 Time Matrix
Quadrant 1 (Urgent and Important): Focuses on tasks related to any emergency, crisis, or pending deadlines. For eg: exercise, assignment, etc
Quadrant 2 (Not Urgent and Important): It includes tasks that might not seem important at the moment but we will need to do them in the future. For eg: acquiring skills, pursuing higher education, etc.
Quadrant 3 (Not Important but Urgent): It is devoted to non-important yet urgent operations because they don't add to overall productivity and interfere with your priorities. For eg: Indulging in conversation that won't have anything productive.
Quadrant 4 (Not Urgent and Not Important): It focuses on tasks that usually waste time and are nothing more than distractions, and are the ones that should be avoided at all costs. For eg: scrolling on social media, playing online games.
Also Read | How To Concentrate On Studies
In the above article, we spoke about what time management is and why it is important. Time management is a skill that can be learned gradually, and will increase your capacity to get things done. The benefits of managing time effectively are many. Having control over your time provides you power and freedom, and time management allows you to keep this control. Why is it important to manage time? Time management will help you limit your losses and maximise your chances of success. And that's the most important thing. This article, we hope, has helped you understand why is time management so important and help you bring about betterment in personal and academic aspects of your life.
Also Read |
Nikita Kukkar is a counselling psychologist, with extensive experience in hands-on career counselling of high school students.