Important Communication Skills - Communication is an exchange of information between two or more parties. This exchange may be verbal or non-verbal, and it helps us gain knowledge and perspective with the help of those around us.
Communication is the most basic thing that binds all living beings together and is essential for our personal and professional growth. Although, over the ages, we have come up with various ways to communicate, including speaking, writing, listening, signalling, and even observing non-verbal cues that the person in front of us may not even be portraying intentionally.
As students, then professionals, and during our interactions with friends and family, communication skills play a key role. This article shall talk about the importance of communicating effectively, importance of communication skills for students, and much more. Stay on this page to know more.
Also read -
Importance Of Communicating Effectively
Before we move on to the important communication skills, let us first understand the importance of communicating effectively.
Convey Clear Message And Intention To The Receiver
Merely communicating with fancy or difficult words may showcase efficiency in a particular language, but it may not be an indicator of effective communication. As an effective communicator, it is your job to clarify what you wish to say and your intention behind it, so that the person you are communicating with understands and is convinced of what you have to say. This is helpful in both personal as well as professional situations. To fully do justice to the importance of communicating effectively, we must know and use important communication skills.
Avoid The Possibility Of Misunderstandings
Misunderstandings in personal and professional life happen mostly due to ineffective communication. We must pay heed to the importance of communicating effectively to avoid misunderstandings of any kind.
Facilitating Stronger Bonds
Humans are social animals, and we need to communicate to feel a sense of belonging. This is where the role of important communication skills comes into the picture. In a personal setting, we communicate to let our feelings out, bond with other people, make important decisions, etc. In a professional setup, we communicate to ensure our work and others' is up to mark, make contacts that may prove beneficial in the future, or even create friendships that extend beyond work.
Also read-
Important Communication Skills
Let us now discuss some of the important communication skills, one by one.
Important Communication Skills- Language
A good understanding of a language is the most basic, and one of the most important skills one needs to communicate properly. Only when you have a good command of the language, can you easily use it to your benefit and speak as comprehensively as possible and needed.
To master this skill, one of the basic ways could be to increase your reading time in the language you wish to be proficient in. You can start with reading something as simple as headlines in the newspaper, and gradually move on to novels, blogs, etc. Next, we shall look at the importance of listening for effective communication.
Read more - How To Reduce Exam Stress
Important Communication Skills- Listening
When it comes to learning how to communicate efficiently, people always begin with how one's speech must be clear and confident, which is important. Still, one of the most important communication skills is, listening. Listening patiently shows your respect towards the other party, and listening effectively helps you understand what type of people they are and what they want.
You can gradually train yourself to become a good listener. Playing listening-based games like 'Chinese Whisper', 'Simon Says', etc, can also be a great way to develop a habit of listening.
Read more - Online Communication Courses & Certifications
Important Communication Skills- Observation
Communication is not always direct and verbal. Often, the tone of interaction is set by the body language of the parties involved. For example, observing a person's posture and composure can determine whether a person is nervous or relaxed. When talking to someone, learn to pay attention to their gestures and body posture, and try to understand how it matches, or does not match with what they are verbalising. This is one way to become a good communicator.
Also read- SWOT Analysis
Important Communication Skills- Interpersonal Skills
The importance of interpersonal skills is often underrated. To communicate well, you must be able to engage with those around you successfully. The more social you are, the more chances you get to refine your communication skills.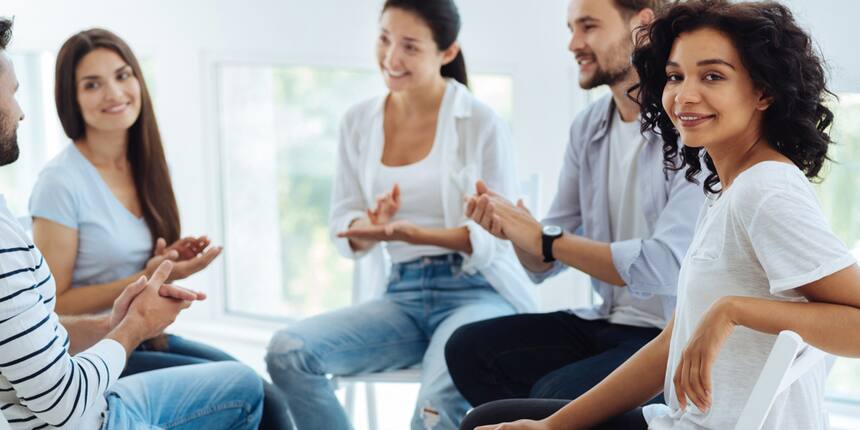 Your People Skills Are Essential To Good Communication
Try to actively interact with peers, teachers, community members such as shopkeepers you visit regularly, and so on. The agenda would be to hone your skills in interacting with different kinds of people. There would be embarrassing moments too, but don't you worry, it is all a part and parcel of the game! In the long run, you will only come out as the winner.
Read more - 14+ Courses On Communication Skills That Will Help You Communicate Effectively
Important Communication Skills- Adaptability
After having spoken about the importance of interpersonal skills, let us talk about adaptability. If you are adaptable, you will not be scared of new situations and new people. However, to be adaptable you have to be open to change. You must not stay stuck to your perspective, and always remember that every person you meet, no matter how similar, will bring at least a slightly different perspective, and their own experiences. Develop genuine respect for differences and see yourself becoming an adaptable, effective communicator.
Also read- How To Increase Memory Power
Important Communication Skills- Creativity
When dealing with different types of people from various backgrounds, we need to keep updating our communication style to match and complement the party that we are communicating with. Of course, we can gauge the situation and its possible outcomes through analytical skills, but to handle these novel situations, we need creativity. For e.g, Imagine you are travelling to a foreign country, where they speak a language you are completely unfamiliar with. How will you handle basic communication in a place like this? This is where creativity becomes an important communication skill.
Important Communication Skills- Confidence
While interacting with new people, what stands out most is your confidence. If you are confident, you will not feel awkward when listening or fumble a lot when needed to talk. Confidence gives birth to smooth and strong communication and is, therefore, a necessary skill.
To gain confidence, try to take part in extra- curricular activities at school, join some hobby classes of your interest, wherein you can learn something new and also interact with other people who attend the same class. Dress up well and by your choice, since that can majorly add to your confidence. Next, we shall talk about the importance of emotional intelligence in communication.
Important Communication Skills- Emotional Intelligence
Effective communication cannot take place without emotional intelligence. To be able to respect others and make them feel comfortable with us, we need to be sensitive to their personality and emotions while also ensuring that the interaction is not getting toxic for oneself.
When interacting with friends and family, try to understand where they are coming from, rather than spontaneously jumping to conclusions and reacting. The more we try to reason out the emotions of others and oneself, the more emotionally intelligent we become. This is one of the most underrated yet important communication skills.
Also read- How To Overcome Procrastination
Now, we shall briefly talk about some of the important communication skills, particularly for students.
Important Communication Skills For Students
The importance of communication skills for students is well known. To be able to make the most out of the teaching-learning process, create new friendships, communicate needs and emotions clearly to nears and dears, and for much more, the importance of communication skills for students cannot be undermined. Some of the important communication skills for students, apart from those mentioned above would be the following-
Good Posture And Body Language
A student needs to conduct and present themselves sharply and confidently. Good posture goes a long way in creating a good impression on others and even makes you more active and alert. In addition, a good posture and confident body language send out the message that you have things in control.
Try keeping your back straight during interactions, nod appropriately (not too much and not too less) when listening to somebody. Nodding conveys to the other person that they are being listened to. Further, try not to sit with arms or legs crossed since it might give a defensive vibe.
Patience And Cool-Headedness
It can be difficult for students to be patient with others in an age where they are trying to showcase their own personality and establish it. However, maintaining patience and cool-headedness always allows one to understand others better and learn from every situation. Patience can only come with practice and self-assurance. Even in situations where you feel you can have the upper hand you should hold back, think of the consequences for all the parties involved, and then proceed. This is why you must actively participate in debates, MUNs, etc, and test yourself.
The importance of communication skills for students would be gradually understood by them with time, as they have novel experiences and learn something from each of them. Communication, whether verbal or non verbal, is of utmost importance to foster both personal, as well as professional relationships. The importance of effective communication begins reflecting right from the time we are in school, and this is why the importance of communication skills for students is spoken about time and again.
Communication forms an essential part of our personal and professional functioning, and hence we need to know what are the important communication skills. You can start working on these skills from a basic level and gradually move on to honing them.
Also read-