Some students choose to take a structured technique and use an outline method to take notes. Other students may prefer a visual technique and draw mind maps and many students don't use any structure. However, the Cornell note taking method is the most influential method to summarise and organise a lecture or a course concerning other note taking methods like the outline method, sentence method, etc. This article comprehensively discusses the Cornell note taking system, methods, their importance, process, and format with a Cornell note taking example.
Cornell Note Taking Method: Importance
Exams like IIT JEE, NEET, etc demand continuous preparation and timely revision. One of the important keys to academic success is taking good notes. And therefore developing an effective note taking style is essential because"
It prevents forgetting: Despite the reading, lecture, or course being interesting or engaging, our memory fades rapidly. A study says that we forget around 50 per cent within an hour and around 70 per cent within two days.
It encourages concentration: Taking good notes requires a student to be engaged and mentally active during class. One should pay attention, and take the decisions on what to write or record.

Cornell methods are helpful in understanding complex concepts and organising lectures or courses in a single place.
Cornell Note Taking Method: Process
There is no single note taking method that suits all the students. However, many successful students recommend the Cornell note making style as it is very effective. The Cornell note taking process can be explained by the following six steps.
Step 1: Record
Record as many meaningful facts, definitions, and ideas as you can during the Class, session, or lecture. Make heading and subheading. use indent and numbers to structure key ideas of a topic. Write small sentences, abbreviations, and symbols. This will increase the note taking speed.
Step 2: Questions
As early as possible, formulate questions based on the information recorded during the lecture and write them to the Cue Column, on the left-hand side of Cornell notes. Write important cues, keywords, and phrases.
Step 3: Recite
Recitation means explaining facts, ideas, and questions loudly in your own words. Psychologists say that reciting aloud is a powerful technique that stores information in long-term memory. It ensures understanding and helps in retrieving the information.
Step 4: Reflect
Reflection is nothing but thinking about learning. Relate the concepts with other courses or apply them to real-life examples.
Step 5: Summarise
Write a small summary in your own words at the bottom of the page. This is the best test of how in-depth you understand the concepts.
Step 6: Review
Recall or quick review the Cornell notes every week that help in retaining the concepts.
Cornell Note Taking Method: Format
Divide your page into three parts namely the note taking area, cue column, and summary as represented in the following image. This is a Cornell notes format.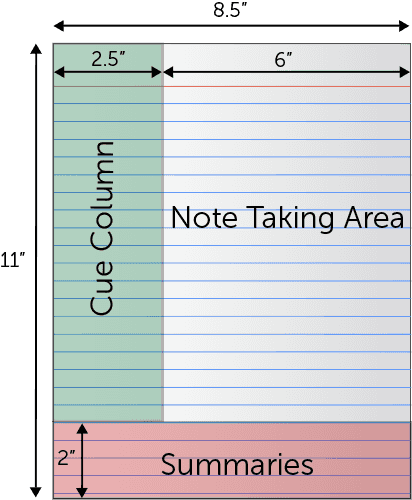 The note-taking area: contains any information that a teacher or mentor displays on the board like theory, concepts, diagrams, images, problems, solutions, etc.
Cue column: this section of the page contains cues, keywords, questions, or phrases related to information that is written in the note taking area.
Summary: create a summary of the whole lecture in your own words.
Cornell Note Taking Method: Example
Let's consider a Cornell notes example to understand the Cornell note taking process.
Chapter: NCERT class 11th chapter "Motion In A Straightline"
Topic: Average Velocity And Average Speed
Following is Cornell notes template of the above topic.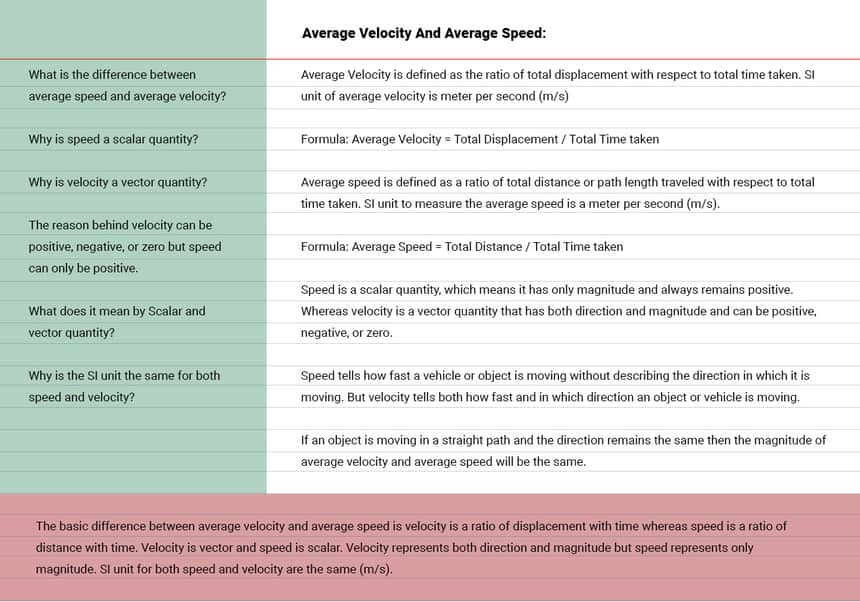 Students can use the Cornell note taking method to effectively organise and structure their class or lecture notes. By doing activities like recitation, making summaries, and timely reviewing the Cornell notes, students can obtain good scores in exams that are helpful in shaping their careers.