Note taking is an essential part of studying and a daily activity of a student that is helpful in understanding difficult concepts and organising lectures or courses in a single place. Here in this article students can find note taking methods and formats that can improve their note taking style.
What Is Note Taking?
Note taking is a habit of recording information, facts, concepts, or documentation from different sources like lectures, classes, books, studies, seminars, webinars, discussions, and many more that help individuals or students. By taking notes, you can keep the vital information discussed in the course in a well-organised and systematic manner.
What Is The Importance Of Note Taking?
A student who is preparing for competitive exams like JEE Main, NEET, etc, should have a good understanding of concepts discussed in the lecture and thus require timely revision, in-depth knowledge, and good command of the concepts. Therefore note making methods become very important because they help students in a fast and detailed revision of chapters. Following are the benefits of note taking methods-
Self-made notes are easy to read, understand, and if it is required then rewrite and restructure.

Note taking practice helps to maintain focus and mentally engaged during lecture.

It also helps in memory retention and recalling the lecture.

It puts facts and concepts in your own words.

It is a time saver for later studies

It points out difficult concepts and areas to understand that demand extra effort and concentration.

It is a most valuable study resource as it concises the entire talk, lecture, or course.

It helps in a quick revision during exam time which boost-up student confidence.
What Are The Methods Of Note taking?
The following listed are important note taking methods.
Cornell Note Taking Method:
It provides systematic records by organising and condensing the notes. In this method students can make their notes in the main space and the left-hand space can be used to label each idea or detail with a "cue" or keyword. This type of organised, systematic, simple, and efficient notes helps students recall their lecture with less effort and time.
Outlining Note Taking Method:
The outline method of note taking provides a format to organise a piece of information in a highly structured and logical manner that serves as an excellent study guide when preparing for tests but it requires extra thought for accurate classification of information. Students can use specific formats for topics, subtopics, and supporting facts.
Charting Note Taking Method:
Students can use the charting method of note taking to structure their information. If the lecture format is distinct like chronological knowledge. It reduces the amount of time, writing unnecessary things, and helps students to easily revise the topic, memorising the facts with comparison and relation of facts.
Sentence Note Taking Method:
Students can write thought, topic, or fact in a new line with numbering. The sentence method of note taking makes paragraphs more organised and can be used when heavy content comes fast and is easy to present or note in a point fashion.
Mapping Note Taking Method:
The mapping method of note taking is a simple technique of graphical representation of lecture content that maps each fact and idea with other facts and ideas. Mind maps are very useful because our mind stores information in image format or our visual memory is long-lasting which helps students to memorise facts or data for a long time. It requires concentration, critical thinking, and comprehension skills that evolve with practice.
What Are The Formats of Note Taking?
The note taking formats contain the selection, analysis, sketching, outlining, and association of data. Following are a few formats that can help students to organise their raw data into a piece of organised information.
Mind Map:
It is also a visual note taking strategy, in this method, a fact or data is at the centre and a visual is created around it with help of associated data. Each fact or information is related to another fact or information that can contain text or pictures.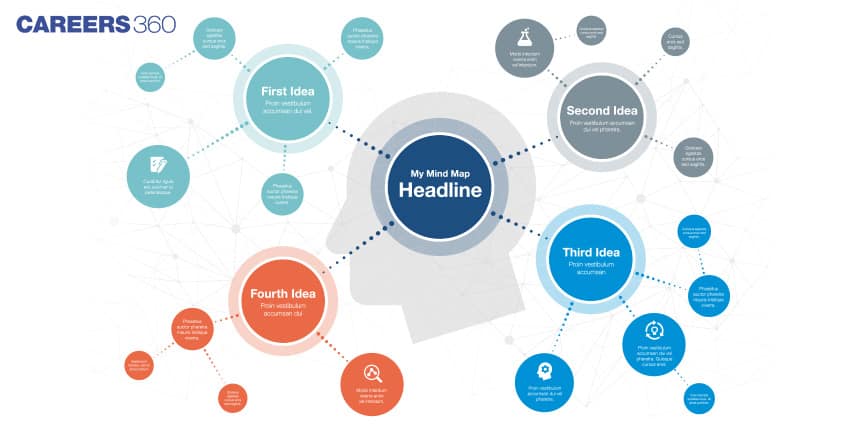 Graph Or Pattern design:
It is a strategy of visual note taking. In this method, the data is delivered by a diagram or graph. When a student analyses the meshed information and creates a pattern or a visual representation, develops an in-depth understanding of it and if required then recall very quickly.
Layout Or Outline Format:
This is a visual note taking technique, in which data is presented as a blueprint. Suitable titles and captions can be numbered in an attractive fashion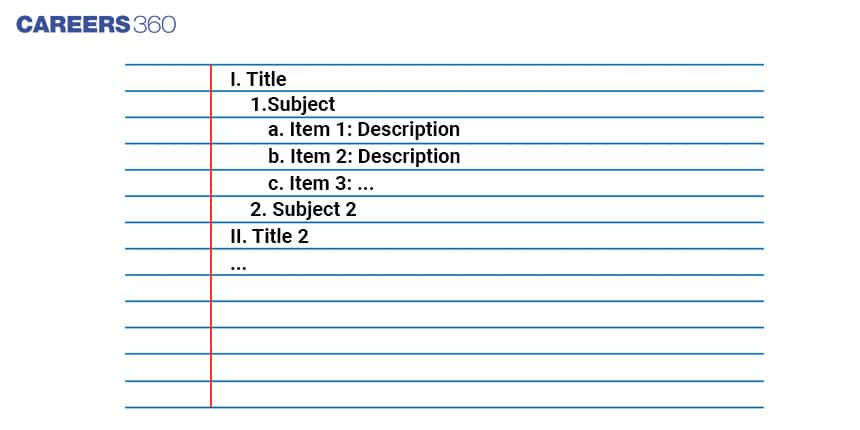 Split Page Format:
This is a descriptive form of note taking approach, in which the page is partitioned into two sections. The primary section contains the standard notes. The subsequent segment includes a summary. This is the most widely used in meeting or lecture notes.
An individual or a student can make their notes more systematic, organised, and concise by incorporating different effective note making techniques like Cornell, charting, mapping, etc. Also, students can use different note taking formats like a mind map, graph, pattern, etc to create their notes more simple and understandable.