For most Indians going to college is a big milestone – it is the key to fulfilling their dreams. But, as each year passes, the cost of college education rises, making it more expensive than what many families can afford. This is where education loans could help. It is a loan that students could avail to meet the financial requirements to pursue their college education and are offered by leading banks and non-banking financial companies (NBFC).
However, there is a belief that borrowing is unwise as the debt to be repaid is more than what is borrowed. Remember, education is an investment in yourself and it is totally normal if you need a little financial help to make it happen. To ensure that you are on track when it comes to opting for an education loan, it is a really good idea to get the lowdown on student loan options and make sure you totally understand what you are getting into.
Student Loan Eligibility
The education loan does come under priority sector lending, but it is not something that you can get easily. To be eligible to borrow, you need to be a resident Indian and you should have a letter confirming your admission to a course that is recognised and approved for financial institutions (banks and NBFCs) to lend you money.
Loans are typically offered towards graduation, post-graduation – including technical or professional courses – and for courses offered at Industrial Training Institutes (ITIs) and Polytechnics that are targeted at skill development. Moreover, the course that you wish to pursue must have employment potential and be approved by regulatory authorities such as the University Grants Commission (UGC), All India Council for Technical Education (AICTE) or offered by autonomous institutions such as Indian Institutes of Management (IIM) and Indian Institutes of Technology (IIT).
Level

Example

Approved By

Graduation

BA, BCom, BE, BEd, BSc, BBA, MBBS, BTech, LLB and others

UGC, Government, AICTE and autonomous institutions like IIM, IIT etc.

Post Graduation

MA, M Com, MSc, MRes, LLM, MFA, MEd, MPhil, MBA, MD, and others

Skill Development

Courses offered at ITIs, Polytechnics, Training partners affiliated to National Skill Development Corporation (NSDC), Sector Skill Councils, State Skill Mission, State Skill Corporation

As per National Skill Qualification Framework (NSQF).
What A Student Loan Covers
The loan could cover tuition fees, expenses towards hostel, books, and in some cases even computers. It is not a good idea to use your education loan to pay for anything other than education. Use the loan only to address your education-related expenses and no more. If you borrow more than what you need because it is available, remember you will have to pay interest on the additional sum as well.
How much can you borrow?
In most cases, the loan would cover the complete cost of education, including tuition, hostel fee and similar costs. The sum you need to self finance depends on the amount borrowed. Typically, up to Rs 4 lakh, there is no self-financing or margin money required, but for loans above this sum, self-financing is a must. The self-financial component goes up in cases where the loan is taken for studying abroad.
The table below shows what you can expect for each range.
| | | |
| --- | --- | --- |
| Loan Amount | Self Financing or Margin | Other Factors |
| Loan up to Rs 4 lakh | None | Can be taken directly by the student |
| Rs 4 – Rs 7 lakh | 5% of the cost of education | Need a guarantor |
| Above Rs 7 lakh | 15% of the cost of education | Need collateral |
Who Gets The Loan money?
Once the application is accepted; the NBFC or the bank disburses the loan sum directly to the college or university in which one has sought admission as per the given fee structure. This way, the lender ensures that the money is used for what it is meant for and not anything else.
Apply For Student Loan: Documents Required
You could broadly classify the documents needed at the time of applying for education loan as – admission proof, academic documents, bank statements, income proof of co-applicant, immovable property documents where needed, usual KYC documents (proof of ID, residence, photo ID) and a fully completed application which may seek additional details.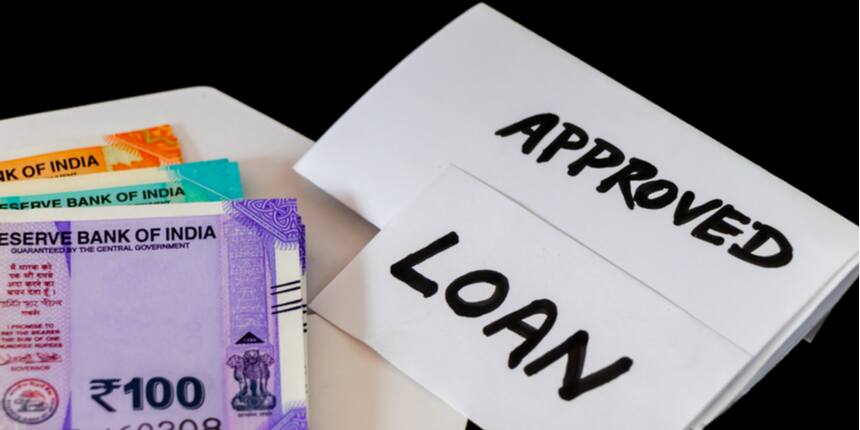 Student Loan: Applicants need to show admission proof for approval (Image: Shutterstock)
Education Loan Interest Rate, Fees
Most lenders do not charge any processing fee but do check for any charges at the time of applying. Some lenders do charge a fee which could be a fixed percent of the loan. The other component of the cost is the interest rate charged for the years the loan is taken for.
Banks use the Marginal Cost of Funds based Lending Rate (MCLR), plus an additional spread to set an interest rate. The interest is compounded, or added to your loan, daily and these interest charges start getting added to the amount that you owe while you are studying. So, not only will you have to pay back what you owe, you will also have to pay any applicable charges and interest. At present, student loan interest rates are in the 6-7% range and the spread is about 2% with 8.5% being the starting interest rate on education loans.
Loan Repayment; Moratorium Period
Education loans offer a unique feature – moratorium period. Under this facility, you could choose not to pay the easy monthly installment (EMI) for up to 12 months from completion of studies or six months from starting a job, whichever is earlier. However, the moratorium period depends on the lender's policies.
The repayment period varies from lender to lender and is decided on the basis of the loan amount that you avail. The repayment period can be as long as 15 years giving the borrower enough time and scope to repay it slowly, in smaller installments. However, remember that the longer you take to repay, the more interest you pay on the loan and consequently, a lot more than what you borrowed.
As there is no prepayment levy for those who close their education loans early, if you can close the loan early; you should. An early closure would improve your credit score, which would help you the next time you need a loan.
Education Loan: Advantages
Apart from financial convenience, borrowers can claim tax rebate under Section 80E of the Income Tax on the interest component of the education loan. In case of an education loan of Rs 15 lakh at an 8.5% interest for a 10 year tenure, the EMI works out to Rs 18,598. In this, Rs 7.31 lakh is the cumulative interest component on the loan repayment.
However, if the same loan was taken for seven years, the interest component would be Rs 4.95 lakh. This may encourage one to take a longer tenure education loan, to claim a higher tax rebate but higher tax saving comes with a higher payout from one's funds which could have been used to meet other financial needs.
Narayan Krishnamurthy is a believer in financial literacy and awareness, and works on promoting both. For the past two decades he has been writing to simplify personal finance. He also works as a personal finance trainer.