The last few years have brought about a revolution in the way we have come to perceive individuals, their identities, and their personal yet public and political lives. Although individuals from the LGBTQAI community have existed since time immemorial, their recognition and acceptance are a relatively recent affair.
In 2014, India took a major step toward gender equality with the National Legal Services Authority (NALSA) judgment by affirming the right to self-identification of gender.
On 6 September 2018, a five-judge constitutional bench of the Supreme Court of India invalidated part of Section 377 of the Indian Penal Code, hence making homosexuality legal in India. One of the judges said the landmark decision would "pave the way for a better future".
With such tremendous progress, change is certainly going to be overwhelming at times, especially for some of us who may not be directly a part of the community.
So, how do we keep up with change and support the community?
Fostering Sensitivity Towards The Queer
Following are a few pointers you should keep in mind and utilise when engaging with your LGBTQ friends/classmates who may have come out openly or might be closeted (those who are not officially out), as well as for queer students who may need help navigating conversations with their friends/allies/classmates.
Don't Be Afraid
Many young students are apprehensive about engaging with other queer students because they feel unsure of how to behave or are afraid of being judged.
Non-Queer | The non-queer population should understand that queerness does not change the fundamental human. They are just the same as everyone else. They are regular students who simply happen to have different choices and preferences. We are all the same and that's key to remember in order to be truly inclusive.
Queer | The LGBTQIA student population should help their friends out. Help them understand if they feel apprehensive, understand terminologies, whether on a personal level (i.e. your pronouns, why you use them, who you identify as, how you feel, etc) or on a general level (why pronouns are important, who the community includes, what different terminologies mean, etc). Help initiate healthy dialogues between peers so everyone feels comfortable with being able to bring up questions or share their feelings.
Also Read | Emotional Intelligence: How It Helps, Tips To Develop
Notice Their Struggles
A lot of queer students are among the most vulnerable to unhealthy coping mechanisms to ease their anxiety, deal with discrimination and suppress their true selves in order to fit in.
If you see a closeted or out queer friend who might be struggling with their identity, sexuality, or adjustment, take notice and validate their struggles.
There have been innumerable cases where the young queer population has taken to some form of substance abuse, self-harm, unhealthy relationship patterns, or deadening of romantic or sexual feelings to avoid arousal or contact. So, as either fellow queer students or allies and friends, look out for signs of grief, fear, or shame.
Also Read | 5 Things You Should Avoid Saying To Someone With Anxiety
Be Careful With Humor
Many of us, especially during our struggles, may have no capacity for jokes cracked at our expense. So, actively and consciously avoid cracking jokes at the expense of a queer or an ally especially if they are struggling.
What may appear as humor may have a negative impact on those who are struggling alone. This of course applies to anyone who may be struggling with anything in their life. Avoid using stereotypical terms and phrases to address a queer person.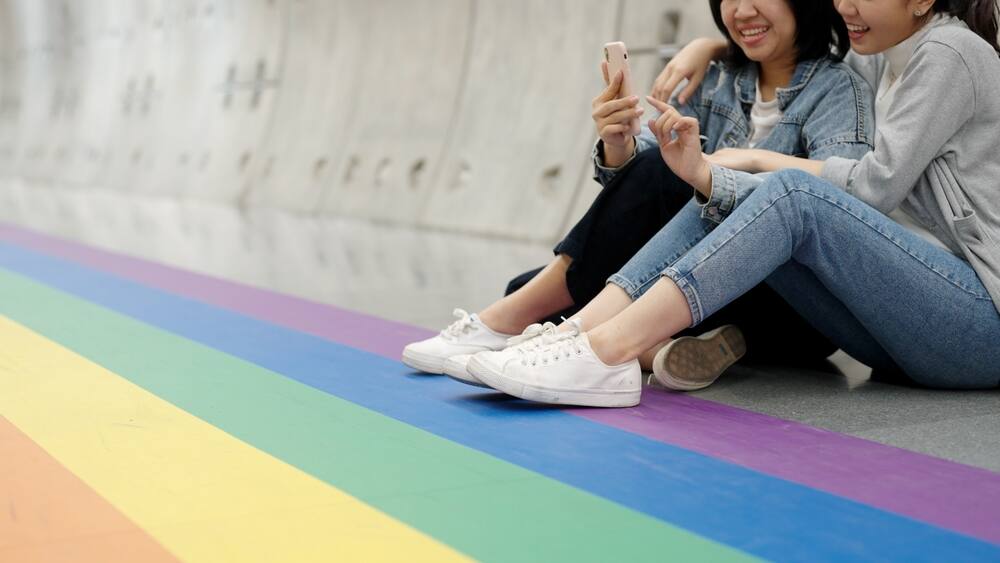 If you are a queer person or an ally, have patience with your friends and family, and help them understand queerness as well as terms and events.
Also Read | What Is Your Love Language?
Do Not Label
We have to understand that sexuality is fluid and also learn that sexual orientation needs to be viewed on a larger spectrum.
Many spectrums interact with each other so one may feel a sense of confusion and that is completely okay. It's perfectly acceptable to be confused, especially during the adolescent years, in order to reflect on where we stand and who we are. We will, over our lifetime, keep oscillating between different identities, terminologies, expressions, and preferences.
Finding a label may not be a thing for many of us and we should not restrict ourselves by trying to fit into a particular label. So, either as a queer person yourself or as their ally or friend, don't take or put pressure for a label. It is the most important thing for one to be at peace with where they are.
Create Safe Spaces
Whether as allies or queer friends, reach out to your queer friends who may be struggling, and offer a safe space for them to share their feelings, concerns, and struggles.
The idea of such safe spaces is not to offer advice or provide solutions but only to lend an ear and keep whatever is shared between the people present.
Such safe spaces help our struggling friends feel supported and heard. This is where we can validate their struggles and give them the strength to hold on through difficult times.
Also Read | 4 Ways To Communicate Better With Your Parents
Use Inclusive Language
This means asking students for their pronouns, using 'they/them' when unaware of someone's pronouns, using non-binary terms over gendered ones, and not assuming things on the basis of gender or sex.
Try to use words that refer to one's individuality and persona rather than what they outwardly appear to be. This helps students of different genders, sexes, and sexualities to feel included and welcomed.
Learn And Educate
Like any new phenomenon, one must read and learn. As a queer person, read up on resources and articles, watch videos, and speak to others in the community. Try to gain some understanding of fundamental concepts, perhaps, speak to a professional who can help you with this.
Also Read | 5 Tips To Follow The Right People On Social Media
If you are a queer person or an ally, have patience with your friends and family, and help them understand queerness as well as terms and events. This helps educate people who may have no idea about the subject.
It is time we get rid of stigmas and open up our minds to accepting certain choices that people make for their own selves.
Nilanjana Parijat is a depth-oriented, and holistic wellness psychologist, with extensive experience in working with children, adolescents, and families.