Exam anxiety is a common phenomenon experienced by many, if not most, students. It is also one of the reasons why students are often unable to do well even after months of preparation. Thus, Careers360 held a webinar to help students gain the insight necessary to overcome exam anxiety. We were joined by Dr. Roma Kumar, Vice-Chairperson (Psychology), Sir Ganga Ram Hospital, Delhi, who gave her invaluable input on how students can best manage their preparation and reduce exam anxiety. Here are some excerpts that you must not miss.
Normal To Feel Anxious Post Lockdowns
We know that we're gradually now coming out of the covid state and the lockdowns and quarantines, and that the world is opening up. And just as things started to feel as they used to be, along came the exams. Most of the students are not any more used to taking offline exams for over two years now, so I'm sure there's a lot of anxiety among students.
It's completely normal to feel a bit nervous before any test. But, for two years we've not given any offline test, and we've all been on online tests more. Some of us may be feeling this anxiety and feeling that it is debilitating. Racing thoughts, difficulty in concentrating, or feelings of dread that sometimes combine with physical symptoms like excessing headaches, rapid heartbeats, feeling nauseated, restlessness, etc. are all symptoms of anxiety.
How Should You Deal With Exam Anxiety?
Whether it's the board exams or any other exam, test anxiety seems to have the power to derail us for many weeks, and all the hard work that we've put in clogs our minds and we're not able to perform. So how can you create a better experience for yourself before the exam and how to deal with anxiety?
Be Prepared
The first thing that we need to do is to be prepared. Be it poetry recitation, singing, dancing, etc., ever since childhood, we've been performing in one way or another, so it's not something new. Exam, too, is kind of a testing situation. So, we have to prepare well for the exams so that we start feeling confident about the subject.
Also Read | Memory Tricks For Studying: Using Memory Tricks And Heuristics
Take Adequate Sleep
A lot of us keep hearing from our school teachers and parents to get a goodnight's sleep before the exam, and not to study late into the night the day before the exam. A lot of students don't sleep much, especially before the exam. What this does is it disrupts our attention span, disrupts our performance and we then start getting exam anxiety. Cramming, or learning by rote, is never the answer, nor is sitting all night as it only exacerbates the nerves. This creates problems and the physical symptoms start appearing. That adequate rest, about 7-8 hours is going to be much more beneficial. You're going to be able to perform better and remember the answers if you sleep well.
Eat A Healthy Diet
We also hear about eating well. Many of us focus on eating carbohydrates but the thing about carbohydrates is that it slows us down. We need to have a good nutritious meal, and also in-between eat healthy snacks like fruits. Fruits have a steady stream of nutrients. So, rather than having the sugar high of an aerated drink or a sweet, it's better to have something wholesome. It's important to connect with your sleeping and eating patterns.
Keep A Positive Attitude
Another important area is having a positive attitude, especially for yourself and the forthcoming exam. Bring a picture of a happy place or morale-boosting things to get into this state of mind. Many of us have mantras for this, and one of the mantras can be "I can do this!" or "I am capable". You need to tell yourself that you have worked hard and you deserve this. Recite these "little mantras" to yourself before the exam and even the night before. This will help you deal with a lot of exam anxiety.
Also Read | Stay Grounded, Prevent Stress: Follow These 7 Mindfulness Tips
Distinguish Between Real And Imagined Fears
There are some more techniques that one should be using to feel better about exams. When you feel anxious, think about your fears, and the nature of these fears. What are these fears all about? Do you have some answer to the fear? A lot of us have realistic fears, and also many imaginary fears. The realistic fear can be something like "I'm not ready for this test". So, how can you address this? Work on your time management and perhaps your perfectionism as well, and your need to find out the perfect answer. But, this is a realistic fear and all of us have it.
The second fear can be "What if I fail in this exam? I might have to repeat this year", or "What if I don't get good marks?"; "What if my friend gets better marks than me? What will my parents think of me?" Whenever you start thinking of these "what ifs", it's an imaginary situation, it's not real. You're only putting yourself in an imaginary situation and thinking of a fear that doesn't exist. So, talk to yourself and tell yourself that this is unrealistic and you're building it up in your system. If you think that your family, your classmates, your teachers, will think that you're not very bright, that is a very unrealistic and unfounded fear. You might also think that you used to be smart but no longer are. Almost all of us get such thoughts and it's perfectly normal to have them. Don't put yourself under more pressure where there's going to be an added anxiety situation. We have to let go of that perfectionism that's coming in our minds.
You Are More Than Your Exam
You need to put things into perspective. Remind yourself that your exam is important, but your entire future doesn't depend on this one exam. It also might be helpful to tell yourself that regardless of your performance, you will not be diagnosed with some kind of a problem. Remind yourself of your past successes.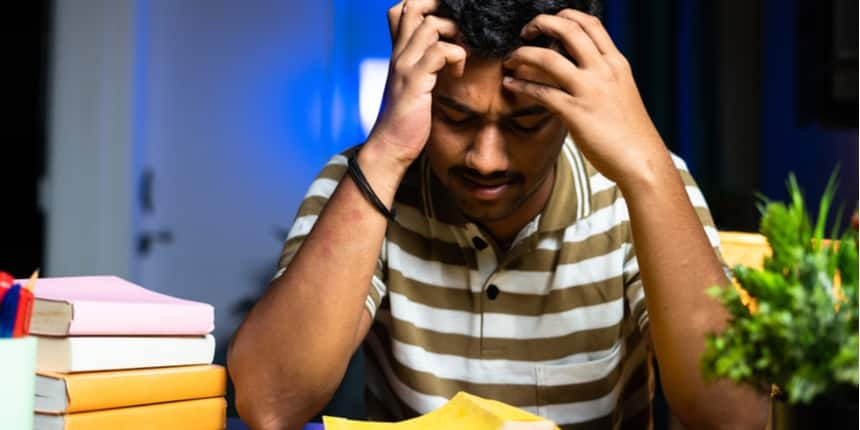 Don't Let Exams Take The Better Of You
It is easy to lose perspective, especially if you get anxious about the forthcoming exam and find yourself that you're not coming 1st, or 2nd, or 3rd in class. Intellectually, you're very well aware in your understanding that you're competing against many bright students. But, you may also remind yourself that you're capable of competing well. You've done it before and you can still do it. Don't give the exam the power to define you. It won't tell you that you're the most brilliant or the least brilliant. Exams can't tell us that. Nobody asks people who are in successful positions what their exam results were. Your performance in an exam is determined by how effectively you studied for that exam, and the quality of your prior education and your test-taking strategies.
Also Read | Why And How To Not Make Exams Larger-Than-Life Events
Important Points To Remember
While the session revolved primarily around how students can deal with exam anxiety, Dr. Roma also touched upon many other important aspects of exam preparation. Here are a few snippets.
Curating A Balanced Time-Table
We're all used to making too many timetables and we expect way too much from ourselves. We talk ourselves into thinking we'll be able to do more when the time comes and add more things to the schedule. At that time, our anxiety goes down, but as soon as we see that we're not able to do all that we planned, our anxiety rises up again.
It's better to plan the revision. Set aside plenty of time for revision and don't do new things during that time. Sort through the notes or any kind of assignments and focus on the essential material. Actively use your notes, restructure them and condense and memorise them. Plan how you're going to write your exam and your answer outlines. Don't sit reading for long periods of time because it quickly becomes very monotonous and boring, and concentration can easily get disrupted as such. There's no harm in asking for help or talking to someone, like parents or siblings, or friends, and telling them that you need help. Think about questions that you might expect to find in the exam and don't compare yourself to others. We have a habit of asking our friends how much they studied and then feeling bad about it in comparison. There's no need for it. Focus on what you're doing and what you're able to do well.
Also Read | What Is Academic Burnout? Here Are Ways You Can Deal With It
Attempting The Exam Better
Make yourself comfortable. Before the exam starts, if you need to use the restroom, do that. Take a few deep breaths, and ease the tension that you're feeling. Sit with your eyes closed for some time and then open your exam paper. Many of us feel tension when the paper is being distributed. Take the time to read through the exam instructions, and plan your answers. Always have a water bottle with you and take a few sips to calm yourself. Ignore everyone else sitting around you because when you start looking at them as they're writing, you might get more anxious. Just focus on your paper and the questions, and label the answers that you know so you will feel more confident as you go through the exam paper.
Right Time To Study
Everybody studies differently. But the brain is most active early in the morning, that's why our schools are in the morning. Our brains become less active as the day progresses. So try and study more in the morning.
Balancing Boards And Entrances
For anyone who's giving two exams, see what is it that's your priority. If both exams are a priority, well and good. The syllabus won't necessarily be similar for both of them. So focus on the basics which are there for class 12 and then start focusing on entrances which are at a later point, But, try and keep time for both exams. Since most entrances are after board exams, focus on board exams first, and then the entrance exams. Don't get too confused with both of them and feel pressurised.
Advice To Parents
Just a few things. Parents are used to students taking exams so they shouldn't stress themselves and stress the children. Whatever the children had to learn, they've learnt. Maybe they'll do more. All that parents should look to do is to help them. They need to just be around them. Parents and children are each other's support systems. Sometimes, because they get worried, parents say things that are futile. Instead, let's just be enjoying along with studying. Have faith in yourself and your child, be patient, and don't compare them to others. The children will find a way.
Watch Now | Webinar: Reducing Exam Anxiety And Giving Your Best Shot At The Boards