Primary school kids are usually active and many times, picky about what they eat. Many of them choose to eat their favourite part of the food they are served and move aside the rest of it, which usually includes the healthier part (vegetables and salads). Parents usually have a hard time trying to ensure that their children get adequate nutrition while also getting food of their liking. Further in this article, the author suggests five easy-to-cook, interesting, healthy, and attractive meal ideas that parents can prepare for their children and get the latter to eat willingly, without any 'running behind'.
Pink Sandwich
Blend beetroot and add the puree (blended beetroot) to curd which is to be spread over a pair of multigrain bread slices. You can use different shape cutters, for example a star, a heart, etc. to shape the sandwich into their favourite one.
Multigrain bread not only provides complex carbs to your child, but also the micronutrients that growing children need. The curd provides protein for their growth and beetroot is full of minerals and vitamins like potassium, manganese, iron and vitamins B9 and C which are much needed for brain development.
Also Read | How Can Extracurricular Activities Be Transformative For Your Child?
Pizza Paratha
Convincing a child not to eat pizza might be a tough nut to crack. So here's a recipe that gives 'pizza feels' to your child and satisfies you for having served them a healthy meal.
Spread tomato puree over paratha, add some oregano and mixed colourful veggies with some scrambled cottage cheese to turn a basic paratha into a flatbread pizza. This paratha pizza can be easily packed into their school tiffin, and your child can enjoy a hearty meal with their friends.
Also Read | Give Wings to your Schooling at the Right Time
Colourful Idlis
Blend some spinach leaves and add the green puree to some idli batter, to see how your idlis turn out to be super green and healthy, just like you would want them to be for your child. Similarly, you can add in beetroot puree to get red-coloured idlis. You can also create designs of your own by adding batter in half-n-half colours to the idli moulds.
These colourful idlis could be served with sambhar and coconut chutney, or you could cut the cooked idlis into pieces and stir fry them with some onions and seasoning. Your child will simply love these multi-coloured idlis and enjoy them thoroughly.
Sprouts Cutlet
To add a twist to regular cutlets, use sprouts instead of too much potato mash for shallow-frying them. Green gram sprouts are best to add to the cutlet mixture. Your child would easily eat these sprouts' cutlets because they would have colourful vegetables (mashed) along with a small quantity of mashed potatoes (which would help in binding as well). Sprouts are full of folate, calcium, magnesium, potassium and many other nutrients. Apart from that, this meal would also give your child some fibre and help them get rid of any constipation that they might be going through.
Also Read | How Does Your Food Affect Your Mental Health?
Serve these cutlets with some mint coriander chutney or even homemade tomato sauce, as per your child's preference.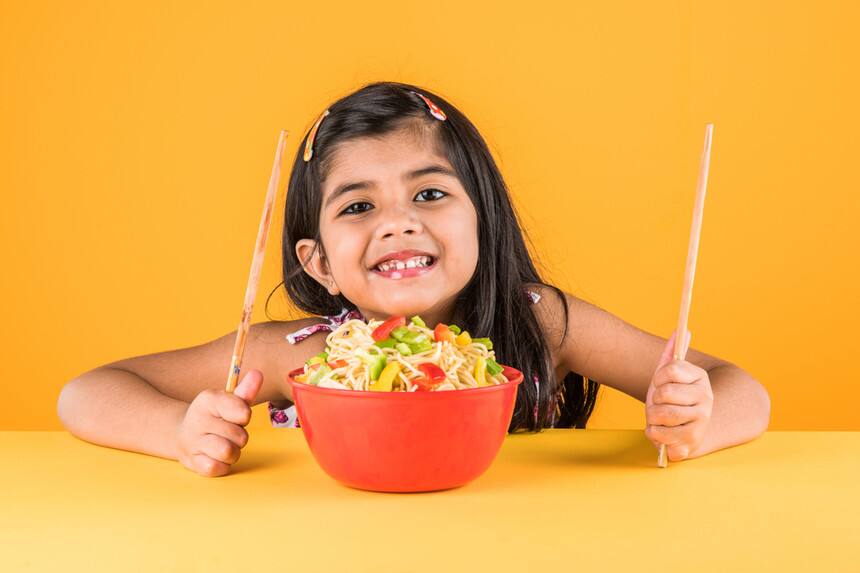 For children to feel happy while eating a meal, it helps to make the meals colourful and attractive while keeping the nutritional value intact.
Also Read | How Is Your Parenting Style Impacting Your Child?
Baked Sweet Potato Wedges
Children love potatoes, period. So, why not give them the same snack with a twist and even better taste? Sweet potato is a highly- nutritious, winter food. Chop sweet potatoes into thick wedges and bake them with a choice of unrefined oil and seasoning.
Cooked sweet potatoes contain complex carbohydrates and fibre that will help prevent constipation in your child. Sweet potatoes are rich in a number of vitamins and minerals such as Vitamin B5, B6, Beta Carotene, Vitamin E, potassium, manganese, etc.
Also Read | Why Communication Is Key To Understanding The Needs Of Your Growing Child
For children to feel happy while eating a meal, it helps to make the meals colourful and attractive while keeping the nutritional value intact. The meal ideas we just spoke about shall come handy in ensuring proper nutrition while also adding joy to your child's eating experience.
Chesha Kukkar is a Chandigarh-based dietitian with extensive experience in the field, and has helped 1600+ clients of varying age groups in achieving their health goals. She holds a postgraduate diploma in Nutrition and Dietetics from Govt. Home Science College, Chandigarh and an internship in Govt. Medical Super Specialty Hospital, sec-16, Chandigarh. She can be reached at http://www.dietitianchesha.com/