'Menarche' is derived from two Greek words: 'men', which means month, and 'arkhē', which means beginning. So, menarche refers to the first menstrual period, which occurs during puberty.
The onset of menses is a transitional phase in the life of a girl and typically the first visible sign we notice of her entering her reproductive years. This tends to happen much earlier than when a girl is usually mentally, emotionally, and socially ready for the responsibility of a baby, but reproductive cycles begin nonetheless.
The age of attaining menarche depends on one's genetic/hereditary factors, as well as environmental ones. Around the world, the typical age range for attaining menarche is 10-15 years, with an average age of 12-13 years. Some girls may begin very early, that is around ages 8-9, while some may not have begun by age 15. Menarche usually begins approximately two years from the early 'budding' stage of breast development.
Guide To The First Period
All transitional developmental phases are generally hard. Remain open, honest, and positive to make this new bodily change in your daughter as smooth and as easy as possible for her.
Mental And Emotional Preparedness
It's preferable to prepare your daughter for its likely arrival before it happens. You can start having conversations about what periods are and start by letting her know what it is.
Let her know how she may experience physical and emotional changes as part of the development process, how hormones affect our bodies and influence our experience of the world.
Having Periods Is 'Normal'
One of the best things you can do for your daughter as she approaches this important milestone is to reassure her that what's happening to her is normal.
Remind your daughter that other women, including most of those whom she knows, have periods, for e.g., you, her teachers, aunts, relatives etc. Establishing such an association with known people helps in accepting one's bodily changes more easily.
Reduce The Fear Of Blood
It's important to put menstrual bleeding into the context of a cycle when you are talking to your daughter, so she knows the bleeding has an actual function and her body is working as it should, instead of getting scared about bleeding.
Talk about what sort of bleeding one might observe at the start, how much and how often it is in the first few years of the cycle.
Young girls might imagine that there's free-flowing blood gushing out of their bodies, so explain that it's not like any form of bleeding they've had before, e.g. bleeding after a cut.
Explain that the uterus is about the size of one's closed fist, and the lining of the uterus is just the inside of that fist. When one gets one's period over the course of several days, that lining of old blood and tissue slowly comes out of the body. Usually, it's only about three tablespoons of blood total in one monthly cycle.
When we show them in a cup what three tablespoons are, they realise it's not a lot and the experience of seeing blood is less scary.
Explore Period Supplies Together
Take a look at supplies before your daughter needs to use them for the first time.
Have a 'period kit' ready so she has supplies at hand when menses show up.
Look at the products available in the market for menstrual periods, from disposable pads, to menstrual cups, and period underwear/swimwear.
Explain how there are several options for protecting her clothes when she gets her periods, e.g.,.suggesting her to wear dark-coloured clothes preferably with dark print, so that the stain doesn't show, if there's any leakage from the sanitary napkin.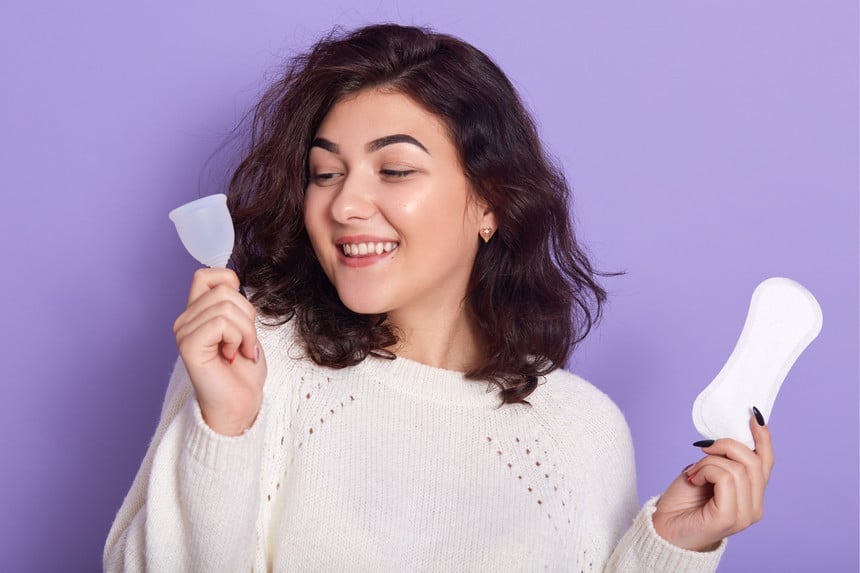 Exploring Period Supplies With Your Daughter Might Comfort Her
De-Mystify Perceptions
There's also this perception in adolescent girls that life is limited by having a period. Please emphasise the need for a perceptual change, and that this is not a 'disease'.
Tell your daughter that she can do almost everything one can do on a regular day, even while she is on her period. To empower your ward that way is really, very important. Encourage her to do most activities, e.g. dancing, cycling, etc. even during her periods (unless the pain/cramps are too intense). This will help her know that there is hardly any difference between period days and non-period days.
Your initial reaction as a parent when your daughter has her first period will have a long-lasting impact on her. Please remain affectionate, calm, and positive as a mature parent.
Hands-On Use Of Supplies
Young girls might be intimidated by period supplies, so the first step is teaching your daughter how to use a pad, when to change it, and how to maintain basic hygiene. Whether you want to be in the room or not as your ward learns how to use a pad is up to you and her.
Prepare Her For Emergencies
The biggest lesson is to be prepared for mishaps. Attainment of menarche often takes one by surprise.
To help prepare for every situation, girls can keep a little pouch in their backpack with a clean pair of underwear, some extra pads, and a pair of pants as an emergency kit.
Girls should be given the confidence to never have to worry about how they're going to manage their periods, especially when they have it for the first time
Once your daughter reaches class 4, confide in any female teacher/medical professional in the school, with whom your ward feels comfortable, about whether your ward has started with her periods or not. Also encourage your daughter to approach her in case she starts her periods in school, and/or for some help in cases it is needed.
Encourage your daughter to maintain a 'period diary' to maintain a record of her monthly cycle. This can be helpful to show to the gynaecologist or psychologist if needed at any point.
Check Your Own Comfort
I often find in my counselling sessions that some mothers are very reluctant to talk to their daughters about this topic.
If you're not fully comfortable with this topic, that's okay. But, just be honest. Our children appreciate our honesty, and they'll appreciate your care.
Talk at a time when both you and your daughter are in a zone of comfort talking. You may solicit the help of the child's school counsellor in this regard.
Understand that even if your history with periods has not been ideal, it doesn't mean your child's also will be.
Talk To Boys, Too
There are so many ways dads can participate in making this transition smooth for their daughters. We want our daughters to be able to tell their dads they forgot their pad or need something, without feeling embarrassed or secretive.
Don't forget to talk about periods with boys, too! I often come across mothers, who come for counselling sessions and say that their sons have discovered a packet of sanitary napkins in their almirah or have seen an ad about them in the media, and don't know what to explain to their sons.
To change the world, let's talk to our sons about periods in a way that normalises it.
Ask The School For Orientation
If you or your daughter have any problem in such matters, please do not hesitate to approach the school counsellor for help.
Most schools have a certain orientation on menstrual health and hygiene for adolescent girls, under the mother-daughter guidance program under preventive counselling, that prepares girls in advance for menarche. However, in the instance that your ward's school does not have such programmes, you may consult the school authorities or the school's medical health professionals for organising such a program. It's emotionally comforting for girls when they hear about such a topic with their friends and classmates.
Menarche is a major transitional time for any girl. Awareness, support, and acceptance are the three major drivers during this period of change,
Ritu Johari is a Delhi-based Counselling Psychologist with more than two decades of experience in counselling students - both children and adolescents, their parents, and teachers. She has a specialisation in Developmental Psychology from North Campus, Delhi University, and did her professional training at AIIMS, New Delhi.