It is rightly said that 'We are what we eat'. Our gut is actually our second brain and works as much as the latter does. Each cell of our bodies is built up with what we consume and hence that is also how food affects your mental health.
Scientifically, the food we eat is received by our gut, which is lined with hundreds of millions of nerve cells, whereas our brain has hundreds of billions of cells. The living microbes in our gut synthesise the neurotransmitters that send chemical messages to our brain. This leads to feelings of pain, sleep, fullness while eating, changes in mood, etc. All of these chemical changes are affected by the type of food we eat. That is how food affects your mental health and how food affects your mood as well.
Read the article further to know more about how food affects your mental health.
How Our Food Affects Our Brain
Healthy and natural food provides quality nutrition to our body which gets absorbed by our gut, further releasing desired chemical changes in the body and facilitating exchange of signals between our gut and our brain.
Want to know more about how food affects your mood? Processed and refined food causes inflammation and oxidative stress in the gut, which further disrupts the information being sent out to the brain. This means that the functioning of the brain is also affected adversely by weak signals, thus making our brain slow and sluggish, unable to think normally and make decisions. Thus, eating well nurtures the brain towards healthy functioning.
In simple words, the nourishment of your brain starts the moment you consume something, even if it's merely water. Apparently, lack of water intake could also lead to dehydration of cells, not just your body's, but of those of your brain as well and further give you insight about how food affects your mood.
Let us try to understand in a simpler way how food affects your mental health. You must have heard someone say, "I have a gut feeling that something is not right!". This is a strange feeling in your gut when something is about to happen, which also affects the decisions we make. Remember that feeling when you had a crush on someone as a teenager, that feeling of having butterflies in your belly when you saw them or spoke to them? Also, those days when you had an exam the next morning and felt the urge to go to the loo multiple times because of some weird feeling in your stomach? These examples from everyday life are clearly indicative of the co-dependency between our brains and bodies and also of how food affects your mental health.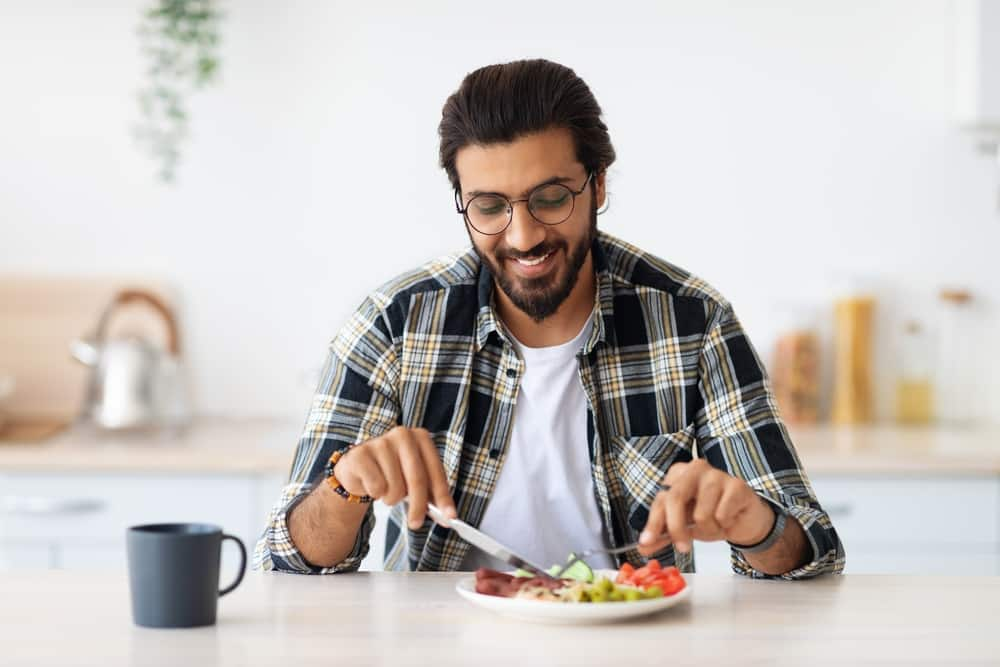 Healthy And Natural Food Provides Nutrition To Our Body
Why Is It Important To Eat Well
It won't be wrong to say that following different types of low-fat or zero-fat diets is becoming a fad. However, factually speaking, not only these diets cause long-term harm to physical health, but also to one's mental health. How food affects your mental health? The human brain is composed of 60% fat, so a lesser than necessary consumption of fats is most likely to bring a decline in one's mental health.
Harmful Effects Of Low-Fat Diets
Low-fat diets lead to depletion of serotonin levels in the brain, thus causing low mood, anger, dissatisfaction, brain fog, hunger pangs, cravings, etc. Zero or abnormally low-fat diets also restrict the absorption of fat-soluble vitamins and essential fatty acids in the body, which have a major role in brain functioning. Knowing this will give you a better insight as to how does eating healthy affect your mental health.Low-carb diets also lead to lowered release of serotonin and tryptophan which are 'feel-good' hormones, thereby adversely affecting our mental health. Poor mental health has been known to lead to eating disorders like binge-eating, restrictive or selective eating, and food fears.
Foods Good For Mental Health
Following is a list of certain nutrients which nourish our mind and ensure proper functioning of our brains and bodies. Keeping them in mind will help you understand better as to how does eating healthy affect your mental health:-
Essential fatty acids like Omega 3 and Omega 6 which are present in eggs, tofu, and nuts like almonds, walnuts, cashews, and seeds like sunflower and flax seeds.
Amino acids such as tryptophan and tyrosine, responsible for the production of hormones dopamine and serotonin, act as building blocks of protein in foods like eggs, poultry, legumes, lentils, etc.
B- Vitamins, especially Folate (B9) which is present in green-leafy vegetables, dairy, eggs, nuts, whole grains, legumes, etc.
Magnesium-rich foods such as pumpkin seeds, flax seeds, green-leafy vegetables, bananas, nuts like almonds, cashews, beans, buckwheat, quinoa, oats, etc.
Zinc-rich foods like pumpkin and sesame seeds, peanuts, almonds, milk, cheese, rice, potato, etc.
Selenium-rich foods like sunflower seeds, eggs, chicken, cheese, spinach, milk, yoghurt, brown rice, lentils, etc.
Probiotics which contain good bacteria to keep your gut happy are present mostly in fermented foods such as curd, buttermilk, home-made pickles, kanji, etc.
Antioxidant-rich foods that prevent cell damage, for e.g. berries, apple, pineapple; dry fruits like prunes, raisins; vegetables like green beans, spinach, beetroot, etc; and drinks like herbal teas, green tea, black tea.
Also Read | 5 Resolutions You Should Make This Mental Health Awareness Month
Foods Bad For Mental Health
Certain foods that adversely affect mental health and should be avoided. Keeping them in mind will help you understand better as to how does eating healthy affect your mental health and they mainly are- highly processed foods, sugary foods and drinks like sodas, soft drinks, fruit juices, alcohol, energy drinks, excessive caffeine, refined foods such as oils, flours, etc.
Vitamin D & Depression
Lack of exposure to sunlight and constant sitting indoors with air conditioners on has caused most of the urban population to be deficient in Vitamin D. Deficiency of Vitamin D has also been linked to depression in individuals. However, very few foods serve as sources of Vitamin D. A few of them that do are mushrooms, egg yolk, non-veg foods like salmon and other types of fish, some organ meats, fortified foods, cod liver oil, and Vitamin D supplements.
Our physical and mental health are interdependent and one getting affected will inadvertently have an impact on the other. That is how food affects your mental health. Eating a healthy, well-balanced, and clean diet helps keep our mind active and functioning well. Conversely, thinking good and clean thoughts fosters consumption of healthy food. Both work together if planned well.
Chesha Kukkar is a Chandigarh-based dietitian with extensive experience in the field, and has helped 1600+ clients of varying age groups in achieving their health goals. She holds a postgraduate diploma in Nutrition and Dietetics from Govt. Home Science College, Chandigarh and an internship in Govt. Medical Super Specialty Hospital, sec-16, Chandigarh. She can be reached at http://www.dietitianchesha.com/ .