You must have heard that our bodies are 60–70 per cent water. It certainly shows that water is extremely important for the survival of organisms. Apart from their bodily composition, organisms drink around 2500 mL of water every day for the conduction of various physiological processes occurring inside our bodies.
But does every individual require the same amount of fluid intake every day? What are the potential factors that influence fluid input and output quantities in a person? We will read about different aspects related to water importance, its regulation, and variable water demands in different organisms.
Water and Health
Water is an essential nutrient that conducts almost all the physiological processes in the body, including factors like energy uptake, weight management, a person's mood, functioning, and many more. Its absence can affect the entire system and turn it lethal in a short span of time.
Dehydration means the absence of the required amount of fluid or hydration in the body. This can breed many health issues and lead to chronic diseases like organ dysfunction. Therefore, it is crucial that dehydration be prevented for better health promotion.
Recently, fluids have been consumed; however, people have shifted toward caloric beverages, as a result of which issues like obesity, the incidence and spread of non-communicable diseases, a poorer health index, and more have increased.
Water Homeostasis And Distribution
It is the homeostasis process of the body that takes care of the water balance in the body. Thirst is triggered after a person ingests water. This water is distributed to all the cells. Intracellular water content is approximately 65 per cent of the total water present in the body. Different organs and tissues have varying water percentages; blood is composed of 83 per cent water, while the brain has 79 per cent
Water intake is not only measured by drinking water but also by consuming foods and other fluids. Fruits like watermelon have a high water content, which also adds to the daily water demand. Similarly, water loss is not only measured by urine output because it is also lost via faeces, sweat, and tears.
Water Demands for Different People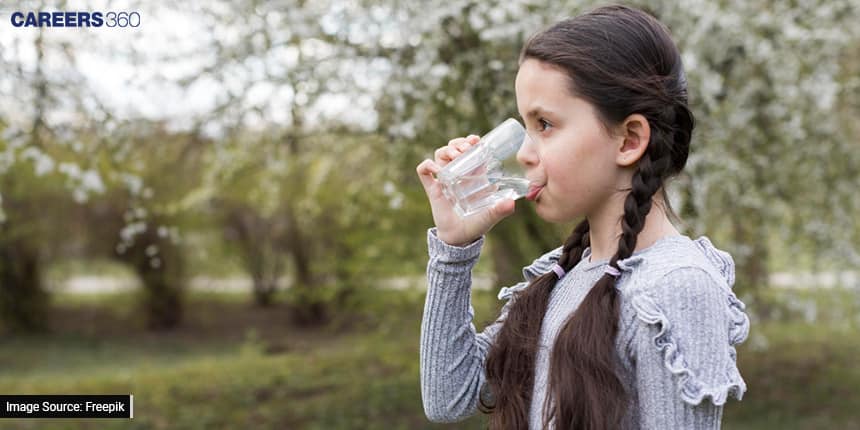 Generally, adults are advised to drink around 2–3 litres of water daily; however, this may not be true for all.
People belonging to different age groups have varied water demands on a daily basis. A small child will definitely consume fewer fluids in a day as compared to an adult. Do you know why this happens? It is because of the body mass index, weight, physiology difference, and more. Let us get into more details.
As we know, water constitutes approximately 60 per cent of the total body weight; therefore, the varying weight of the organisms imposes different water requirements. People with similar weight might also have differing water requirements due to other factors like energy requirements, water elimination rate, and more.
How Does Physiology Influence Water Demands?
The energy production in organisms varies as per the activities they perform. Accordingly, the body performs the ATP (Adenosine triphosphate) production pathways in the body, assisted by water. Similarly, biological processes accelerate faster in working people than in idle people. Therefore, you might have observed that you are thirstier or, drink more water on days when you are physically exhausted than on days when you're lazy.
All the organs and tissues have considerable water content, which is required for their healthy functioning, so the more these organs work, the more it is essential that their water content is restored; hence, people will have varying water demands.
During strenuous activities like exercising, jogging, and more, one is advised to take care of fluid intake and balance as well because dehydration may arise. Therefore, physiological and metabolic processes have a direct impact on people's water intake.
Factors Influencing Water Intake
Apart from weight and physiology majorly affecting water demands, health conditions are also one of the biggest factors influencing water intake in people. If a person isn't healthy and has conditions like impaired kidneys, altered homeostasis, hormone imbalance, and more such problems, then water demands will be highly dysregulated due to poor management in the body.
Hence, some people believe that all individuals have similar water requirements, and recent trends are adding more weight to this, but it is to be noted that everybody has their own requirements as per varying biological processes and systems. People might end up drinking more water than required due to the benefits, but it can lead to water toxicity as excess water is also bad for the health.