"Jack Of All Trades" Meaning
For very many years, the original saying has been conveniently hidden from us because it has benefited individuals in power. The "Jack of all trades master of none" full quote goes something like "Jack of all trades, master of none, though oftentimes still better than being master of one". At some point, it was considered a compliment, rather than a statement to incite laughter or a subtle insult.
The phrase was originally employed to describe a playwright who spent the majority of his time at the theatres. Someone who would help with setting up the stage, the set, getting costumes ready, etc. He could remember most of the cast's lines and would help in direction as well. And, the first so-called 'Jack of all trades' was none other than the famous William Shakespeare. This was often the case with many other genius and capable individuals, who learnt their art by spending their time immersed in doing anything and everything, in and around their field.
Over time, however, the "Jack of all trades" meaning changed. In a way to increase capitalistic revenues, more and increasingly specific products and services needed to be sold. Society has since then been socialized to associate a negative connotation with this phrase. It conjures in our minds the image of a 'jugaadu' person, who knows a little about a lot, and uses this to their advantage and gets their way. It insinuates someone's lack of specialization or specific knowledge.
Jack Of All Or Master Of One?
Many accomplished individuals will advise youngsters to take the 'Jack of all trades' route over the 'master of one'. They have learnt from their own journeys, and believe that a diverse and varied set of skills, knowledge and experience goes a long way, especially when it comes to developing an entrepreneurial mindset, rather than being limited to a single field of mastery.
But, why is that?
From an evolutionary and biological perspective, humans have come to reach the top of the food chain and remained upon this so-called throne because of something called 'Consciousness', or 'Metacognition', or what we call 'Awareness' in lay terms. Unlike other animals, we have the capacity to be aware of our biological hardware and psychological software, and make changes to it. Take the simplest of examples, animals cannot fast from food and water, they only starve because of the lack of availability; animals cannot control their reproductive needs, while humans become monks and nuns, engaging in lifelong abstinence and living without mates and offsprings; animals cannot convince themselves that they are at optimal health even when they are not, while humans learn to fool themselves into health. What this proves is that we have the kind of sentient power that animals do not.
Individuals, unlike bees, therefore, are not bound to a single role for the rest of their lives. Their survival is linked to their obeisance to their role, but humans live in an economy where different people can do different activities and yet, benefit themselves and the community.
From a business and entrepreneurial point of view, those with the knowledge that goes beyond their field are most likely to succeed, for that is just the nature of entrepreneurship. But the way we are taught nowadays is to specialize in a very specific niche, and to keep mastering it until the end of that never-ending rabbit hole, which means having no understanding of the fields adjacent to ours.
But, many Forbes-recognised and accomplished businessmen, as well as successful entrepreneurs talk about the value of knowing more than one role. McDonald's is one such example, where each individual must start out as a janitor before they go into the kitchen and then become a manager. This is because they believe that those who want to lead can do so only when they have experienced other roles in the team, when they have been able to understand the challenges of each of those roles. This also helps decrease discrimination because they understand why each of them is important and valuable. If you too led a giant corporation, you would also want managers who had the entrepreneurial skills to understand the nuances of the jobs that they oversee.
Therapist and business owner, Sunayana Clark, says that when she started out, she was a Jack of all trades. She states that this helps you "understand your strengths and weaknesses very quickly. You learn about time management and boundaries."
You must have seen many movies where the lead character is able to achieve fame, their goals, or beat the villain because they have a varied set of skills, say, they may be a phenomenal lawyer or cop but, can also play an instrument, wait tables, dance, fight, fix a sink or jumpstart a car, which ends up helping them in some unforeseen situation.
Adding another perspective, I would state that for the longest time, those who were nobles or aristocrats were different from the rest, not purely in terms of money, but the fact that they were 'cultured'. This meant being able to write and read poetry or literature, play an instrument, dance, ride a horse, play some formal games, dabble in different languages, perhaps paint or sketch, sew, fence and a had variety of other 'personal development' skills. Those who had mastery in a single area, even if they came to acquire wealth, would not be considered noblemen because they did not have the sensibilities of one.
From a social perspective, the ability to engage with a variety of activities and display a range of skills has always been considered attractive, both romantically and platonically, and is important for the all-round development and refinement of an individual's personality. Researchers have found that those who can sustain a conversation while keeping it interesting enough, were often those who had dabbled in much beyond their primary interests and thus outshone their contemporaries.
From a utilitarian point of view, when the market is out of jobs or the economy is terrible, if their only sellable skill is un-hirable, people begin to feel like they're lost, life has no purpose and they feel utterly and completely defeated. Having more than one field's experience and knowledge, however un-mastered, will mean always having something that you can make money off but also living a life brimming with possibilities, varied experiences, memories and skills that often go together to create a whole new arena (this is referred to as Multipotentiality). It also humbles you, where no job is beneath you because you see the sheer beauty in being able to do more than most people, and more than your career.
So while people complained about not having a job in the field of psychology, I trained as a classical dancer and as an adventure instructor, teaching people how to rock climb and ski. I'm never worried about being jobless. I have far too much on my hands, and under my belt, and up my sleeve, to ever have to worry.
Choosing Between Different Kinds Of 'Jack'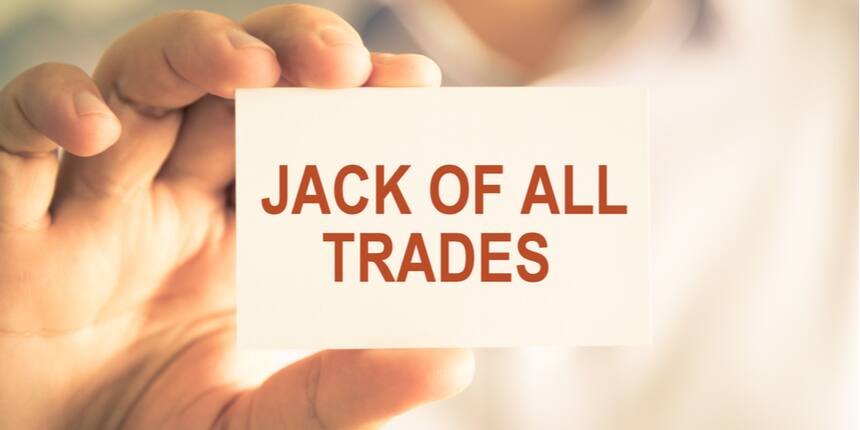 Being A Jack Of All Trades
Now that we have found our leaning towards being a Jack of all trades, let us also see which sort of a 'Multipotentialite' or a 'Jack of all trades' you may prefer to be.
William Shakespeare
This is the kind that learns the ABCs of their entire field. Many people learnt their skills by becoming apprentices and learning everything from cleaning, to assortment, to marketing, and finally the white-collar job they wanted, scriptwriting and directing in this case.
Tom Cruise
The kind that engages with one field, but uses that field to learn and engage with as many other activities as possible. Like Tom Cruise, who can fly a plane and helicopter, does his own stunts, is a martial artist, can play the guitar, can kayak, fence, skydive, rock climb, dance and so on, this 'Jack of all trades' tries to learn all that they can about the fields that are associated with their own.
Christopher Lee
This is the kind that, much like a vagabond, engages in one field for a while and then moves onto the next. Lee was a military officer, pilot and spy (also the inspiration for James Bond), an author, musician, opera and heavy metal singer and actor. He figured that more than one field was interesting to him, and that he could dabble with various arenas to not just make money, but also to experience, and enjoy life.
Examples one and two both prove that mastery alone is not enough for someone who is a multipotentialite, ever. Even when we are trying to master something, we will be forced or guided to experience other fields in order to become a master. Both Shakespeare and Cruise are fine examples of being A1 in one's field, by experiencing more than required.
Self-Discovery And Sculpting
For the parents that might be reading this, the idea is not to send your children to a billion classes, but rather to incite your children's interest in variety. To learn for the enjoyment of it rather than to perform, to experience developing holistically. To learn how to cook, to clean, to engage with some form of art, some science, some literature, some maths, some nature-based activity, and engaging in other personal development skills, etc. To not have to be perfect, but rather have experience.
Picking a field and learning it inside out is good, and you will begin to have mastery, but having many skills under your belt means being able to experience life in different roles. To be a multipotentialite, to live the many facets of life, to experience the slow, the fast, the power-heavy, the soft, the risky, the clerical. One's personality is honed, refined and sculpted by these varied skills.
Engaging with many skills can help bring out one's true self, leading to a kind of self-discovery. Each field teaches us a different lesson and a different perspective of life. For many of us, our self is scattered beyond our careers. Some things we are good at, some make us happy, some sharpen our brains, some keep us fit, some make us money, some connect us to the divine or the higher powers.
Nilanjana Parijat is a depth-oriented, and holistic wellness psychologist, with extensive hands-on experience in working with children, adolescents and families. She currently works with Reboot Wellness, Gurugram.