What Is A College List?
Simply explained, the college list is a list of all colleges that a student sends applications to. Despite the seemingly simple explanation, this is a fairly crucial and complex step in undergraduate college applications. How to build your college list?The college list should incorporate student aspirations whilst also ensuring admits from certain universities. If the balance is not maintained whilst creating the list, a student might miss out on opportunities to apply to aspirational universities that they might have a shot at. Similarly, if the list is too aspirational and the admissions cycle turns out to be highly competitive for a particular student, a student might be in a situation where they have no admits at all. Hence, it becomes important to know what things to consider when making a college list, invest time in researching admission requirements for different universities and understanding the strength of one's application.
Why Do You Need A College List?
It could be argued that a student can apply to a wide range of universities, which naturally reduces the need to carefully curate a college list. However, this is not possible due to the following few reasons:-
Application Fees | In most popular study abroad destinations for Indian students (with the exception of the United Kingdom) each university charges a separate fee for undergraduate applications. Typically, this fee would range from Rs 5000 to Rs 15000 INR. The cost incurred for each application puts a financial limitation on the number of colleges that a student can apply to, and finances become an important metric for not just choosing a university to attend, but also for choosing a list of universities one can apply to. Lastly, at a point where no admit is guaranteed, incurring high expenditure for foreign university applications is an apprehension for Indian students and families, especially considering the high disparity in application costs between Indian and foreign universities. This is a reason why there are a lot of things to consider when making a college list.
Application Limitations | Most popular admissions portals have a limitation on the number of applications that a student can submit. Common App (the portal used by most US universities to receive and process undergraduate applications), for example, allows students to apply to only 20 universities. The most significant limitation in how to build your college list, however, is placed by UCAS (the admission portal for the United Kingdom), which only allows five applications per student. In a country which boasts of having the second highest number of universities in the QS Top 100, choosing only five universities to apply to is a tough decision- one which warrants thorough thought and research.
How To Create A College List
What are some of the things to consider when making a college list for yourself are:-
Thorough Research
How to create a college list? Students should carefully research what each university looks for whilst selecting undergraduate students. Often, these metrics are objective- such as requirements placed on securing a certain level of marks in the Class 12 examinations. These are fairly simple to understand, and require a deep dive into the 'Admissions Requirements' section on each university's website. It is also important to evaluate subjective admissions requirements, such as those placed by US universities. Here, students must carefully assess what universities look for in students by interacting with admissions counsellors, speaking to current students, and deep-diving into other implicit points on university websites and admissions' brochures.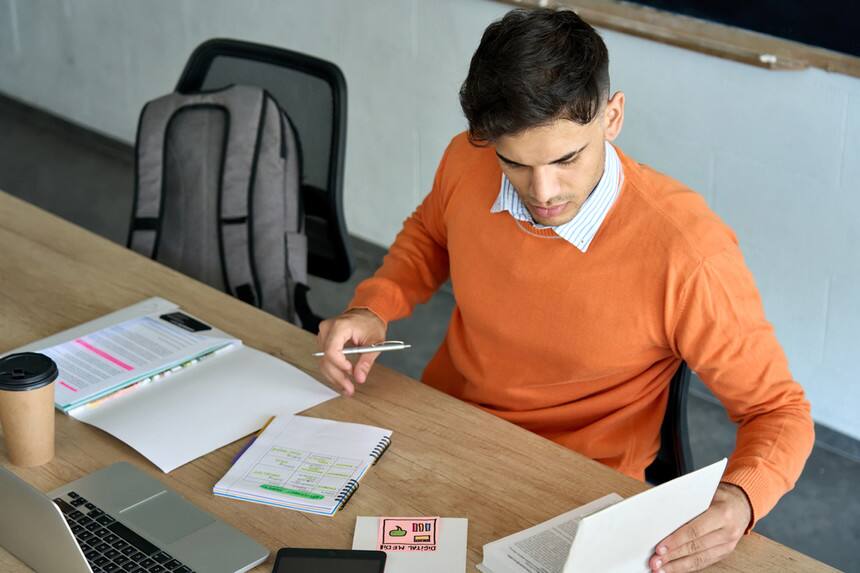 Students Should Carefully Research What Each University Looks For Whilst Selecting Undergraduate Students
Carefully Created Profile
The university admissions requirements should be contrasted with one's profile and eventual applications. How to build your college list? Students should check if they meet subject requirements and prerequisites for courses they are applying to in each university (Business and Science courses often require students to take up Standard Mathematics in Class 12). Then, historic academic performance and predicted scores should be contrasted with the minimum requirements for different universities.
For US universities (which never have minimum admissions requirements in terms of SAT scores), students should compare the median SAT scores with their own scores to get a sense of their own standings. IELTS/TOEFL requirements should also be researched and contrasted with actual scores obtained (or with scores in mock tests, if the test has not been taken yet). Lastly, students should assess their extracurricular activities and see how they match with courses across diverse universities and countries. Engineering and business aspirants, for example, should evaluate the depth of their practical experiences with these subjects whilst structuring the college list. This is another way on how to create a college list.
The Golden Ratio
To understand how to create a college list and how to research colleges abroad, colleges can be divided into three types:-
Dream/Aspirational Universities | These are universities whose admissions requirements slightly or fairly outmatch a student's profile. All Ivy League Universities, UC Berkeley, UCLA, Oxford University, Cambridge University, NUS, and NTU are considered to be dream universities, irrespective of the profile of the student. To secure admissions, students should not only have an excellent profile but also have that 'special something' that universities seek.
Reach Universities | Another way on how to build your college list is if admissions requirements for these universities match a student's profile. Students can be confident about securing admissions into at least half of the 'reach' universities they apply to, provided the research is done adequately.
Safe Universities | The student's profile typically exceeds the admissions requirements for these universities. Provided nothing crucial is missed, students can be fairly confident about securing places in these institutions.
How to research colleges abroad? Note that these classifications are student-specific, which is to say that a 'dream' university for one student can be a 'reach' university for another- it all depends on the profile (with some exceptions on extreme ends of the selectivity spectrum). Secondly, these are not rigid boxes but are gradients, and classifying universities into these brackets almost always requires some sort of a judgement call.
Now, the golden ratio for deciding your college list is 3:5:2. 30% of the universities that one is applying to can be in the 'dream' category, 50% of them must be in the 'reach' category, and 20% must be 'safety' options. Not only does this ensure a balance between aspiration and safety, but it also contributes to students receiving admits from multiple universities and having the power to choose the option that suits them the best as an individual.
Students should know how to research colleges abroad and strategically invest in college research, and identify universities that best fit into the 3:5:2 ratio!
Also read: Profile Building For US Admissions: Things You Should Know
Vijeeth Srinivas is a development consultant with more than extensive experience in the foreign education industry. With the Centre for Career Development and Essai Education he has helped hundreds of students secure positions in leading universities abroad. He is keen to make novel developments in education and skill development more accessible to students from diverse socioeconomic backgrounds.