Often, people are overly concerned about healthy and fit bodies. The youth, of course, are more aware and concerned about it, and hence they are more attentive to their eating habits, exercise, and body appearance. In all of this, losing fat is one of the major goals. Fat is the accumulated mass that makes an individual look bulkier. Two people with the same numbers on the weighing scale can look different depending on their fat and muscle mass percentages.
So, losing fat and gaining muscle mass are two different processes. People can often burn fat and lose weight easily, but the desire for a muscular physique is not fulfilled. Is it possible to achieve both of these at the same time? Well, as per researchers, it is possible, but it is one heck of a task. Let us first understand the concepts of fat loss and muscle mass.
Fat Loss versus Muscle Gain
People may often consider the two concepts to be one or interdependent, but they can conflict with one another. The mechanisms going on inside the body to achieve these goals are different. Fat loss primarily focuses on taking fewer calories than required (also known as a calorie deficit) to lose weight. On the contrary, gaining muscle mass requires a caloric surplus, as those extra calories can be used to repair and build muscles.
Energy is used in the functioning of our body and is supplied via calories. In a low-calorie supply, the body starts to use other resources of the body, primarily fats, to produce energy. While losing weight following a calorie deficit approach, fats are used for fueling the body, but one can also lose muscle mass as, unfortunately, proteins instead of fats can be utilised to produce energy. The breakdown of muscles will weaken the musculoskeletal system and lessen its overall strength.
Now the question arises, how can someone lose weight while gaining muscle? As science labels them as two different processes requiring two completely different approaches, let's learn about them in the next section.
Are Fat And Muscle Mass Metrics Really Important?
Any person aiming to lose weight often measures the fat percentage and muscle mass of their body. Finding these is not that worthy and can only serve to supply body details or track the before and after progress. A metabolically healthy thing is having more muscle mass and a low-fat percentage; therefore, we should be on a mission to gain muscle and shed the extra pounds, if any.
Importance Of Fat Loss
Fats are one of the macromolecules that cannot be synthesised in the body, and therefore, they must be taken via diet in small quantities. Bad cholesterol, along with fats in unacceptable quantities, can cause multiple problems as serious as stroke and heart disease.
Fat is the primary reason for obesity, as more fat accumulates than is used, thus raising the possibility of different diseases. The extra fat percentage also disrupts the body's proportions, making it bulkier and jamming different regions. Obese people often suffer from issues with accepting their bodies, less or no mobility, and psychological problems like depression. They also have a high chance of developing diseases. Therefore, one must be aware of their fat consumption.
Also check - Why Are LED Lights More Energy-Efficient and Sustainable?
How To Lose Fat And Gain Muscle At The Same Time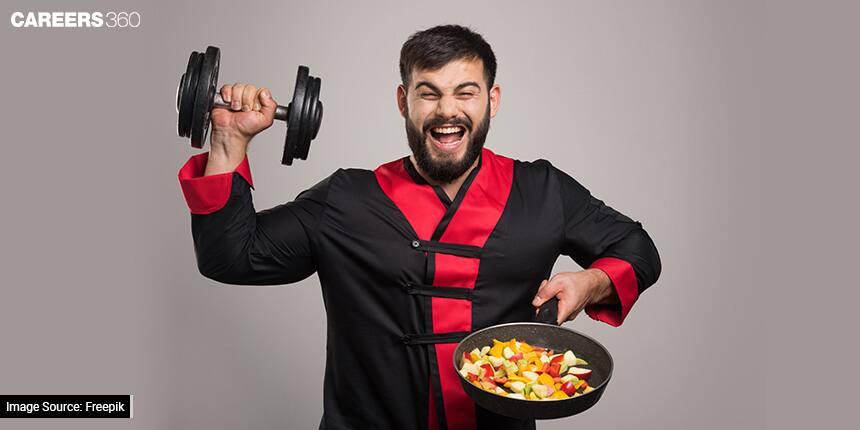 You are what you eat: As we read about the ill effects of excessive fat percentage, we must understand that consuming more fat will make us lethargic and obese and can cause diarrhoea, bloating, and even restless sleep. On the other hand, proteins involved in bodybuilding help repair tissues and build muscles. So, one must be mindful of their eating habits.
Increase protein intake: Since one may lose muscle mass in a calorie-deficit condition, people should increase their protein intake to around 40–60 grams per meal. This will ensure proteins are present in sufficient quantities, and hence, muscle mass gain will be smoother. These building blocks will add to muscle mass while reducing muscle breakdown during fasting periods. However, one must be careful to consume easily digestible proteins.
Long-Duration, Low-Intensity Exercise: An individual who wants to lose fat while gaining muscle mass can opt for 45-minute sessions of long-duration but low-intensity exercises. When these are done in a fasted state, they tend to use the fat reservoirs and thus help in effective fat loss. These can be performed three to four times, and consistent practices yield the desired results of a slimmer body with good muscles.
Progressive Resistance Exercise: Performing progressive resistance exercises involving pull, push, and hip hinge exercises twice a week helps in muscle building. They promote muscle gain because they involve major muscle groups and enhance their framing.
Fat is stored in the body as a reservoir of energy, but in small quantities. An excess amount of fat leads to weight gain that may end in obesity. Shedding pounds becomes an important measure as excess weight gain or obesity breeds many problems like cardiovascular diseases, depression, an inability to accept one's own body, and a few others. Running on a calorie-deficit diet helps effectively with weight loss as fats are used to produce energy.
However, one may also lose muscle mass because proteins are other sources that are broken down into amino acids for the production of energy. This can lead to abnormal or unacceptable muscle mass and fat percentages. Thinner muscles and slender body frames are usually observed if proteins instead of fats are used for the production of energy.
So, one must be attentive to fat loss and muscle mass gain, as they are both variably different concepts.
Also check - Biology Class 11: Why Teeth Matter And How To Fight Tooth Decay