For most teenagers and young adults, education and career are two essentially important facets of life. Good education most certainly helps one attain their objective of building a career in line with their aims and aspirations. The rising cost of education is an important aspect which needs to be kept in mind so that one can have a strategy in place, and financial resources do not become a constraint in achieving one's goals.
In India, it is often seen that parents save all through their lives for funding their children's education, so much so that it impacts their retirement savings and the quality of their lives. Therefore, it is fair that students evolve a comprehensive plan for funding their college education and their dreams are not adversely affected by a lack of funds.
However, before they work out a plan for raising resources for paying for their college education, students need to consider the following factors.
How To Choose A College
It is said that "Do what you love and you will never work another day in your life". Hence, while planning your higher education, you should:-
Carefully identify your interests, and shortlist institutes and courses accordingly.
Keep in mind what areas you are inherently good at, in other words, try and encash upon your natural strengths.
Take into consideration the fast-changing technological environment and the rate at which technology and skills are becoming obsolete, thereby affecting people's careers.
Seek Expert Support
In case, you are not sure of where your interests lie, there are many tools and tests available to correctly help you identify those. You may also seek the help of experienced and qualified career counsellors.
Differential Fee In Govt. And Private Colleges
It is a fact that college education in India costs significantly less in government institutions as compared to private ones because of it being subsidised by the government in the former. In many cases, government institutes/universities also have much higher standing, ranking, and brand recognition (both in India and abroad), some examples being AIIMS, IITs, IIMs, Delhi University, and so on. Therefore, there is intense competition to secure admission to such colleges and students must keep this into consideration while planning their college education.
What Costs Are Involved
Besides the course fee and other direct expenses, one needs to take into account living expenses (if staying away from home), communication and commuting expenses, and the likes of them, so as to get a fair idea of the total expenditure involved.
If one is planning to study abroad, they must also take into account the likely depreciation of currency over the period of study, because this can be a major reason for an increase in expenses during such a period. A reasonable amount should be considered for contingent expenditure as well.
The earnings' potential, lead time before one starts earning, and costs involved are also important factors, which should be kept in view before taking a final call about choosing a college and course.
Know The Available Resources
Students must gather information about all the resources that they would have at their disposal without having their parents go through financial strain. For e.g., Parents often earmark some funds for the education of their wards; grandparents or close relatives gift funds, and so on.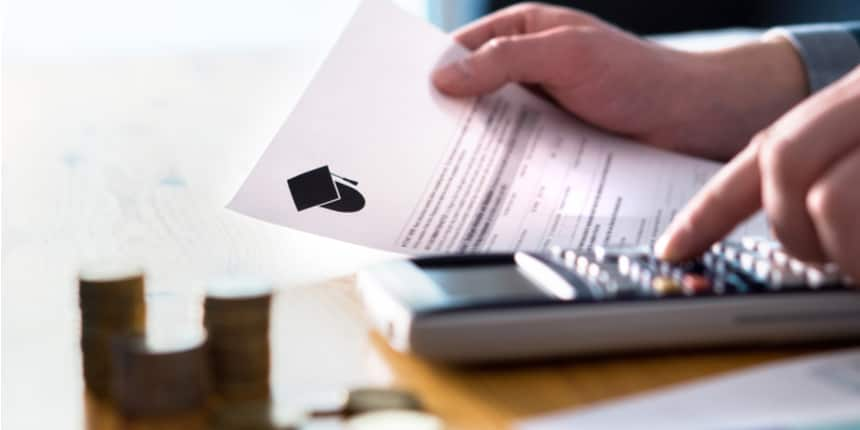 Leave No Stone Unturned When Looking For Resources
Also Read | Financial Planning For Your Child: How To Budget For School, Tuition Fees, Education Loans, Internships
Gaps In Funding
This represents the difference in the total cost of education and the resources available. Students must evaluate such possible gaps before they take a call on the course and/or college they want to study.
Options For Raising Funds
Students may ponder upon the following options to pay for their own college education. These options are not mutually exclusive and can be considered by students from all walks of life, even if they/their families can easily meet the cost and other expenses involved in pursuing higher education.
Scholarships
Following are, broadly, the types of scholarships that students may explore.
Merit-based scholarships offered by universities/institutions.
Merit-cum- means scholarships offered by universities/institutions.
The above scholarships may be offered directly by institutions, or by them in association with top industrial houses such as Oxford and Cambridge Society of India Scholarships, Tata Scholarships-Cornell University, Chevening University, India4EU-II Scholarships, etc.
Scholarships based on students' social/economic conditions; special abilities; extraordinary achievements in the field of sports/arts/music etc.
Scholarship programs of the government, such as NTSE, KVPY, AcSIR Dr.Abdul Kalam Summer Training Program, DRDO Scholarship Scheme For Girls, merit-cum-means based scholarship by Ministry of Minority Affairs, Govt. of India, etc.
Scholarships offered by various trusts and industrial houses of repute, such as Aditya Birla Scholarships, Bharti Infratel Scholarship Program, The J N Tata Endowment Loan Scholarships, and so on. (These are only indicative in nature and there are many more opportunities available, which students can identify after simple, but dedicated research).
Scholarships by top coaching institutes, which prepare students for admission to top medical/engineering institutions. The amount of such scholarships often depends upon the rank obtained by the student in the entrance exams. These scholarships usually provide for the entire duration of undergraduate degree programs.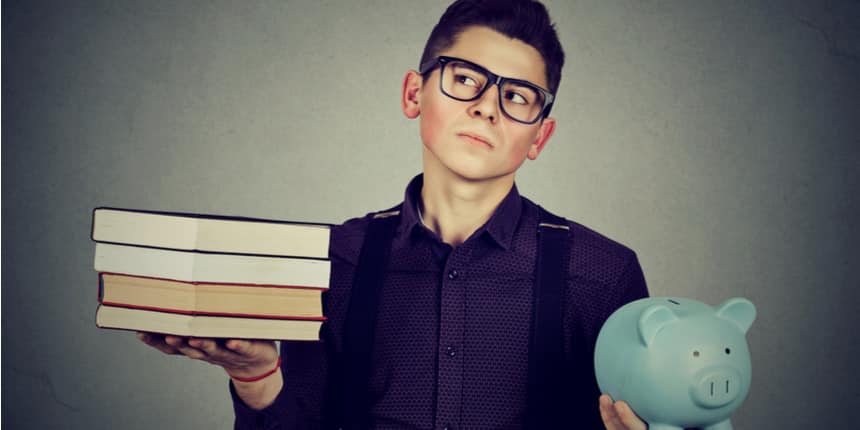 Scholarships Help Ease The Financial Burden Greatly
The scholarships available are the nature of grants/fee waivers/interest-free loans. They are also subject to keeping up to the achievement parameters on a continuing basis.
Also Read | Scholarships From Class 11 Till Post Graduation Onwards
Tips To Avail Scholarships
Since scholarships are an important source of funding your own college education, we will now spend some time to know about some tips to avail scholarships.
Match Your Strengths To Scholarships
To earn a scholarship, you need to match the requirements for the grant of scholarship with your strengths and traits. There are tools available online that help you find this match. Scholarships are available in a varied number of fields, based on a large pool of parameters such as nationality, academic performance, achievements in sports, music, arts, financial standing, sex/gender, extra-curricular activities, leadership qualities etc.
Have A Master Folder Ready
Keeping all information and documents in one place will reduce the time required to apply for scholarships. A master folder for this purpose may have all personal information (name, address, photograph, contact details, name of the school, information and contact details of parents, passport details etc.); academic details and transcripts/marksheets; credentials on the basis of which scholarships are intended to be applied; tax returns of parents; KYC documents; master CV; and master essay (written by the student himself); and a couple of recommendation letters from your teachers or other credible referees. The CV and essay will need to be customised for each application, in order for it to highlight how the candidate is the right fit.
Write An Impactful Essay
The essay should reflect what the candidate is all about, his accomplishments, interests, aspirations and how he intends to work towards achieving his goals, how the scholarship will help him achieve the same, how his goals match with the objectives of the grant of scholarship, and why the applicant is the best person for scholarship. This is the most important part of applying for the scholarship and students must spend sufficient time to fine-tune and polish the essay before submission.
Care For The Timelines
Make a calendar for applying for various scholarships and follow the timelines given. While one should not unduly hurry to apply for a scholarship so that finer details are not missed out in an application, it is also important not to wait until the last minute to submit an application. Track your application once you submit it, to check for timelines for interaction/interview, etc.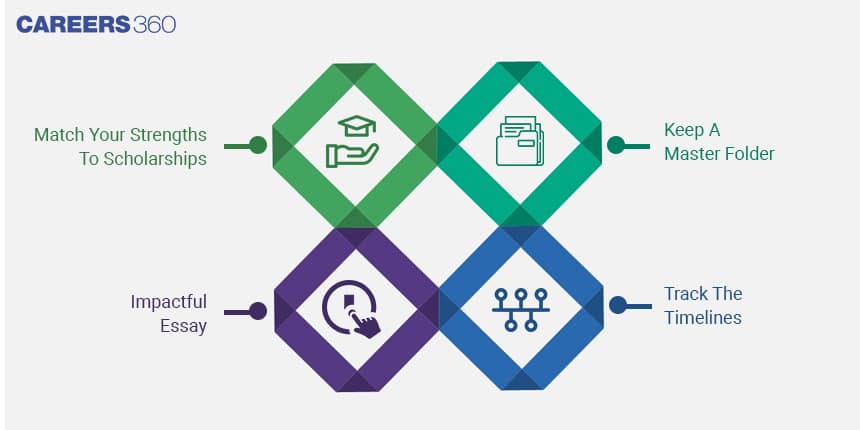 Follow These Tips To Avail The Right Scholarships
Loans
Education loans from banks are an important means of generating resources for college education. These loans come with reasonable rates of interest, are repayable over a long period, and the icing on the cake is that interest can be paid after one completes their college education. Many a time, an admission letter from a good university along with collateral security (generally in the form of a surety/guarantee by parents) is sufficient for raising a loan from a bank. The loan repayment also helps lower the income tax burden after one is employed, because interest on education loan is allowed as a deduction from one's income.
Availing the loan and repaying it often brings the students a lot of self-esteem because of the feeling of having taken the onus of their own college education.
Also Read | It Is Good To Go For An Education Loan For Your Child. Here's Why
Crowdsourcing Loan From Parents Or Family Friends
It is an important source for raising funds for college education, this inspires confidence in both the students and their parents, because the latter can be sure that their kids would repay the loan once they complete their higher studies.
Internships/Part-Time Jobs/Freelancing
Internships are not only a great way to gain work experience and learn the tacts of the industry, but stipends earned through interning can be a huge help to students who want to pay for their own college education. Moreover, internships also increase the student's chances of securing permanent employment with the company they are interning with.
Apart from that, students may work part-time/freelance to earn some money. Options could be working in various events/exhibitions, assisting professors or research scholars in the fields of their interest, commerce students can work part-time with practicing chartered accountants/company secretaries, those knowing foreign/other regional language(s) can work as translators. One may also take up online assignments like tutoring, digital marketing, etc., there being as many opportunities as fish in the sea.
Employer Reimbursement Programmes
This is a fast-emerging trend in India, though such programs have been available in developing countries for quite some time now. These programs are customised to meet the technical and specialised skillset requirements of future employers, and students are selected based on their aptitude for such courses and jobs. Students are not only provided education (and a degree/diploma from a reputed institute) at a subsidised cost, but they are also assured of a job immediately after completion of the course.
Savings/Small Investments
Students can start savings from their pocket money and begin building a corpus by investing. Nowadays, one can start investing an amount as small as Rs 100 onwards per month, in systematic investment plans of mutual funds.
Last but not the least, students need to enjoy their journey to financial freedom as much as their school and college life. This will go a long way in helping them have a stress-free college life, and also feel fulfilled as individuals.
Also Read | Learning To Manage Your Money: Basics Of Financial Planning
Pramod Nagpal is Chartered Accountant by training, (Retd.) Managing Director, Central Cottage Industries Corporation Of India Ltd. (A Govt. Of India undertaking, under Ministry Of Textiles). He holds close to four decades of experience in the areas of finance and commerce. Pramod has a keen interest in the field of education, and guiding students on harnessing available opportunities to achieve their goals.