Is it possible to write the Joint Entrance Examination (JEE) Main and clear it without spending anything on coaching?
The JEE Main is the main national-level exam for admission to Engineering and also one of the toughest. Over 10 lakh candidates wrote it last year. Because it serves as the preliminary screening test for the JEE Advanced through which students are admitted in the premier Indian Institutes of Technology (IIT), competition is intense.
A large section of candidates writing the JEE Main prepare for years and this has spawned an entire industry of coaching centres and institutes that charge to get them ready for the exam. Students often go to great lengths for coaching – many shift to hubs like Kota in Rajasthan. The best-known coaching classes can charge as much as Rs 1 lakh to Rs 1.5 lakh per year.
However, this is not the only way to crack the JEE Main. It is entirely possible to use free resources online and prepare independently with some careful planning and diligence. Here's how.
JEE Main Prep: The Phases
When students begin their JEE preparation, then they must pass through a series of phases to do well in the examinations. They will go through these phases: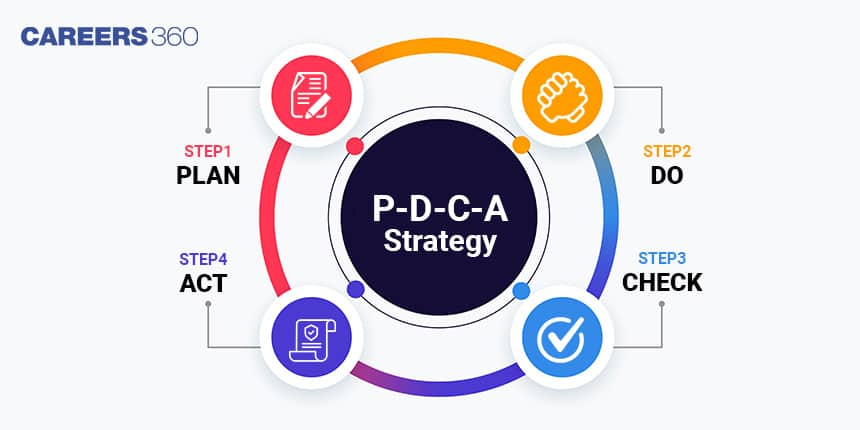 Phases of JEE Main Prep
Plan: Target, Time-Table, Study Material
Planning includes the following steps:
Set your target
Prepare your time-table
Assemble proper study material
The JEE Main is not the kind of examination for which you can wait till the last moment to open your books and still end up scoring good marks. So, one should organise the best routine to complete the syllabus on time. The time-table or routine may vary from person to person but every candidate should have one. You can seek the help of some institutes – they can help the student understand the syllabus and the effort that will be required to complete the exam. Careers360, too, assists with time-table creation. To access that, go to Time-table/Careers360, register free-of-cost. You'll find the time-table according to the exam you selected during registration.
Also Read,
Do: Tackle The JEE Main Syllabus
This is the "study" part. Once you have a time-table in place, start following it and stick to it. Start by checking the best lectures available – check for quality and understandability, make sure the language is comfortable before starting the full module. Refer to standard, error-free books for reference. Making notes is absolutely vital. The JEE Main syllabus is vast and it is not possible to revise it fully every time. This is why notes that you make yourself are crucial – they allow for speedy revision. After completing any chapter, practice questions from sources available. Make sure that the resources are error-free and have a wide variety of questions. This will both expand your ability to think laterally, tackle a wide variety of questions and build your confidence.
Given below is a list of free resources offering free lectures, assistance with note-making, practising questions from the JEE syllabus for Physics, Chemistry and Mathematics.
JEE Main Physics
Video Lectures
Physics Galaxy: Physics Galaxy's Ashish Arora is one of the best-known online. His JEE Physics study material is available on YouTube and on his website. Concepts of Physics are explained well enough that if your concepts are not entirely clear, the material will help and you can do well. Video lectures are in English. To access the video lectures, click on the link given below and select a chapter.
Website: Physics-galaxy/Lectures
Chapter-wise Concepts Notes
Pradeep Kshetrapal : Pradeep Kshetrapal is famous for teaching Physics in a very unique and simple way. His chapter-wise notes are organised in a very systematic manner and are available on his website. To access them, go to the website and select the chapter.
Website: Physics-Pradeep/Notes
Reference Book
NCERT: The NCERT Online Textbooks Section contains all chapters of Physics for Classes 11 and 12 published by the National Council of Educational Research and Training in Hindi, English and Urdu. You can access specific chapters by selecting a class first, then a subject, and finally a book title.
Access: NCERT/Reference-book
Practice Questions
Doubtnut: Video solutions are available for free on this platform for textbooks such as NCERT, DC Pandey, HC Verma, Errorless and many more.To access the questions and solutions for particular books click on the following links and select chapter.
JEE Main Chemistry
Video Lectures
Mohit Tyagi: His Youtube channel has great bilingual content for JEE Chemistry, in Hindi and English. To access video lectures go to the following links and select the videos:
Reference Book
NCERT: Once again, the NCERT Class 11 and Class 12 Chemistry are the most reliable textbooks for Chemistry. From the official website, select the class, then subject, book-title and chapter.
Website: NCERT/Reference-books.
Chapter-wise Notes
Study Guide 360: Its chapter-wise notes on Chemistry are rich in content and very useful for JEE aspirants. To access the chapter-wise notes go to the following links and from there, select the chapter you need notes for:
Practice Questions
Doubtnut: Video solutions are available for free for books including NCERT, P Bahadur, Narendra Awasthi and MS Chauhan. To access the questions and solutions, pick the book from the list below and then select the relevant chapter:
JEE Main Mathematics
Video Lecture
Mohit Tyagi: On this YouTube channel, video lectures on the complete syllabus of IIT-JEE Mathematics are available for free. The lectures are well organised and cover both the basics and more advanced concepts.
Website: Mohit Tyagi Youtube Channel
For your convenience, here's a list of all the major playlists relevant for JEE preparation:
Reference Book
NCERT: The NCERT Online Textbooks Section contains all chapters Class 11 Maths and Class 12 Maths published by NCERT. To access specific chapters, select class, subject, book title and then the chapter.
Website: NCERT books
Chapterwise Notes
Mathskart By BPS Chauhan: BPS Chauhan's YouTube channel contains detailed theory modules, solved problems for practice and previous year questions of JEE in PDF form. Links to download these pdfs are available in the description of the first part of any chapter. Given below are the chapters playlist by class:
Practice Questions
Embibe: The website contains a large question bank and solutions which are arranged by chapter. The questions available range from elementary level upto JEE Main standards. Furthermore, you can attempt chapter-wise tests for each subject as well as complete a JEE Main mock-test. Register with your mobile number, select your preparation stream as "JEE", go to the practice test section, select "Maths" in the subject list to practise multiple-choice questions (MCQs).
Website: embibe.com
Doubtnut: Video solutions are available for highly-regarded Maths textbooks such as NCERT, RD Sharma, Cengage and KC Sinha. Before you access the solution, try to solve the question yourself first. The links are given below:
CHECK: JEE Main Mock-tests And More
Now, after completing the syllabus or a chapter and practising the questions in the study material, it's time to test yourself. You should know the nature, level of difficulty and exam pattern. Solving JEE Main mock-tests will give you new questions to deal with and also expose you to the exam environment. They prepare you to face the JEE in real time, reveal your weak points and help you strategize.
JEE Main Question papers
Careers360 contains JEE Main question papers for over 18 years – from when JEE was still called All India Engineering Entrance Examination (AlEEE) – arranged in a way that's easy to use. To access, register at learn.careers360.com for free.
JEE Main Mock-Tests
NTA Test Abhyas APP: The National Testing Agency's National Test Abhyas application is designed to give students exposure to Computer Based Tests (CBT) it conducts. The app can give you an experience of Computer-Based Mock Tests for JEE on your mobile or tablet.
The app is available on the Google Play store here.
ACT: Clear Doubts, Fix The Weak Points
Once you have covered a section of the syllabus, solved some questions and attempted a few mock-tests, it is time to act on the gaps and weak points. Now you know which parts of the syllabus you must focus on more, where you tend to make the most mistakes on mock-tests and where there are still doubts and confusion.
It is time to revise those parts of the syllabus, analyse all the weak areas and work on them. If you are unable to get your doubts cleared studying on your own, find an expert for those specific issues. For a start, you can use the Doubtnut. Just scan a question with the Doubtnut app and you will likely get your answer in a video solution.
Website: doubtnut.com