Can you crack one of the most intensely competitive entrance exams in the country without spending lakhs of rupees on coaching? Absolutely. A host of online resources – lectures, practice tests, doubt-clearing tools – have made possible a DIY preparation plan for the notoriously competitive National Eligibility cum Entrance Test (NEET) for admission to medicine.
As a profession, medicine is as popular as it is difficult to get into. Over 15 lakh candidates wrote the last round of NEET, conducted by the National Testing Agency (NTA) and the single entrance exam for MBBS and BDS admissions in the country. They competed for roughly 83,000 seats.
Considering how competitive the NEET UG is, preparation for it has spawned an industry of its own. Students spend lakhs of rupees, even move states for years to prepare for the test in hubs like Kota in Rajasthan.
Coaching alone costs between Rs 1 lakh and Rs 1.5 lakh per annum but it is also possible to do it for free and sitting at home. With careful planning and the right free resources, you have a decent shot at the NEET. Given below is a detailed list of the most reliable free resources available online. Each recommendation has already been carefully vetted for accuracy, clarity and general quality.
NTA NEET Preparation: The Phases
First, decide on a path. The ideal way to channelise preparation for NEET is through the following phases.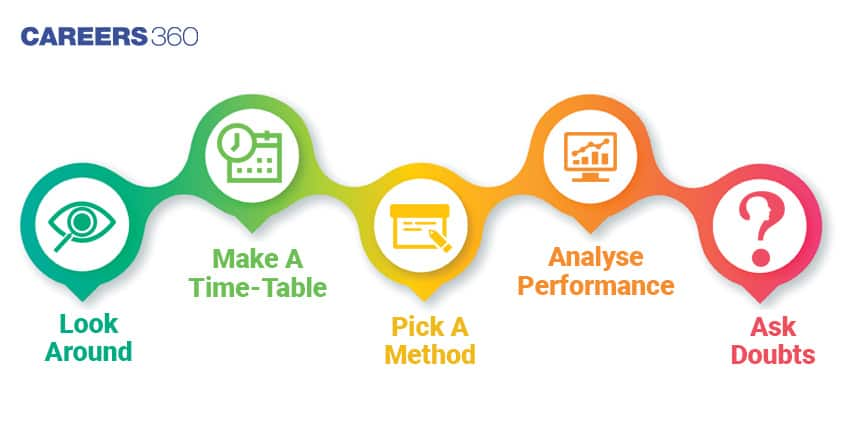 NEET Preparation Phases
Look Around: NEET Syllabus, Exam Details
First, learn all you can about the exam itself. Knowing what's in the NEET syllabus early will give you a headstart and this is publicly available. The NEET syllabus and NEET exam pattern are typically in the exam bulletin posted on the NTA official website, neet.nta.nic.in and on the website of the National Medical Commission (NMC), nmc.org.in/neet/neet-ug.
Make A Time-Table: Plan For NEET
Framing a timetable needs planning. That, in turn, involves setting your target and assembling the right study material. Last-minute study won't cut it and so, you need to organise the most suitable routine to complete the NEET syllabus on time. While the time-table must suit your specific needs, you can take the assistance of well-known institutes as well to get an overview of the syllabus and required effort.
To create a timetable, you can go to Careers360, register at learn.careers360.com for free which will take you to the study dashboard. Once there, set a time-table based on the exam date selected. You will need your login ID and password to make any adjustments to the timetable in the future.
Pick A Method: You Need A Prep Strategy
It is necessary to devise a study strategy which should include decisions on whether to watch video lectures or study concept notes, the books to consult, and how to answer practice questions. If you choose video lectures, first determine which lectures are available. Before committing to a series, assess the lectures for depth, quality, language – they should help you understand concepts comfortably.
Also Read,
Because the syllabus for NEET is enormous and going over it multiple times is not possible, making personal notes is critical. Furthermore, pick NEET reference books that are reputed to be standard and error-free. You must practise questions after every chapter of the study material so, it would help to make sure the resources used for this are free of errors and provide a variety of questions that will boost confidence and help improve critical thinking skills.
NEETPrep: Free Resources
The internet and even the local bookstores and libraries will offer a wide range of options for those studying for NEET. However, they are not all equally trustworthy nor all of good quality. Given below is a carefully-curated list of resources, organised by subject, that are free but of high quality.
Biology
Video Lectures
Neela Bakore Tutorials: Dr. Neela Bakore is a Biology teacher with over 15 years of experience. She trains students of Class 11 and Class 12 for the Central Board of Secondary Education (CBSE) exams as well as NEET. Her YouTube channel contains her video lectures in English which can be viewed for free.
YouTube:Neela Bakore Tutorials/Lectures
Website: Neela Bakore Tutorials
Concept Notes
Study Guide 360: This web resource provides students studying for the CBSE or other entrance exams with high-quality concept notes, test papers and other study material. At this point, they offer study materials, book solutions, notes, example papers, and much more for free.
Website: StudyGuide360/Concept Notes
Question Bank
eSaral App: You can find this application in the Google Playstore. You need to download it and register with your verified mobile number before opening the NEET complete course to practice questions topic-wise or chapter-wise. The answer key with the correct solutions is also available in a separate PDF file. There is also a section with NEET previous years question papers divided into chapters, as well as the relevant solutions.
App: eSaral
Chemistry
Video Lectures
Mohit Tyagi: Mohit Tyagi's YouTube channel has great content for NEET Chemistry in the form of videos. To access the NEET Physical Chemistry and Inorganic Chemistry video lectures, go to the lists at the links below and select the chapter you need. Videos are in English and Hindi.
Concept Notes
Study Guide 360: Its Chemistry chapterwise notes are rich in content and very useful for NEET aspirants. To access the Chemistry chapterwise notes, go to the lists for the relevant class and then select the chapter.
Question Bank
Doubtnut: At the Doubtnut website and app, video solutions are available for free for textbooks such as NCERT Chemistry, P Bahadur, Himanshu Pandey and more. P Bahadur is very important for Physical Chemistry and the National Council of Educational Research and Training's (NCERT) books are very important for Inorganic Chemistry. In the chapter links, you will see all questions with answers from the book. To watch the videos of solutions click on the "watch video solution". Then you can watch the corresponding video solution in the Doubtnut app. To access solutions for each, go to the link for the book from the list below and then pick the chapter you need. The Himanshu Pandey solutions can be downloaded as PDF embedded with video links.
Physics
Video Lecture
Physics Wallah: Physics Wallah, also known as Alakh Pandey, is one of the best-known YouTubers in India. His JEE Physics study material is available on YouTube and his website, he is known for his unique and simple way of teaching. Video lectures are available in Hindi and English.
Website: Physicswallah.live
Concept Notes
Physics Wallah: Each video lecture is accompanied by concepts notes. To access, click on the link given below, pick a chapter and go for chapter-wise notes.
Website: Physicswallah.live
Question Bank
Physics Wallah : Questions are available in the form of assignments with each chapter. Website: Physicswallah.live
Doubtnut: Video solutions are available for free for many books. To access, click on the link for a book from the list below and then select the chapter.
Textbooks, Reference Books
Besides providing detailed explanations of every concept, reference books also enable students to deepen their understanding and expand their knowledge. Furthermore, reference books also get students ready by providing a large variety of questions.
Free books PDF are available for NCERT Class 11 and Class 12 and NCERT Exemplar Classes 11 and 12
Analyse Performance: Can You Face NEET?
Once you have covered the syllabus, practised many questions, it's time to put your knowledge to the test. This can be accomplished in two ways: first, with chapter-by-chapter tests and then, full-fledged NEET mock-tests. The last is critical for getting used to the way the test will be conducted, simulating the exam atmosphere, and the level of difficulty of the exam. This will prepare students to face NEET in real life. This is also where you may encounter fresh subject-related doubts and discover weak points. There are several free resources available to help you analyse your performance.
NTA National Test Abhyas App: This was developed by NTA itself to help NEET applicants practise. It is available on Google Play Store and once downloaded, can be accessed with a verified mobile number. You will get both chapter-based and full NEET mock-tests.
Careers360: Create a demo account and access the previous 12 years' question papers with the solutions for free. You must remember your login id and password for future use.
Website: learn.careers360.com
Ask Doubts: Clarity Of Concepts
This is often considered the last step and involves getting all your doubts clarified and revising two or three times. This is where you address the confusion you had while studying, the doubts that cropped up during writing a practice test and the silly mistakes and weak points you discovered when your mock-test result came. First, revise or study the part of the syllabus about which they have doubts. If another round of reading doesn't fix the problem, seek help from an expert.
Getting your doubts clarified will not only boost your confidence but also widen your understanding of the subject. Revision also helps you master the vast NEET exam syllabus and allows you to solve questions quickly.
Doubtnut: This is the best resource for solving doubts as it gives you video solutions to your questions. Simply scan a question with the Doubtnut app, and you are likely to receive an answer in the form of a video solution.