With a yearly growth in salary packages offered to candidates in placement programmes, Indian Institute Of Management (IIM), Indore now has an average salary package standing at Rs 25.01 lakhs for the batch of 2020-22. The top 100 students managed to achieve an average salary package of Rs 37.95 lakhs while the average for the top 200 stood at Rs 32.75 lakhs.
IIM Indore is one of the first generations of IIMs and is also among the top 10 management institutes in India. In 2022, IIM Indore had the largest MBA batch across all IIMs, with 572 students. Analysis of data obtained through provisions in the Right to Information Act (RTI) shows that IIM Indore obtained a placement rate of 100 per cent in 2021.
Careers360 collected the data from RTI as well as the institute's website to see the changes in the placement programme of IIM Indore over the years.
From 2018 to 2021, on an average about 42 per cent of candidates at IIM Indore came from reputed colleges in India. Colleges such as Indian Institutes of Technology (IITs), National Institutes of Technology (NITs), Birla Institute of Technology and Science (BITS), etc. But this percentage went down to 23 per cent in 2022.
Gender Ratio: Over The Years
In IIM Indore, the male-to-female ratio stood around 60:40 from 2018 to 2021. Even when the total number of seats did not see any major changes in 2022, the percentage of female candidates decreased by eight per cent.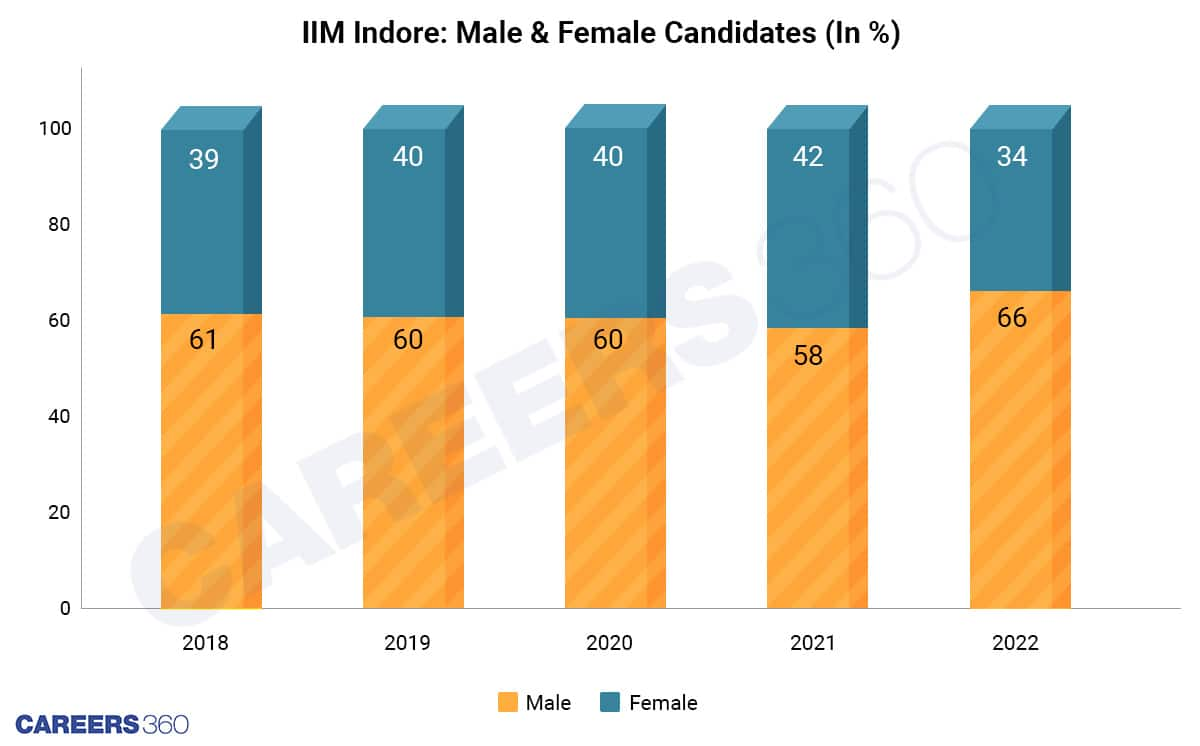 Gender Ratio At IIM Indore
Also Read | IIM Bangalore Placement 2020-21 Report: Salary, Recruiters
IIM Indore Placement: Salary Details
The number of pre-placement offers has decreased from 147 offers in 2018 to 128 in 2021.
Through the RTI, it was noted that in 2021 all the students of IIM Indore were placed. The average and median salary have been increasing over the years, while the highest salary package fluctuated with the highest in 2019, with Rs 89.25 lakhs.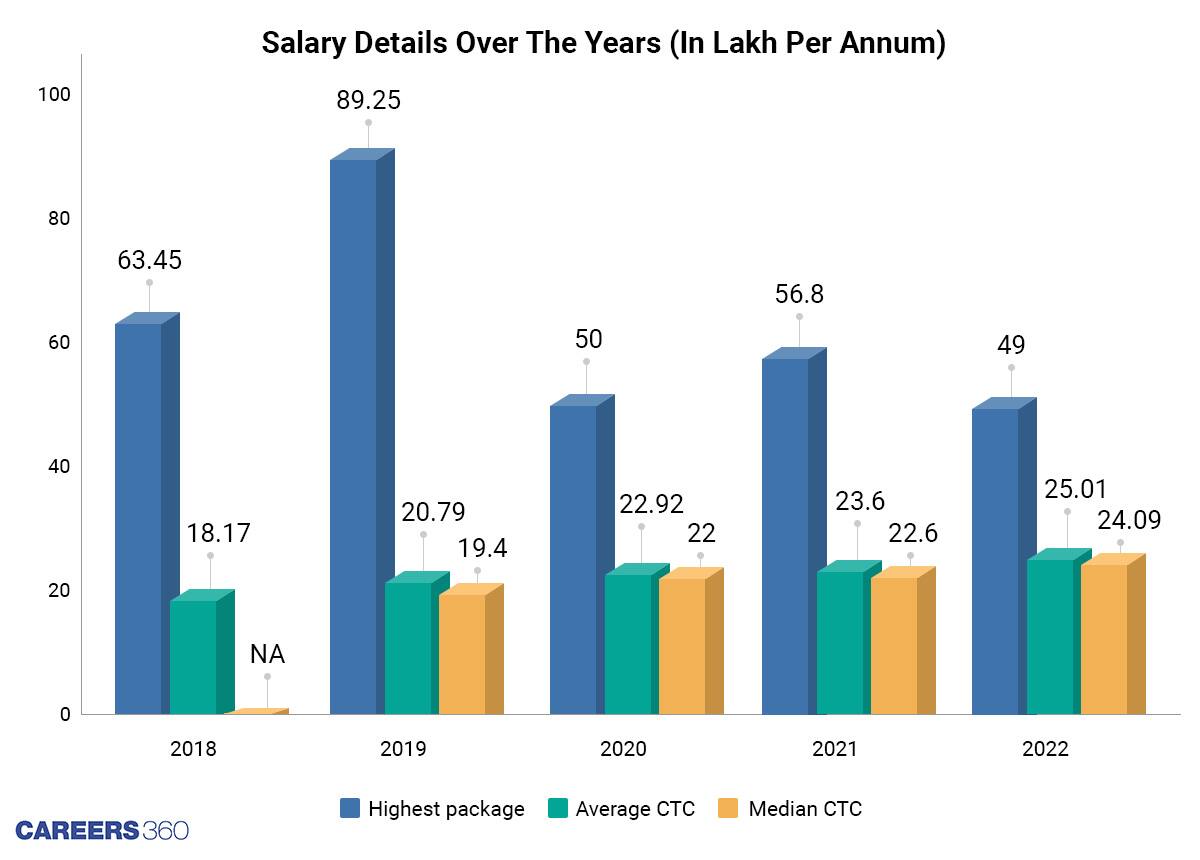 CTC Details Over the Years (In Lakh Per Annum)
Also Read | Can I Do An MBA After Class 12?
Recruiters At IIM Indore
Every year, since 2018, over 200 companies visit IIM Indore for placement programmes, except for 2020 when the number of companies went down to 160, probably an effect of the COVID-19 pandemic.
In 2022 placement program of IIM Indore, maximum job offers were from the Consulting domain with 31 per cent of the total placements, followed by Finance with 20 per cent, 18 per cent in the Sales and Marketing domain, 16 per cent in General Management, Operations and others and the least from IT and Analytics, 15 per cent.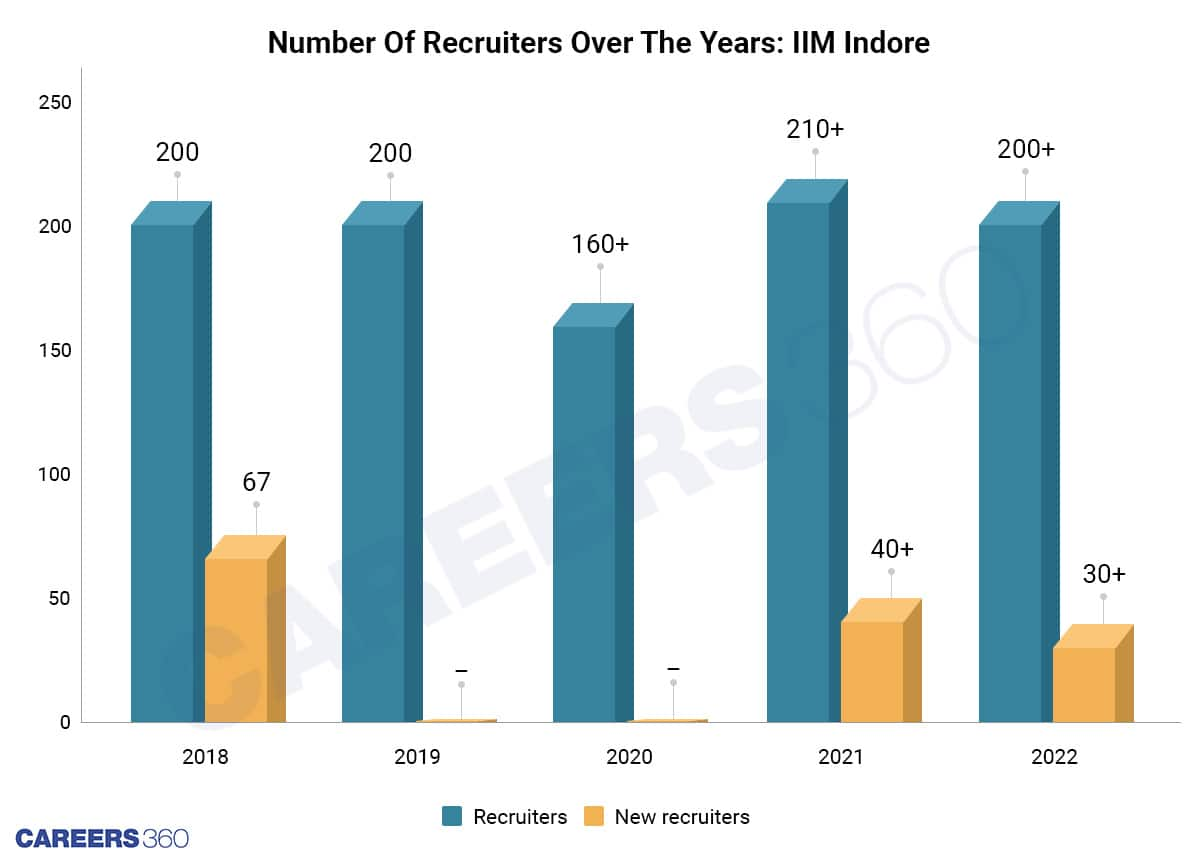 Number Of Companies Visited For Campus Placement
Recruiters from various domains visited IIM Indore for hiring the graduates through the campus placement drive in 2022. Some of the reputed recruiters of 2022 are : Amazon, Goldman Sachs, Cipla, Infosys, TATA Steel, Wipro, Samsung, WhirlPool, TVS, Mahindra, Kotak, DE Shaw & Co., Accenture and others.
Also Read | IIM Sirmaur Placement 2022 Report: Salary And Recruiters
Candidates With Work Experience: IIM Indore
Every year IIM Indore sees more than 50 per cent of its candidates with work experience, which means fresher students are lesser in number. In 2021, the second year of the pandemic, the institute admitted 53 per cent of candidates with work experience.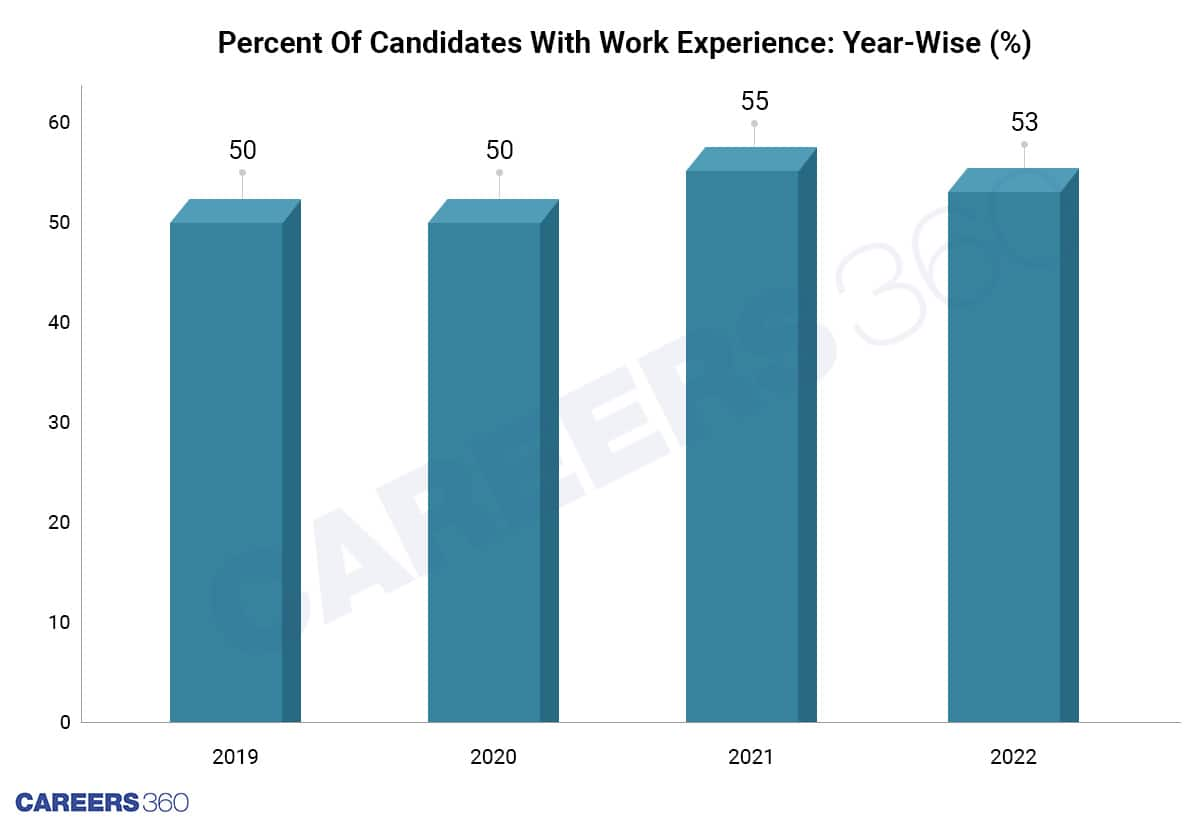 Number Of Candidates having Work Experience (In %)
Duration of Work Experience
In IIM Indore, among candidates with prior work experience, 47 per cent of the students had a work experience of around one to two years. Every year since 2018, most of the students belonged to the same bracket of work experience.
Over the last five years, the average duration of work experience in IIM Indore was almost about 22 months.