The eighth Indian Institute of Management of India, IIM Raipur has 41 per cent female candidates. While the percentage of female candidates in IIM Raipur had been decreasing since 2018, however, in 2022 IIM Raipur showed a sharp jump of 26 per cent points.
Ever since the National Institutional Ranking Framework ranking started in 2016, IIM Raipur, established in 2010, has been among the top 25 management institutes of India and in 2021 it holds the fifteenth position.
Careers360 looked into the placement performance of IIM Raipur over the last five years. The article includes the student's educational background, gender diversity, student's performance in campus placement, salary packages received, recruiters along with other information.
Educational Background
On an average, more than 75 per cent of enrolled students of IIM Raipur hold an engineering degree, followed by commerce or accounting sector students occupying 11 per cent of the seats.
In 2022, the average age of students of IIM Raipur was 24 years with an average work experience of 20 months. But since 2019, most students(percentage wise) of IIM Raipur had a work experience in the range of 0 to 11 months.
Also Read | IIM Indore Placement Report: Salary And Recruiters
IIM Raipur: Gender Diversity
In 2018 the male-female ratio of IIM Raipur students was above 2, it kept increasing till 2021 and reached 5.7. But in 2022 the female candidates increased exponentially and changed the ratio to 1.4.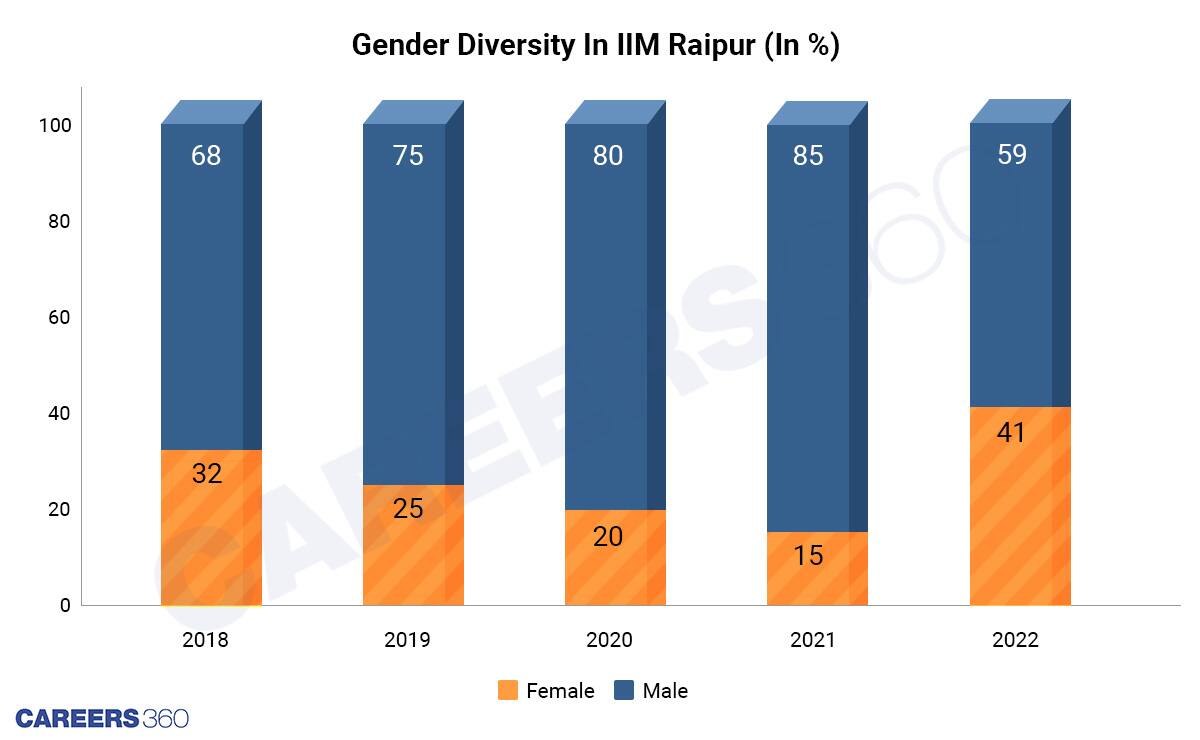 Gender Diversity
Students Performance In Campus Placement
From 2019 till 2022, 100 per cent of IIM Raipur students who registered for the placement programme got a job.
In 2022, the number of offers made on campus was 275, which means many students of IIM Raipur got more than one offer from different recruiters.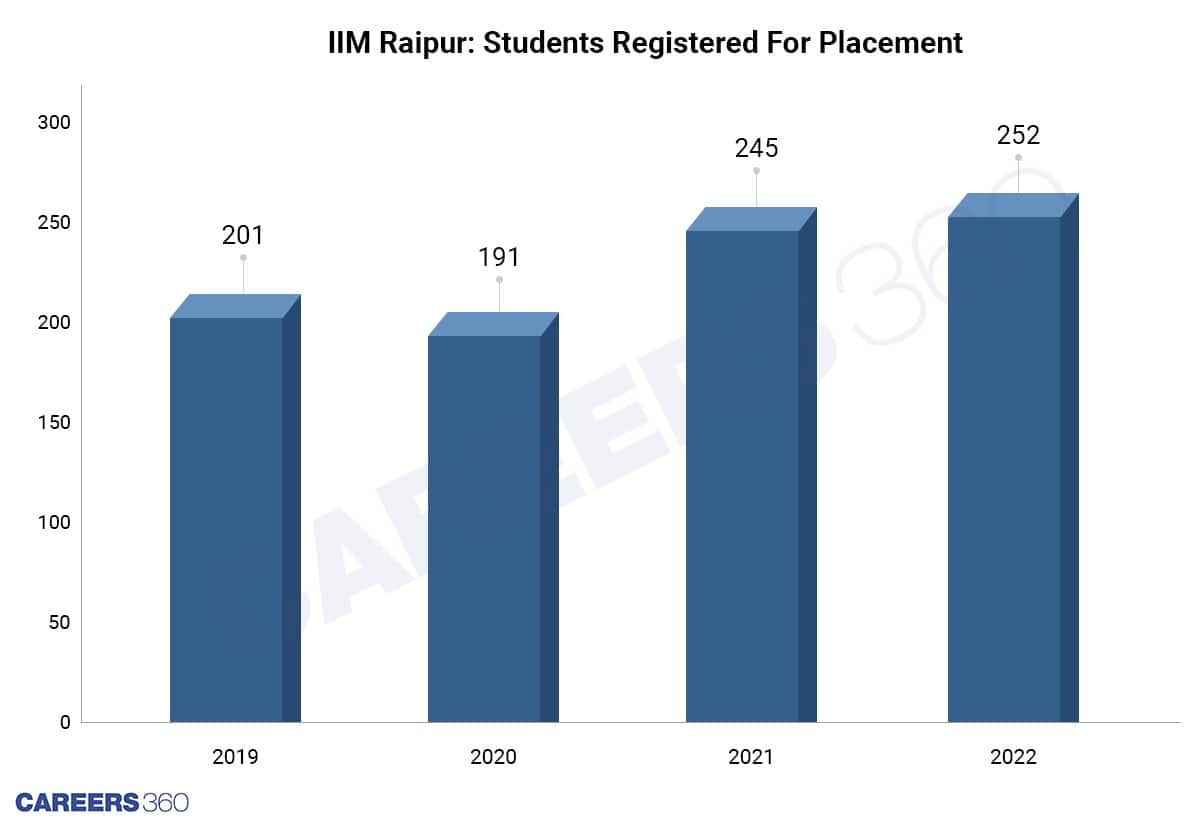 Registered students for placements
Also Read | IIM Sirmaur Placement 2022 Report: Salary And Recruiters
IIM Raipur: Salary Detail
For the 2022 campus placement in IIM Raipur, half of its students received annual salary package crossing Rs 21 lakh. While the top 25 percentage of the students had a salary above Rs 24 lakh.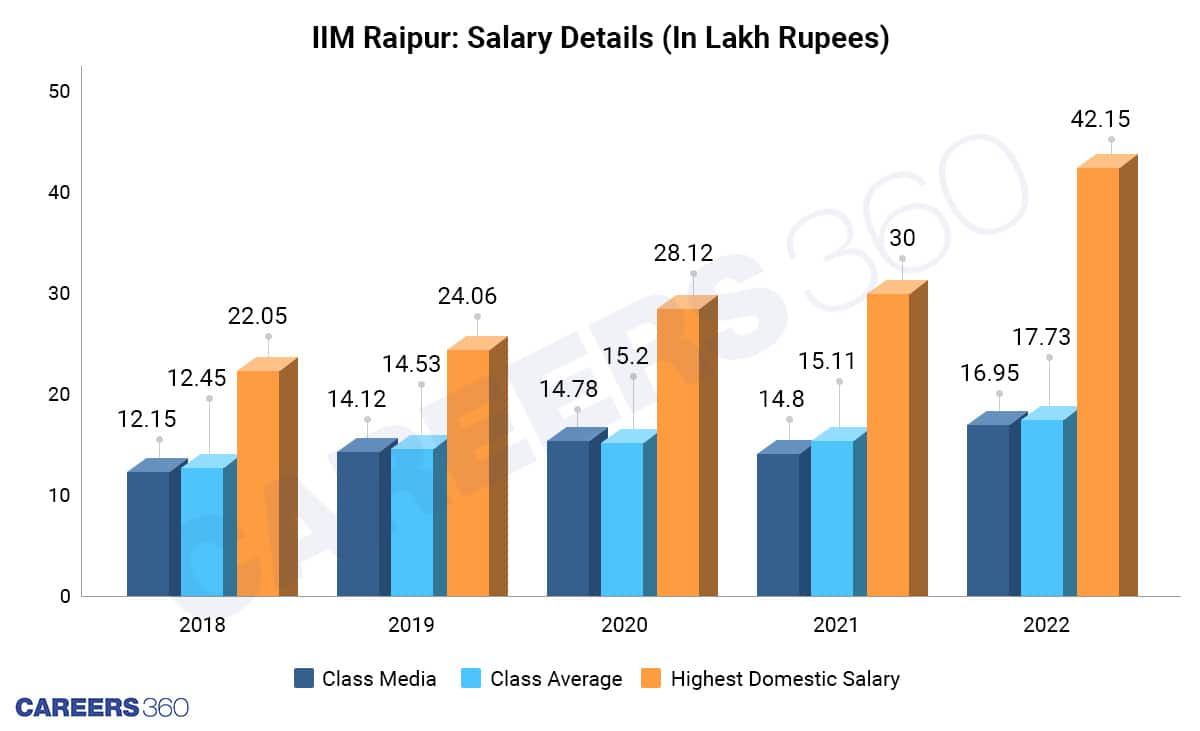 Salary Details
As for the highest domestic salary, it has increased more than 95 per cent in the last five years.
Recruiters Of IIM Raipur
There are reputed recruiters who visited IIM Raipur for campus placement over the last five years such as Axia Bank, Cognizant, Accenture, ICICI Bank Limited , Infosy Limited , Tata Steel, etc. Some of the new recruiters of IIM Raipur were Reliance, BYJU'S , IBM, Genpact, Microsoft, PharmaACE , Mahindra Rise, Berger Paints India Limited and De Shaw & Company, etc.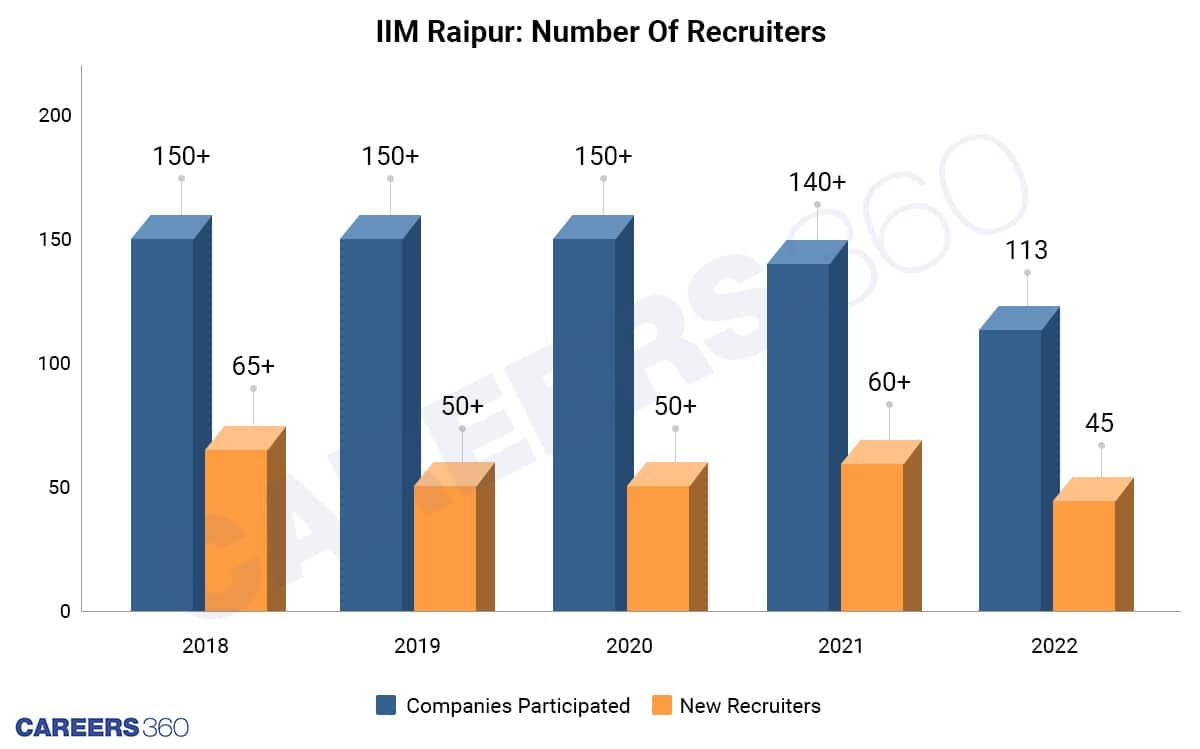 Recruiters over the years
Also Read | IIM Bangalore Placement 2020-21 Report: Salary, Recruiters
Placements By Functions
Most of the students of IIM Raipur were placed in the sales and marketing sector in 2018 but in 2022, the percentage for analytics and consulting doubled and became the highest.
In 2022 placement of IIM Raipur, the jobs offered were from five sectors, the percentage distribution of each sector are given below.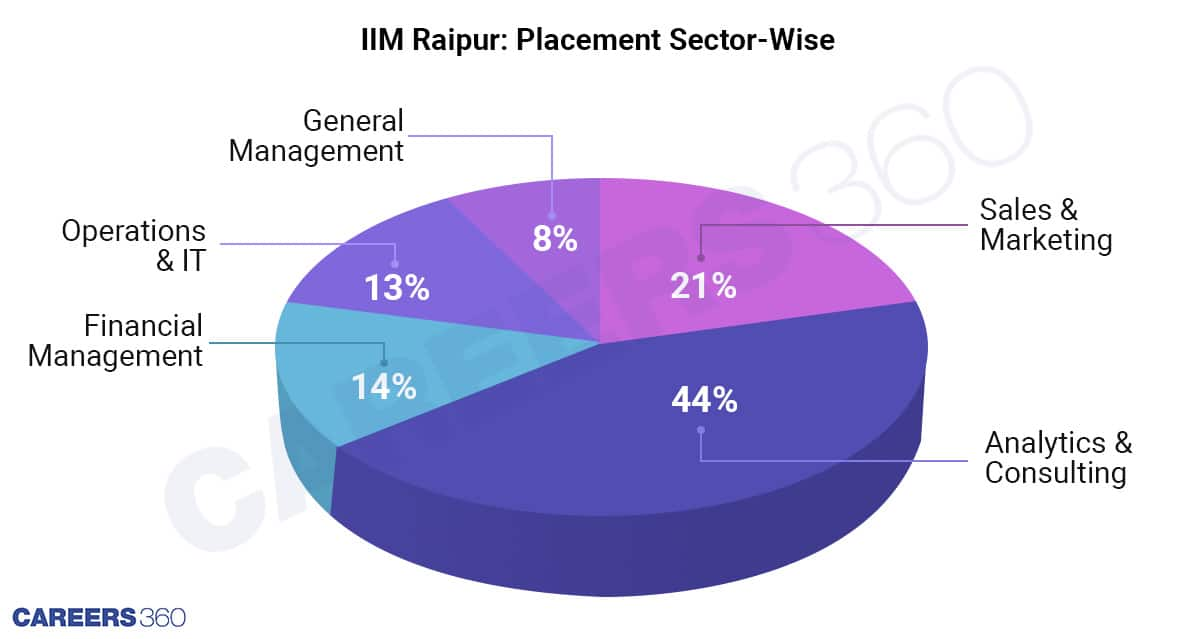 Sector Wise placement