The Indian Institute of Technology (IIT) Kharagpur reported 100 percent placement for the Electronics and Electrical Communication Engineering branch in the 2020-21 round of placements. It has also maintained an overall placement rate of over 85 percent over the last three years. The campus was visited by more than 200 companies for the recruitment process over this period.
Of the 23 IITs India currently has, IIT Kharagpur was the very first. It started in 1951. Today, IIT Kharagpur is among the top five engineering colleges in India, as ranked by the education ministry's National Institutional Ranking Framework (NIRF). This analysis of placements for the last batch is based on data accessed through a Right to Information application.
IIT Kharagpur Placements Over 3 Years
While most engineering institutes saw their placements being badly affected by the COVID-19 pandemic, IIT Kharagpur managed to keep the rate appreciably high. However, it did register a slight drop from 2019-20 to 2020-21.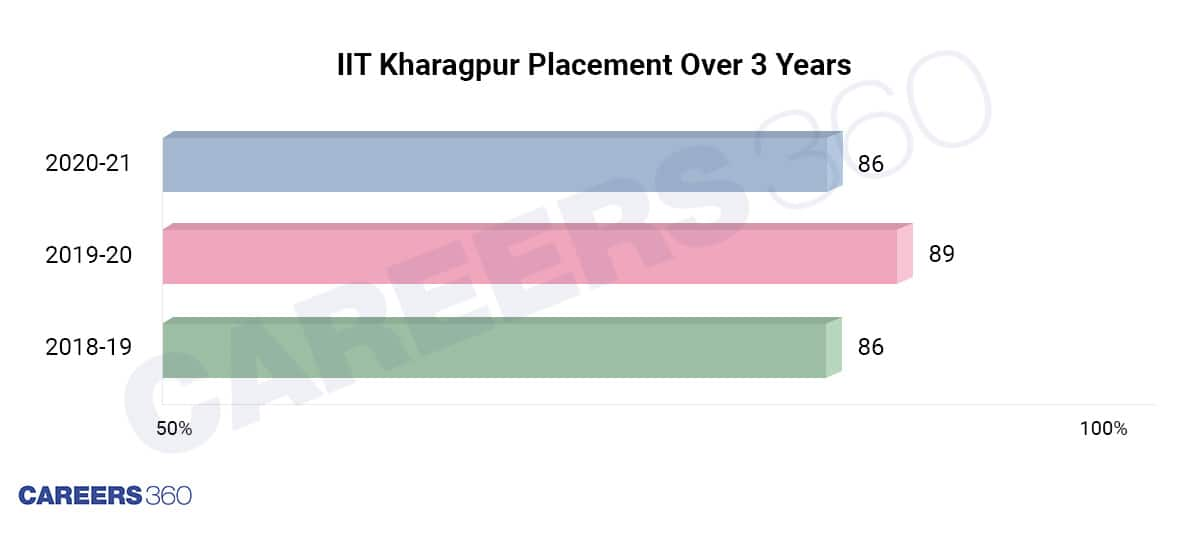 IIT Kharagpur Placement Over 3 Years
Also Read | Tricks To Solve JEE Main Maths MCQs Within Seconds
IIT Kharagpur Placement By BTech Branch
A total of 398 students registered for the campus placement process in 2002-21 and of them, 338 were successfully placed. This works out to an overall placement rate of 85.79 percent.
Electronics and Electrical Communication Engineering (EECE) and Computer Science and Engineering (CSE) are the BTech branches that usually command the best placement rates and salaries. Among core branches, Chemical Engineering and Electrical Engineering did best.
IIT Kharagpur: Branch-Wise Placed
| | |
| --- | --- |
| BTech Branch | Students Placed (In %) |
| Aerospace Engineering | 66.67 |
| Agriculture and Food Processing Engineering | 76.92 |
| Biotechnology Engineering | 45.45 |
| Civil Engineering | 70.83 |
| Chemical Engineering | 90.32 |
| Computer Science Engineering | 98.18 |
| Electronics and Electrical Communication Engineering | 100.00 |
| Electrical Engineering | 93.75 |
| Industrial Engineering and System Management | 88.00 |
| Mechanical Engineering | 82.26 |
| Mining Engineering | 64.71 |
| Metallurgical and Materials Engineering | 73.91 |
| Ocean Engineering and Naval Architecture | 75.00 |
Also Read | 76.8% IIT, 85.5% NIT Students Joined JEE Coaching In Class 11 Or Later: Survey
IIT Kharagpur: Top Recruiters
IIT Kharagpur did not share salary details by branch but said that the median salary received by the students of IIT Kharagpur in 2020-21 was Rs 15,04,400, or Rs 15.04 lakh.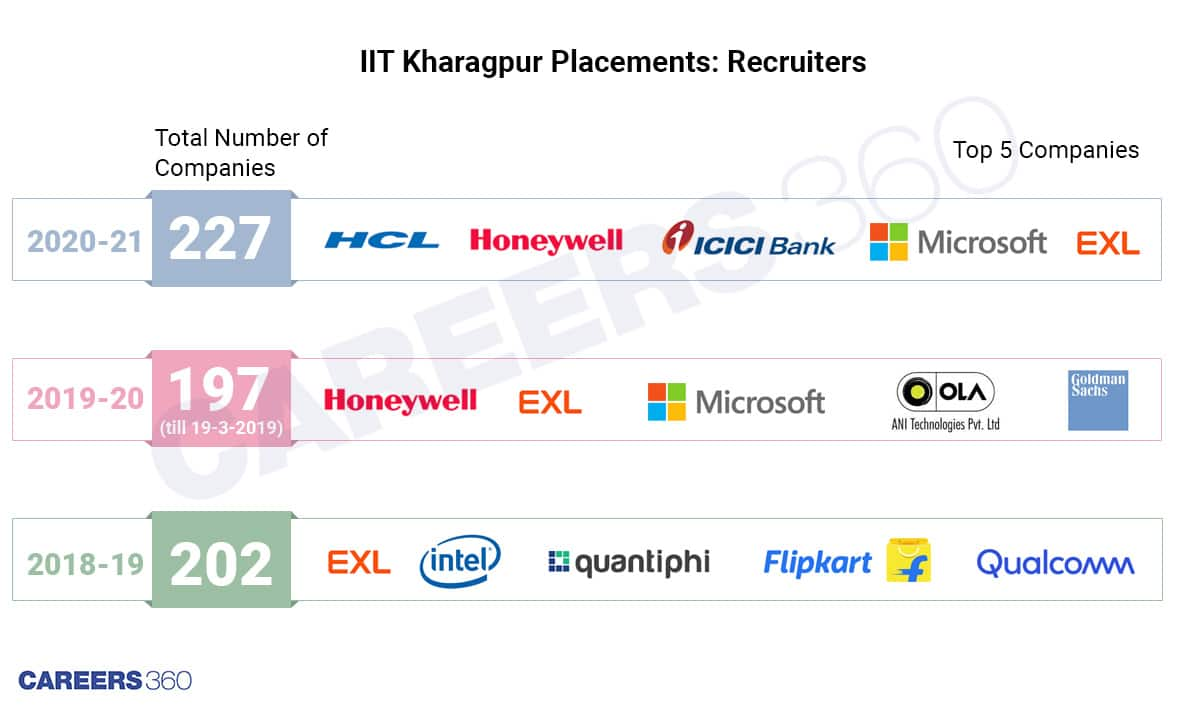 Recruiters of IIT Kharagpur
Almost all companies listed above have returned to the campus multiple times for recruitment but the top-five list keeps changing.